7 Best Restaurants in Orange County
Orange County has always been a magnet for both tourists and new residents alike and the reasons for that are many. As people flock to experience its charm, many fall in love with good and heil moving companies such as Affordable Reliable Moving Company to help them relocate there. One of the ways this region captivates newcomers and locals is through its mouthwatering food scene. From upscale French bistros to beachfront seafood spots, the selection of dining experiences in Orange County is impressive. Although we strongly recommend you visit all the great eateries in this area, here are the 7 best restaurants in Orange County to start from.
1. Khan Saab Desi Craft Kitchen -A Dash of India in Fullerton
Do you feel like spicing up your lunch with some good Indian food? Khan Saab Desi Craft Kitchen in Fullerton is a place you should go to.  With a unique Desi menu, it treats its guests with a delightful fusion of traditional and modern dishes. Some of its standout offerings include:
Butter Chicken Tacos
Vegan Biryani
Tandoori Lamb Chops
Saffron-infused Lassi
The restaurant's name, "Khan Saab," translates to "respected leader" in several South Asian languages, reflecting its pioneering approach to Desi cuisine. The craft kitchen concept ensures that each dish is meticulously prepared, offering a gastronomic journey different than what most people are used to. Did you know that the restaurant is also committed to halal practices, ensuring the highest quality and ethical standards for its ingredients? It's absolutely worth a visit.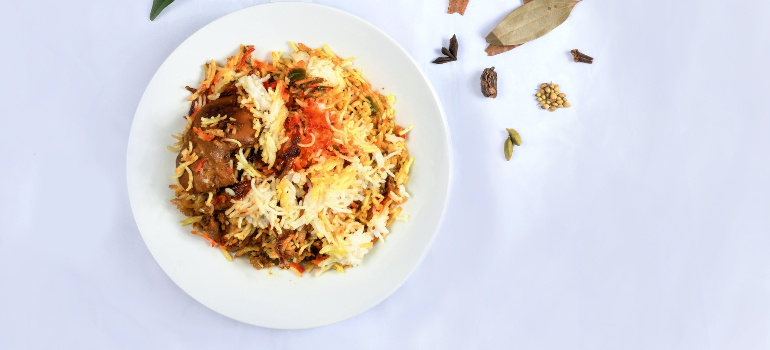 2. Knife Pleat – A Michelin-Star Experience in Costa Mesa
Situated in the luxurious South Coast Plaza, Knife Pleat serves modern French food. Under the guidance of a Michelin-starred chef, the restaurant offers an array of dishes that are both visually stunning and incredibly tasty. The ambiance, characterized by its elegant decor and soft lighting, sets the stage for a dining experience that's both intimate and grand. One of the intriguing aspects of Knife Pleat is its dedication to seasonal ingredients, ensuring that diners always get the freshest flavors. While the restaurant is a haven for gourmet French dishes, many might be surprised to learn that the name "Knife Pleat" is actually inspired by fashion – it's a type of fold used in skirt and dress designs, reflecting the restaurant's blend of culinary and aesthetic artistry.
3. Taco María – A Mexican Delight
Taco María is a perfect choice when you are craving Mexican food. With a strong commitment to a farm-to-table approach, this restaurant ensures that every ingredient speaks of freshness and authenticity. The chic, modern setting of the restaurant, combined with its inventive menu, makes it a favorite among both locals and visitors. Interestingly, while it's renowned for its fusion dishes today, Taco María began its journey as a food truck. The transition from mobile dining to a brick-and-mortar establishment is proof of its unwavering commitment to quality and the love it has garnered from its clients over the years.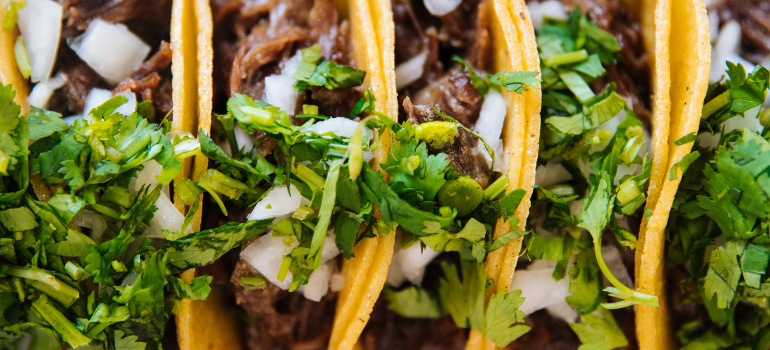 4. Summit House – American Cuisine at its Finest
Perched atop one of Fullerton's scenic hills, Summit House offers diners a breathtaking panoramic view. It perfectly complements the classic American cuisine of this restaurant. Known for its twist on traditional dishes, this place has become a favorite for those who appreciate a fusion of taste and ambiance. Its renowned prime rib and seafood dishes are what makes people come back over and over again. Many residents, after making the city their home with the help of movers Fullerton offers, find themselves recommending Summit House as a must-visit spot for friends and family. Also, the restaurant's romantic and serene setting makes it an ideal location for special occasions or simply a quiet evening out. With each visit, diners are guaranteed a meal and experience that lingers in memory.
5. Mastro's Steakhouse – One of the Best Restaurants in Orange County
Mastro's Steakhouse has a reputation as a premier dining destination, and it has become synonymous with luxury and indulgence. Known for its impeccable service and sophisticated ambiance, Mastro's offers a selection of prime steaks and seafood that's hard to rival. Diners can look forward to savoring:
Bone-in Ribeye
Chilean Sea Bass
Lobster Mashed Potatoes
Warm Butter Cake
While many flock to Mastro's for its steaks, the restaurant's Warm Butter Cake has achieved a cult-like following. It is a must-try dessert for first-time visitors. Also, there's live music which often features jazz or contemporary hits and adds to the lively atmosphere. That's one of the reasons this place is a favorite spot for celebrations. Interestingly, Mastro's signature iced seafood tower, a decadent display of the ocean's finest, is designed to be a visual spectacle, with layers of fresh seafood elegantly presented over a glowing bed of ice. There's no doubt that this is one of the best restaurants in Orange County.
6. The Ranch – A Foodies' Heaven in Anaheim
At The Ranch, you'll be able to experience delightful farm-to-table dining that captures the essence of Californian cuisine. Its award-winning wine list and seasonal menu are impeccable. The country-style ambiance, complemented by live country music, sets the stage for an unforgettable evening. Many newcomers, after settling in with the assistance of trusted services like movers Anaheim CA is home to, find themselves drawn to The Ranch's warm and welcoming atmosphere. Its proximity to popular Anaheim attractions also makes it a convenient dining spot. So, whether you're in the mood for a hearty steak or a refreshing salad, The Ranch promises to satisfy your craving for food.
7. Beachcomber Crystal Cove – Excellent Food with an Excellent View
Should you find yourself in the picturesque Crystal Cove State Park, Beachcomber Crystal Cove is a place where you should grab a bite. There, you can enjoy the fresh seafood and classic Californian cuisine. With its beachfront location, guests can relish the panoramic ocean views while enjoying a sumptuous meal. It's no wonder that in this very restaurant, many have decided to relocate to the area. The movers Newport Beach is home to, say many of their clients who have made this place their home, come to Beachcomber Crystal Cove to celebrate this life change. The restaurant is housed in a historic cottage, adding a touch of nostalgia to the dining experience. Popular for its brunch selections, Beachcomber also boasts an impressive cocktail menu. Those looking to unwind to the sound of crashing waves often have one. Whatever your reason to visit this restaurant may be, it will be unforgettable.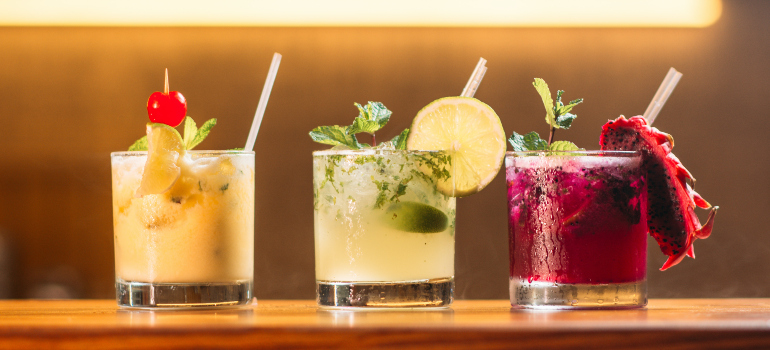 Treat Yourself to the Best of Dining Scene Orange County Can Offer
Orange County's culinary landscape is a delightful array of flavors, traditions, and innovations. From the rich heritage of Desi cuisine to the sophisticated allure of modern French dishes, each restaurant will take you on a unique journey for the palate. Whether you're a local or just passing through, these dining establishments promise an excellent meal. Although this list of best restaurants in Orange County are not the only good venues to enjoy food, they are the perfect place to start with food exploration of the region.
"*" indicates required fields
What Our Clients Say
" I was in a bind with having to move during the Coronavirus problems. You were very accommodating in this tough time. "