A Fishing Enthusiast's Guide to Fishing in Orange County
Nestled along the picturesque coast of Southern California, Orange County offers a diverse range of fishing opportunities. This comprehensive article will explore the prime fishing spots and techniques available to use and enjoy in OC. What's best about the region is that it caters to both freshwater and saltwater lovers!  Whether you're an experienced angler seeking the thrill of deep-sea fishing or a novice looking to explore serene lakes and rivers, this guide to fishing in Orange County will enhance your fishing experience. We will highlight the region's notable fishing locations, discuss the prevalent fish species, and outline the necessary permits and regulations. Join us from Affordable Reliable Moving Company as we embark on a journey through OC's waters. We will arm you with the knowledge to make the most of your fishing ventures while also respecting the environment and preserving the local fishing heritage.
Types of fish commonly found in Orange County
One of the best things about fishing in Orange County is just how many different species you will find. To be more precise, it is estimated that OC has over 200 different species of fish! Along the coastal waters, you'll find popular saltwater species such as California halibut, yellowtail, barracuda, white seabass, and various rockfish.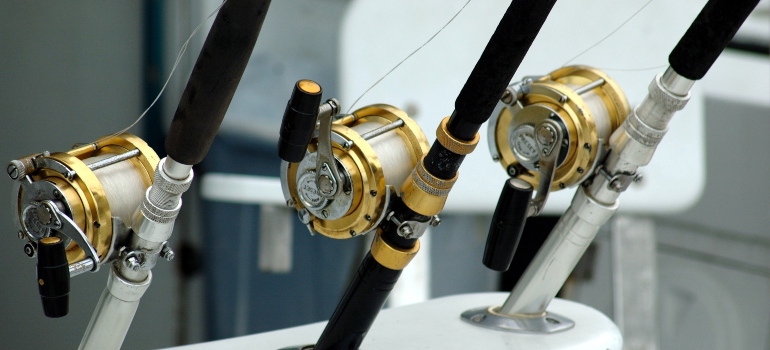 Orange County is home to an array of amazing fish in the freshwater lakes and rivers. Rainbow trout, largemouth bass, smallmouth bass, and catfish are commonly found and are enticing to fishermen with their sport and table qualities. However, among the diverse fish population, the spotted bay bass stands out as the sought-after species. Its abundance and accessibility make it a favorite target among local anglers, as they offer a thrilling pursuit.
Recommended gear for fishing in Orange County
Finding the right gear is crucial for a successful fishing experience. Firstly, spinning reels have gained tremendous popularity among saltwater anglers for their remarkable versatility and user-friendly design. Their widespread use can be attributed to the numerous advantages they offer. One of their standout features is the ability to achieve longer casts, which is particularly advantageous when fishing in vast saltwater environments.
Furthermore, spinning reels have the necessary strength and durability to handle larger, more aggressive saltwater species. In saltwater fishing, another crucial component that enhances the overall performance is the type of fishing line employed. Braided fishing lines have gained recognition for their exceptional strength and sensitivity, making them the ideal choice for saltwater fishing, especially when dealing with strong currents.
Baitcasting reels are favored in freshwater fishing for their precision and control, making them well-suited for targeting bass and trout. Monofilament lines are commonly used in freshwater as they are more forgiving and less prone to tangling. Regardless of the environment, different lures, such as crankbaits, soft plastics, and jigs, are recommended to attract various fish species. A quality fishing rod with the appropriate power and action for the target species is also crucial. Remember to consider the specific regulations and restrictions of the fishing location and obtain the necessary licenses and permits.
Techniques
In saltwater fishing, casting and retrieving with artificial lures like swimbaits or spoons are effective techniques to entice aggressive species such as yellowtail and barracuda. Trolling is fruitful for catching pelagic species like tuna or dorado. For those who don't know, trolling uses a moving boat to drag lures or bait behind.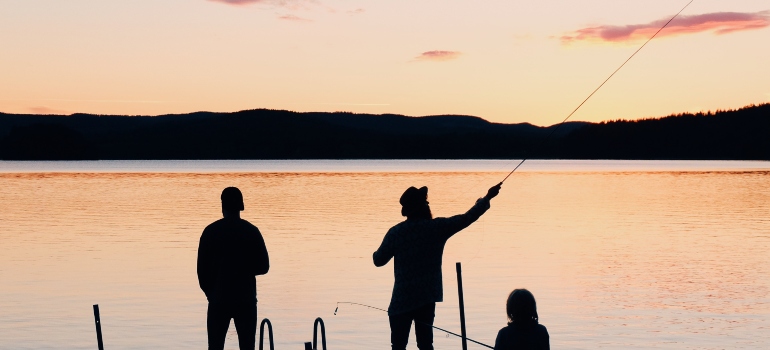 In freshwater fishing, techniques vary based on the targeted species. For bass, popular techniques include flipping and pitching, where the lure is precisely placed near structures to entice strikes. Topwater fishing with lures that mimic insects or small prey is exciting and productive. Trout fishing often involves using live bait, such as worms or power bait, with a slow and natural presentation. Overall, it's crucial to adapt your techniques to the specific conditions and behaviors of the fish. Factors like water temperature, depth, and time of day can influence the success of certain techniques.
Seasonal considerations for fishing
Fishing in Orange County is influenced by the changing seasons, each offering unique opportunities and challenges for anglers. During spring, fish species like bass and trout become more active as the water temperature rises. Targeting shallow areas and using lures that imitate spawning prey can yield excellent results. Summer brings warmer water temperatures, driving fish to deeper and cooler areas.
Fishing early in the morning or late in the evening can be more productive. Utilizing topwater lures during low-light conditions can attract bass and other species. In autumn, fish activity increases as they prepare for winter. Transitioning to slower presentations and focusing on feeding patterns can be effective. Crankbaits and jigs are popular choices. Winter presents challenges with colder water and reduced fish metabolism. Slowing down retrieval and using live bait or finesse techniques can entice sluggish fish.
Pro tip: To fish year-round in Orange County, diversify your techniques and adapt to the changing conditions. Stay informed about the seasonal patterns of your target species, weather fluctuations, and the availability of baitfish.
Local regulations and licenses for fishing in Orange County 
Our guide to fishing in Orange County cannot be complete without walking you through the local regulations and licenses. To fish in any waters within Orange County, anglers aged 16 and older must possess a valid California fishing license. You can obtain your license online or from authorized vendors.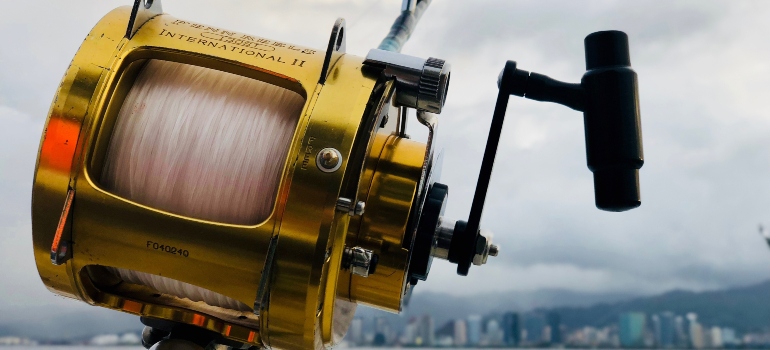 Additionally, specific permits or licenses may be required for certain modes of fishing. If you plan to fish from a boat or vessel, you may need a separate fishing license, such as the California Ocean Enhancement Stamp, for saltwater fishing. Additional permits may be necessary for anglers targeting specific species like salmon or steelhead, and special regulations may apply. It's essential to stay updated on the latest fishing regulations, including size and bag limits, fishing seasons, and any specific rules for protected or endangered species. The California Department of Fish and Wildlife website provides detailed information on these regulations.
Best spots for fishing in Orange County
Now that we've introduced what types of fish you can find and what licenses and gear you need let's see the best fish spots in Orange County. There are so many places to choose from, so it wasn't easy determining which places would find their way to our guide to fishing in Orange County. However, we'll present the five most popular spots that Orange County fishing enthusiasts frequently visit. Those spots are:
Fairview park
Anaheim Coves
Dana Point Harbor
Laguna Niguel Lake
Huckleberry Pond
Fairview Park
Fairview Park is widely regarded as one of the premier fishing spots in Orange County. Located near Newport Beach, this expansive park is excellent for fishermen of all experience levels. The park features a tranquil freshwater pond that attracts a variety of fish species, including catfish, bluegill, and largemouth bass. You can utilize the park's fishing pier for convenient access to deeper waters.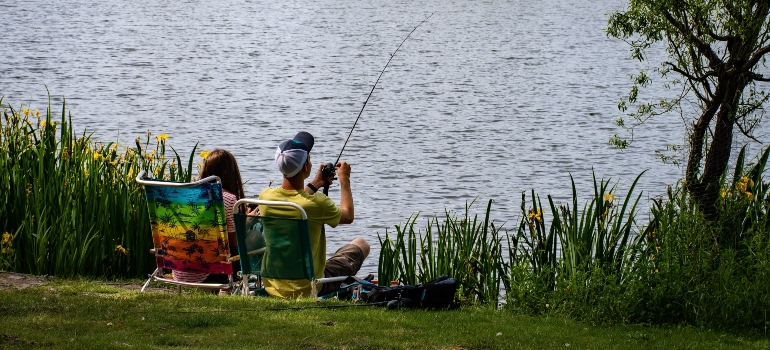 Fairview Park's environment provides a peaceful setting for fishing enthusiasts to relax and enjoy. With its well-maintained pathways and ample space, the park offers a comfortable and accessible experience for visitors. We recommend asking your movers Newport Beach has to offer directions to this great park if you plan on relocating here!
Anaheim Coves
Anaheim Coves is known for its diverse fish population and convenient amenities. Anglers visiting Anaheim Coves can expect to encounter various species, including catfish, bass, and carp. This makes it an ideal spot for both freshwater and recreational fishing. The park offers several amenities to enhance the fishing experience.
You can use the fishing piers and designated shoreline areas, providing easy access to prime fishing spots. The park is well-maintained, with clean and spacious areas for casting lines and relaxing by the water. In addition to fishing, visitors can enjoy other activities, such as picnicking, walking, and birdwatching, as the park features beautiful natural surroundings. It has enough parking and restroom facilities available, so Anaheim Coves provides convenience and comfort for everyone visiting. As a matter of fact, it's the place that people frequently visit after relocating with movers Anaheim CA has to offer!
Dana Point Harbor
Dana Point Harbor is a renowned fishing destination, famous throughout California. The harbor's picturesque coastal setting provides access to abundant saltwater species such as halibut, yellowtail, and rockfish. The harbor's well-equipped marinas and fishing charters cater to both novice and seasoned fishermen, ensuring a memorable fishing experience.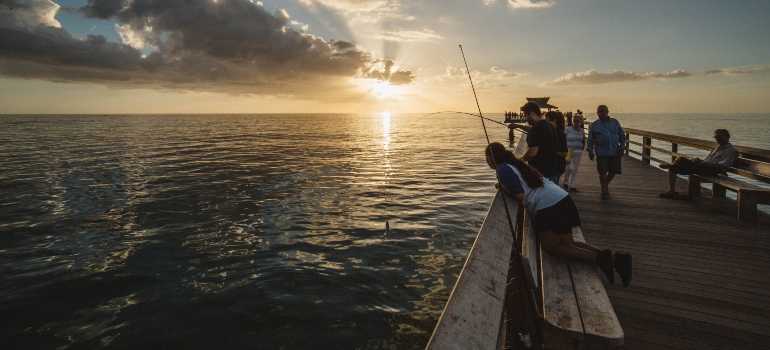 Additionally, Dana Point Harbor offers an array of recreational activities, including boating, sailing, and kayaking. Its scenic beauty and vibrant marine life attract visitors from everywhere. One of the biggest reasons why it's such a popular spot is because it's also famous for its annual Whale Festival. It celebrates the migration of gray whales along the California coastline. That event is a big reason why so many sea life enthusiasts hire the best movers Dana Point has to offer to be close to these majestic creatures.
Laguna Niguel Lake 
Nearing the end of our guide to fishing in Orange County is Laguna Niguel Lake. After relocating with the moving companies Aliso Viejo has to offer to this lovely city, you'll find that Laguna Niguel Lake is a popular spot nearby. To fish here, you must obtain a fishing permit, which can be purchased at the lake's entrance or online. Special permits may be required for night fishing or to access certain areas, so it's essential to check the specific regulations beforehand.
Aside from fishing, the lake offers additional amenities such as picnic areas, hiking trails, and boat rentals, making it an ideal spot for a full day of outdoor enjoyment. Whether you're casting your line from the shoreline, a fishing dock, or a rented boat, Laguna Niguel Lake is a haven for fishing enthusiasts seeking a peaceful escape and the thrill of landing their next catch.
Lake Huntington
What sets Lake Huntington apart is its well-stocked waters, boasting an impressive variety of fish species. Anglers can anticipate thrilling encounters with bass, trout, catfish, bluegill, and crappie, among others. This diversity ensures there's always something biting!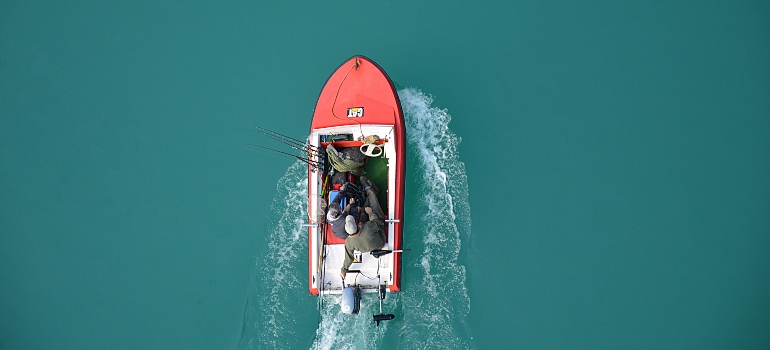 In addition to its rich fish population, Lake Huntington provides convenient amenities for a seamless fishing trip. Anglers can access the lake from various points, including fishing docks and shoreline areas, offering versatility in approaches. Moving companies Huntington Beach has to provide know quite a lot about the lake, as many newcomers to the city relocate with their fishing gear. The reputation of this lake in Orange County is very well known!
We hope our guide to fishing in Orange County will be useful to you!
Our guide to fishing in Orange County reveals that the area offers everyone a wealth of fishing opportunities. It has over 200 different fish species, so you can expect a diverse and exciting experience. Following the recommended gear and techniques can increase your chances of success. Additionally, it's important to consider the seasonal variations in fishing patterns and adapt accordingly. Staying informed about the local regulations and obtaining the necessary licenses and permits ensures a responsible and legal fishing experience. Whether you choose to explore popular spots like Fairview Park, Anaheim Coves, Dana Point Harbor, Laguna Niguel Lake, or Lake Huntington, Orange County offers a range of picturesque and well-equipped locations to enjoy the thrill of fishing. So, gather your gear, obtain your permits, choose one of the best moving companies Orange CA has to offer, and join your fellow anglers!
"*" indicates required fields
What Our Clients Say
" I was in a bind with having to move during the Coronavirus problems. You were very accommodating in this tough time. "