A guide for moving to Orange County with furry family members
Moving to Orange County with furry family members may seem like a complicated task, but it's really not with careful planning and research! That's exactly what we from Affordable Reliable Moving Company are here to help you with. Let's dive deeper into tasks such as researching veterinary care and pet services in the area, local pet-friendly places and attractions, pet regulations, and helping you and your pet adjust to your new environment. 
How to prepare for moving to Orange County with furry family members?
Preparing your pet for a move to Orange County requires careful consideration and adherence to best practices. Firstly, consult your veterinarian to ensure your pet is healthy and up-to-date on vaccinations. Also, make sure your pet feels comfortable during the move by maintaining a familiar routine. Keep their favorite toys, bedding, and food easily accessible. Use a sturdy and secure carrier during the transit part so your pet is safe.  During the journey, make regular stops for bathroom breaks and exercise. You should keep your pet hydrated and feed them according to their regular schedule, regardless of any circumstances.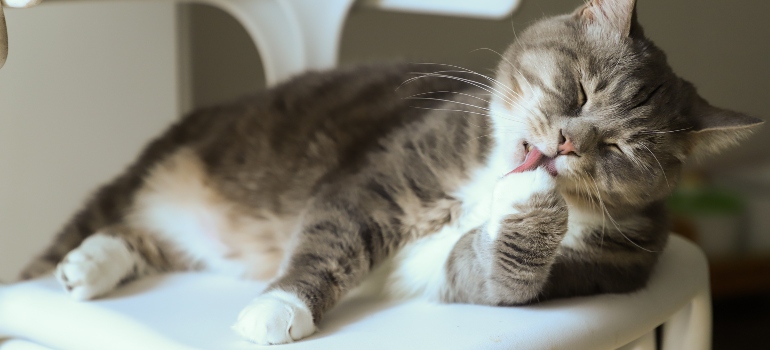 Finally, upon arrival, gradually introduce your pet to its new surroundings. Allow them time to adjust and explore at their own pace. Provide plenty of affection, reassurance, and attention throughout the transition!
Pet-friendly housing and accommodations during the move
When searching for pet-friendly accommodations in Orange County, utilize reliable resources. Use online platforms like Airbnb, VRBO, and HomeAway, which often provide filters for pet-friendly options. Additionally, check with local real estate agencies or property management companies. They can provide you with tailored options and information. You can even reach out to local animal shelters or rescue organizations. They might have resources or recommendations for pet-friendly housing in the area.
Once you contact potential landlords or property owners, be prepared to provide information about your pet, such as size, breed, and temperament. Some places may have specific restrictions or require additional fees for certain pets. All in all, use all the resources at your disposal. Maybe even your Orange movers can recommend some accommodations!
Finding the right veterinary care and pet services
Before your move, make sure to research local veterinary clinics and read reviews from other pet owners. Look for clinics that offer comprehensive services, such as vaccinations, check-ups, and emergency care. Consider visiting the clinics in person to assess their cleanliness and the friendliness of the staff. Ask about their hours of operation and if they have any specializations or experience with your pet's specific needs.
Besides veterinary care, research pet services like grooming, boarding, and training facilities. Look for reputable establishments that prioritize the well-being and safety of the animals in their care. Online resources such as Yelp, Google Maps, and pet-related directories are invaluable for this task!
Pet regulations and licensing
Check the county's official website for specific guidelines and regulations related to pet ownership. Ensure that your pet's vaccinations are up to date as required by local laws. The county may also have licensing requirements, so inquire about the necessary permits or licenses for your pet, like any breed-specific regulations or restrictions that may apply. It is also essential to comply with leash laws and clean up after your pet in public areas. If you don't, you might get a hefty fine! 
Pet-friendly attractions and parks
After moving to Orange County with residential movers Orange County offers, you'd want to go out and celebrate your successful relocation with them! The best way to do it is by going to pet-friendly parks, bars, restaurants, or attractions. Thankfully, the area has no shortage of these places, as it's one of the most pet-friendly parts of the state. Locals would recommend these places:
Huntington Dog Beach
Laguna Beach Dog Park
Yorba Regional Park
Peter's Canyon 
These are just some of the many great spots to visit with your dogs, so don't hesitate to go out and explore and find some great places on your own!
How to help your furry family members adjust to Orange County?
You must have enough patience and consideration when helping your pet get used to its new home. Create a familiar space by arranging their belongings, such as beds, toys, and litter boxes, in a similar layout as before. Stick to their regular feeding and exercise routines to provide stability and familiarity. Introduce them gradually to their new environment, allowing them to explore and adjust at their own pace. Spend quality time with your pets, offering reassurance and affection to help them feel safe and loved. Visiting some of the places we've mentioned earlier would be a great way to get them acclimated.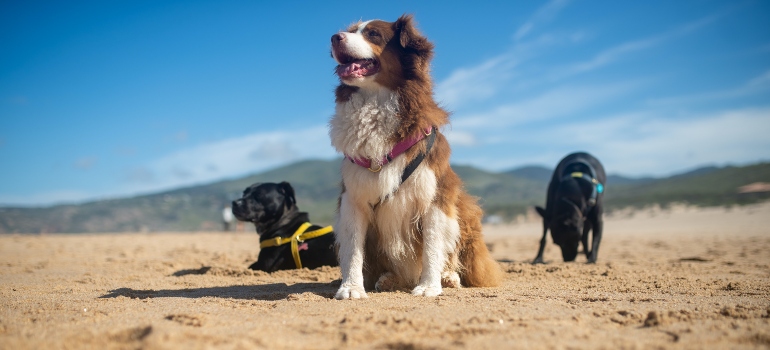 Finally,  don't forget to consult with a local veterinarian for recommendations on any necessary adjustments or tips specific to Orange County. If you are coming from a state with a completely different climate, definitely give them a call.
Relocating to Orange County with pets can be a wonderful experience for everyone!
Following the steps outlined in this article can ensure a smooth transition when moving to Orange County with furry family members. All the listed tasks are equally important, so take no shortcuts! The well-being and health of your pets will significantly rely on you and the efforts you put in. Don't forget to hire only the most reliable furniture movers Orange County provides, and mention that you have a pet. They will consider that and minimize any disturbance your pets may feel during relocation!
"*" indicates required fields
What Our Clients Say
" I was in a bind with having to move during the Coronavirus problems. You were very accommodating in this tough time. "