A guide to Huntington Beach nightlife
Huntington Beach is most known for being an excellent surfing spot and having great beaches. People often go there during the holidays, especially young people. Many visitors and residents also want to experience Huntington Beach nightlife. You can find numerous clubs and bars down the coast, and we are here to mention some of the most interesting ones. This will help you adjust to your new life in Huntington Beach after movers in Huntington Beach help you relocate here. You will be able to meet new people and relax after the move.
Learn more about Huntington Beach and its nightlife
We want to begin by mentioning some basic things about Huntington Beach. Huntington Beach is a city in California, with a population of around 200 thousand people. Over 80% of citizens are US-born citizens, meaning Huntington Beach is not the most diverse town. However, since there are a lot of tourists each year, you still get to see and meet new and diverse people. When it comes to studies, Liberal Arts and Sciences are the most popular, as well as Humanistic studies.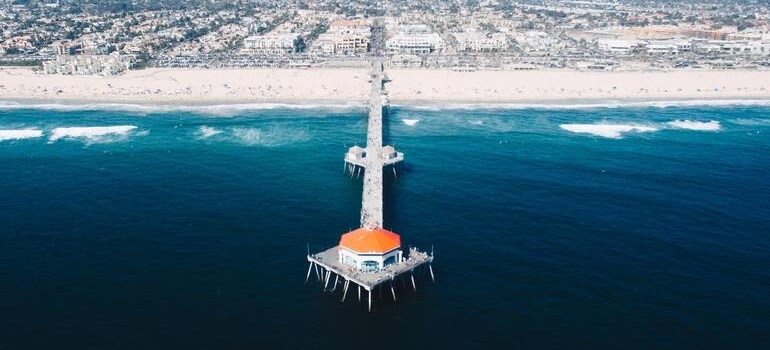 The median household income is way higher than the national average. However, the taxes are a little bit higher as well. One of the best things about Huntington Beach is its low crime rate. These are some of the elementary facts about Huntington Beach, which will help you get to know Huntington Beach better when moving there with moving and storage companies in Orange County.
Where to eat: restaurants, grills, and diners
When it comes to finding the best places to go out, you might consider going out to eat something. These are the best restaurants, grills, and pubs in Huntington Beach.
1. The Longboard Restaurant and Pub
Not only is it a great place to visit during night-time, but during day-time as well. As soon as residential movers in Orange County drop your things off, you can go and have lunch before you start unpacking your things. The food is amazing and reasonably priced. Moreover, the vibe is homely and chill, great for hanging out with your friends and family.
2. J King Neptunes
Another great place to have a drink or eat something. It is a mix of a pub and a diner/restaurant. The thing that is special about this place is that there is live music sometimes as well as an opportunity to watch a game with other sports fans.
3. Duke's Huntington Beach
A bit more expensive, but definitely worth it. You get amazing food and a beautiful view, what more can you ask for? If you feel like going out and partying, then we wouldn't recommend this place. However, if you are going to a fancy dinner with your friends, partner, or family, then this is the place to go.
Where to drink and eat: pubs and bars
Before we get to clubs, we want to mention something you can most often find in Huntington Beach: pubs and bars. These are some of the most popular places to go out in Huntington Beach:
Killarney Pub and Grill
Brix Brews
Gallagher's Pubs and Grill
Coach's Mediterranean Grill and Bar
We will mention some of the more interesting ones and why they are different and unique in their own way.
1. The Rec Room
The Rec Room is described as a comedy club, however, we are mentioning it here because it's not somewhere to go for the purpose of dancing and drinking. If you want to enjoy some amazing comedy acts and have a laugh and a few drinks then The Rec Room is for you!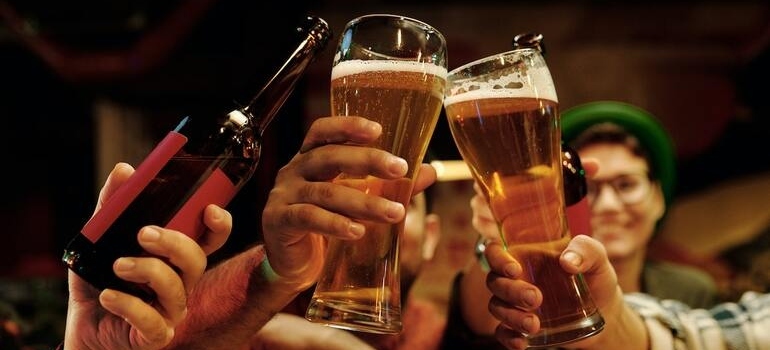 2. Michael's pub
An amazing sports bar, if you are a sports fan we recommend this place! You can watch the game with other fans and have that friendly tension! Also, people mention they have great beer!
3. Eureka
A little bit more of a hipster bar. There is an amazing selection of whiskey and beer, especially craft beer. Moreover, they have a nice outdoor area with a fire and heat lamps.
Where to have fun: the best places for Huntington Beach nightlife
We have mentioned a lot of fun places to go to. You can chill with your friends and have a few drinks with them. Now we will mention some places to specifically go out and experience Huntington Beach nightlife.
1. Johnny's Saloon
This is a great mix of a bar and a club. It's a dark place with great loud music. You can find great people here, and enjoy yourself. This is a bar for younger audiences.
2. 400 Club
A great club with great seasonal drinks. If you want to drink some amazing cocktails and have fun dancing this is a great place.
3. The Circle OC
Another great club, with great DJ sets. This club is famous worldwide, especially on social media. You can enjoy yourself and have fun dancing.
Huntington Beach nightlife: Final thoughts
We have mentioned all of the most interesting places to visit if you want to experience Huntington Beach nightlife. You can do a lot of different things:
Go for a drink
Have a family, friendly or romantic dinner
Go dancing
Enjoy comedy nights
Watch the game
If all else fails, you can always have fun at the beach during the night-time.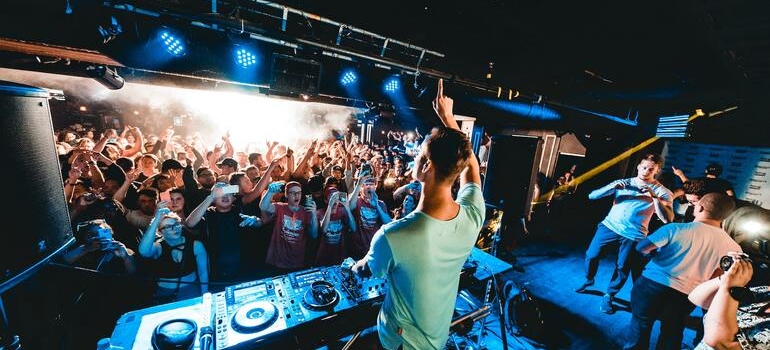 Nightlife in Huntington Beach is very fun but quite expensive and time-consuming. If you want to experience Huntington Beach nightlife as soon as you arrive, and leave the unpacking for later, you can always rent vaulted storage in Orange County. This way you can have fun and leave the stress from packing later for the unpacking. But, have fun and relax!
"*" indicates required fields
What Our Clients Say
" I was in a bind with having to move during the Coronavirus problems. You were very accommodating in this tough time. "