About Us
The team that understands that becoming a reputable moving company is
a complex journey of curating service excellence and anticipating client needs.
"*" indicates required fields
At Affordable Reliable Moving Company, we strive to provide top-tier service day in and day out. We use high-quality materials sourced from responsible vendors. We hire experienced well-mannered movers that treat you and your belongings like they would for their own grandmother! We pride ourselves on taking the stress out of your move through the entire process. We ensure to wrap all items entirely to make sure your items show up in the same condition as they were picked up. We pride ourselves on transparency and open communication throughout the process of your move to make it stress-free during one of the most stressful times in people's lives.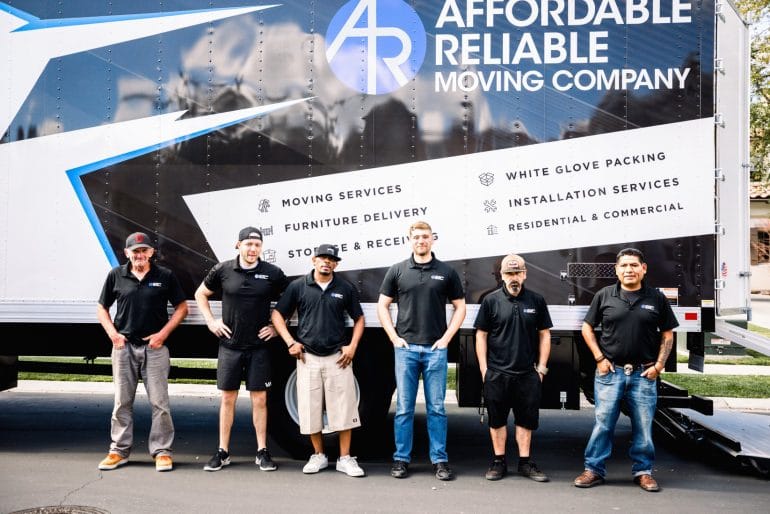 Setting goals and achieving them by being a dependable service provider
When building Affordable Reliable Moving Company, I would constantly get feedback from individuals about their previous moves. It made me question the industry I was getting into and the standards that my competition held. Once I committed to building AR Moving Co I was determined to set a new standard for the industry. This standard was built by listening to my customers and building the company around their expectations and needs. What I learned is that people want movers who show up on time, companies that follow through with their promises, trucks that are reliable, crews that can communicate throughout the day, and an office that is transparent and dependable. With these features and more I built Affordable Reliable Moving Company to start setting new standards in the moving industry.
Building a brand takes time, dedication, and tenacity
Affordable Reliable Moving Company was started in 2015 by a 19-year-old working out of a small furniture consignment shop in Ladera Ranch California. It started as a part-time opportunity to make extra money while I was going to school and working full time. While I was working there, I was able to use my experience from working at a moving company, for a year prior, to use my skills and deliver items for clients purchasing furniture. Eventually, my name made it over to the local Homegoods for delivery service. This helped build enough clientele that eventually led me to pursue this full-time career. As we started as a delivery service, the demand for full house moves started to ramp up. This led me to bring on more help and eventually full-time employees.
I was determined to maintain the quality of service that lacked in my industry, leading me to know exactly the types of employees I know I can bring on my teams to ensure the highest quality and standards throughout all of our services. Affordable Reliable Moving Company is now becoming a top-tier and reputable brand throughout California and the services we provide speak for themselves through customer feedback. I use all feedback we receive to help navigate the company now to where we can be in the near future to compete on a national stage.
We have always taken pride in our ability to deliver top-tier Orange County moving services. With a team of dedicated, hard-working movers Orange County, we continue to build on our reputation by being dependable and transparent in all our professional accomplishments. Reach out to us with your moving plans and let us handle everything from planning to execution. 
How it Works
Contact Us
Give us the details of your upcoming move and receive a free moving quote
from a team of trusted movers Orange County relies on.
Let Us Plan Your OC Move
Our movers in Orange County CA are here to help you achieve both
a successful and seamless relocation, with care and dedication.
Relax & Enjoy Your Day
Let Affordable Reliable Moving Company take the stress out of moving and
carefully handle your home or office relocation.
What Our Clients Say
" I was in a bind with having to move during the Coronavirus problems. You were very accommodating in this tough time. "