Best cities for families in OC
Welcome to the idyllic realm of family living in Orange County! Nestled along the sun-kissed coast of Southern California, OC effortlessly captures hearts as a cherished haven for families. With its captivating blend of picturesque landscapes, excellent schools, and abundant recreational opportunities, the area stands as a beacon for those seeking the perfect place to raise their children. Its allure doesn't stop at Disneyland's gates; instead, OC's communities exude remarkable warmth and vitality, making it a prime location for those pursuing a family-oriented lifestyle. In this blog post, we embark on a journey to explore the best cities for families in OC before relocating with movers in Orange County CA, Let's uncover the quintessential neighborhoods that embody the region's overall desirability for families.
Uncovering Family-Friendly Cities: Navigating the Best Fit for You
As you embark on the quest to find your family's perfect abode within Orange County, it's essential to understand what sets a city apart as truly family-friendly. Beyond the obvious markers like good schools and safe neighborhoods, factors like access to parks, community events, and family-oriented amenities play a pivotal role. Consider the availability of recreational spaces where your children can frolic and explore, as well as cultural and educational opportunities that enrich their upbringing.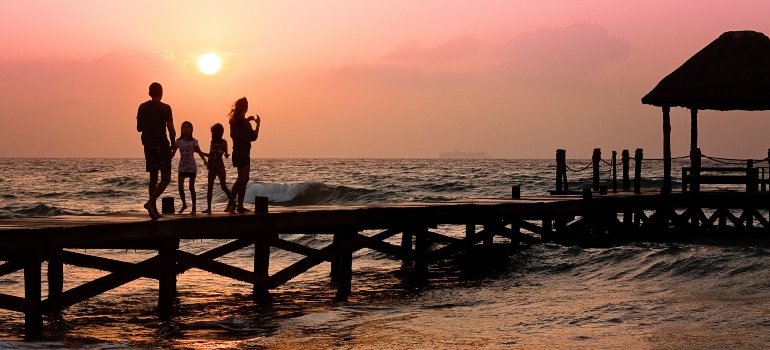 While each city in Orange County offers its unique charm, finding the one that aligns with your family's values and lifestyle requires a thoughtful approach. Start by assessing your priorities: Are you drawn to the vibrant urban scene of Irvine, the coastal tranquility of Newport Beach, or perhaps the close-knit charm of Yorba Linda? Proximity to your workplace, family, and friends is another crucial aspect to weigh.
Dana Point: Where Coastal Charm Meets Community Comfort
Nestled between the azure waves of the Pacific Ocean and the rolling hills of Orange County, Dana Point emerges as a hidden gem that effortlessly caters to the desires of families seeking a coastal lifestyle. What sets Dana Point apart from its OC counterparts is its unique blend of serene beachfront living and a strong sense of community. Therefore, it can be an ideal destination for raising children.
Dana Point's crown jewel is its collection of picturesque beaches. You can spend weekends building sandcastles, riding waves, and exploring tide pools. The city's commitment to preserving its natural beauty is evident through its well-maintained parks and trails. Therefore, there are plenty of opportunities for outdoor adventures. The Ocean Institute adds an educational touch, allowing children to delve into marine life and maritime history firsthand.
The city's family-friendly environment extends beyond its natural attractions. Dana Point boasts top-notch schools that are known for their academic excellence and nurturing environment. Moreover, the town regularly hosts family-oriented events, fostering a strong sense of belonging. The Dana Point Harbor presents a vibrant scene with waterfront dining, boutique shopping, and seasonal festivals that cater to all ages.
However, weighing the pros and cons before hiring movers Dana Point offers and making the city your family's forever home is crucial. While its coastal beauty is undeniable, the housing market can be competitive, with prices reflecting the city's desirability. The median home price is a steep $1.6M. Additionally, the seasonal tourism influx might lead to occasional traffic congestion.
Orange: Where Every Corner Beckons with Possibilities
The city of Orange is one of the best cities for families in OC. What makes it desirable is family-friendly amenities that create a vibrant and nurturing environment. Boasting a harmonious blend of history, culture, and modernity, the city stands as a testament to the region's dedication to creating an exceptional family living experience.
First, Orange's best family-friendly amenities are scattered across its neighborhoods, from the verdant expanses of Hart Park with its playgrounds and picnic areas to the Santiago Creek Trail that invites families for strolls and bike rides. Old Towne Orange exudes a charming vintage aura, offering boutique shopping and diverse dining experiences that cater to all palates.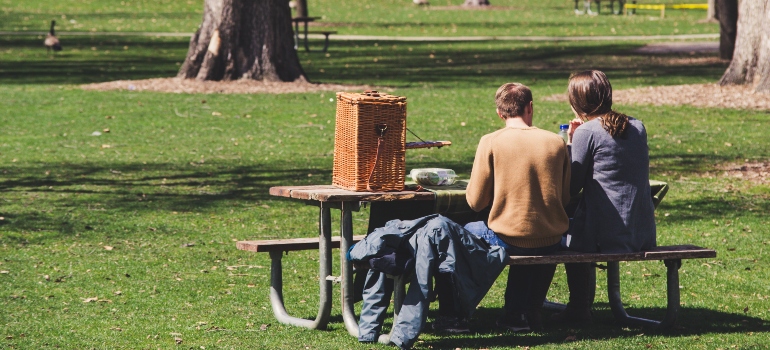 Moreover, Orange doesn't fall short regarding family activities, either. Here are some unique attractions to visit after relocating with Orange movers:
Adventure City: An amusement park tailored for young children, it is a hub of exhilarating rides and live entertainment.
The Irvine Regional Park: This park features a zoo, pony rides, and serene lakes for a day of outdoor enjoyment.
The Children's Museum at La Habra: This museum offers interactive exhibits to spark young minds for a touch of education.
Additionally, safety and well-being are paramount for families, and Orange takes pride in its secure neighborhoods and accessibility to quality healthcare and education. The city's strong sense of community extends to its commitment to providing high-quality education. However, private education in Orange comes at a premium price. This is due to the overall high cost of living in the area. For a more affordable living, consider other great towns in the area.
Fullerton: Where Convenience and Affordability Shape Family Dreams
Fullerton emerges as a well-rounded haven for families seeking a balanced blend of convenience, affordability, and essential amenities. Situated at the crossroads of major freeways, the city offers not only easy access to neighboring towns but also a treasure trove of family-centric attractions.
One of Fullerton's standout features you'll enjoy after relocating with movers Fullerton offers is its abundance of parks and recreational spaces. Families relish the green expanses of Craig Regional Park, where picnics and outdoor games become cherished memories. The Fullerton Arboretum offers an educational escape with diverse plant collections, engaging young minds in nature's wonders.
Moreover, the city's commitment to well-being shines through its excellent healthcare facilities. Acclaimed hospitals such as St. Jude Medical Center provide top-tier medical care. This ensures families have peace of mind when it comes to their loved ones' health.
Fullerton boasts a relatively low crime rate, contributing to its appeal as a family-friendly city. Moreover, the city's property prices are more affordable than some of its Orange County counterparts. The median home price is around $844k, while the average rent for a 1-bedroom apartment is $2,105.
However, it's essential to address the climate aspect. Fullerton, like much of Southern California, experiences hot weather during the summer months. While this might be a con for those who prefer milder temperatures, it's a characteristic that many residents have learned to adapt to.
Irvine: Elevating Family Life through Education and Opportunities
If you're looking for some of the best cities for families in OC, consider Irvine. Renowned for its exceptional school districts, the town elevates the educational journey for its residents, setting a high standard for academic achievement.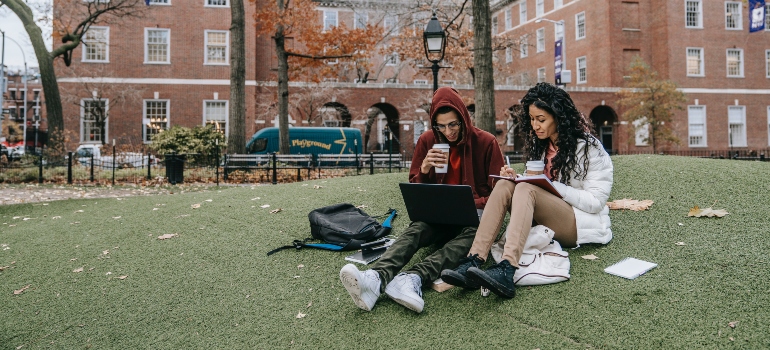 Irvine's dedication to education is reflected in its impressive statistics. The city consistently ranks among the top in statewide and national education rankings, with its schools boasting high graduation rates and exemplary student performance. Schools like University High and Northwood High are acclaimed for their rigorous curricula and enriching extracurricular activities, setting a precedent for academic success. Also, 96% of all students graduate from high school, and the number of residents with a bachelor's degree is 124% higher than the national average.
Irvine's job opportunities
Beyond its educational prowess, Irvine thrives as a hub of job opportunities across diverse sectors. The city's economic landscape spans technology, healthcare, finance, and more, offering parents and caregivers a plethora of professional avenues to explore. Booming industries like tech and healthcare have established their foothold, contributing to the city's robust economy. With an unemployment rate of only 3,90%, finding a job after relocating with movers Irvine CA offers is a guarantee.
However, even amidst its undeniable appeal, Irvine isn't without its considerations. The city's popularity has led to traffic congestion, which can occasionally be a challenge for daily commutes. Additionally, the lack of an extensive public transportation system means that residents often rely heavily on private vehicles, adding to the traffic woes.
San Clemente: One of the Best Cities for Families in OC
San Clemente beckons families with its blend of coastal charm, tight-knit community, and relaxed lifestyle. Pristine beaches offer endless opportunities for outdoor adventures, from surfing to beach picnics. The most popular ones include:
Trestles Beach: This beach is renowned for its world-class surf breaks and rugged scenery, drawing surf enthusiasts from across the globe.
San Clemente State Beach: It offers a family-friendly ambiance with its gentle waves, golden sands, and picnic areas, perfect for a day of relaxation.
Calafia Beach: This beach boasts tide pools teeming with marine life, ideal for little explorers.
What makes San Clemente one of the best cities for families in OC isn't just its stunning beaches but also the vibrant community spirit that infuses life into the city. This close-knit atmosphere is evident in the array of local events and gatherings that dot the calendar year-round.
From the San Clemente Fiesta Music Festival that fills the streets with music and festivities to the Seafest with its lively parade and seafood feast, these events unite neighbors and families in a shared community celebration. Weekly farmers' markets and outdoor movie nights in parks offer more opportunities to connect, creating an environment where friendships naturally blossom and a strong sense of belonging flourishes.
Quality education
After transitioning with one of the reliable moving companies San Clemente offers, you'll discover that the city boasts a range of quality schools catering to its residents' diverse needs. The San Clemente High School stands as a pillar of educational excellence, offering a comprehensive curriculum and many extracurricular activities that empower students to excel academically and personally.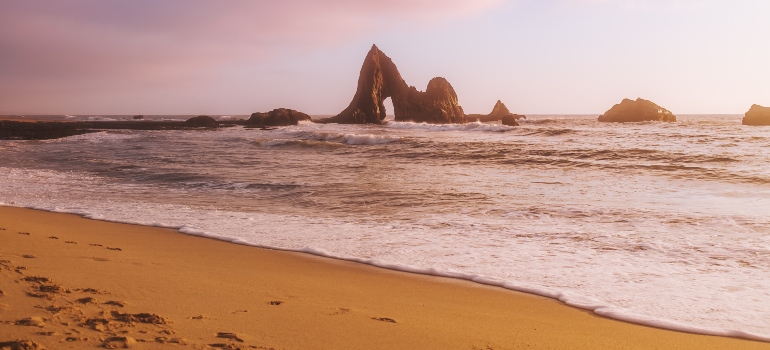 For families seeking an alternative educational approach, the Vista Del Mar School provides specialized programs for students with unique learning requirements, fostering a supportive and inclusive environment. Furthermore, the Truman Benedict Elementary School is celebrated for its strong sense of community and dedication to nurturing young minds.
Disadvantages of living in San Clemente
While San Clemente offers a myriad of appealing qualities, it's important to consider certain aspects that might impact daily life. The city's charm is matched by its relatively limited job opportunities, which can prompt some residents to commute to neighboring cities for a broader range of career options.
Additionally, San Clemente's inviting climate does come with a touch of variability. While the region enjoys a mild Mediterranean climate for the most part, occasional coastal fog and cooler weather can roll in, necessitating adaptability in planning outdoor activities.
Newport Beach: Coastal Luxury and Family Lifestyle
Newport Beach emerges as a captivating destination that effortlessly combines coastal luxury with a family-oriented lifestyle. As families consider the prospect of moving with movers Newport Beach offers, the city has a unique blend of advantages and considerations to weigh:
Beachside Elegance: Newport Beach's pristine beaches are synonymous with relaxation and recreation. From the bustling shores of Balboa Beach to the tranquil beauty of Crystal Cove State Park, families have many options.
Exceptional Education: The city's schools consistently rank high in educational standards. Institutions like Newport Harbor High School and Corona del Mar High School offer robust academic programs, preparing students for a bright future.
Water Activities: Beyond the sandy shores, Newport Beach is a water enthusiast's paradise. Sailing, kayaking, and paddleboarding are just a few activities families can enjoy in the harbor's inviting waters.
Family-Friendly Amenities: From the vibrant Balboa Fun Zone to the Newport Beach Public Library's engaging programs, Newport Beach provides many family-friendly entertainment options.
However, there are downsides. The city's allure comes with a higher price tag. Housing costs, with a median home value of $3M, reflect the premium of residing in a coveted coastal location. Additionally, Newport Beach's popularity can lead to traffic congestion, particularly during peak tourist seasons.
Best Cities for Families in OC: Weighing the Dream Against Reality
As we conclude our exploration of the best cities for families in OC, it's evident that the region offers a wealth of family-friendly options. However, beneath the sheen of these desirable qualities lies the crucial consideration of the high cost of living accompanying this sought-after lifestyle. Therefore, as you contemplate the move, it's vital to delve into the specifics of each city. Carefully considering housing costs, job opportunities, education, and lifestyle amenities can guide you toward the city that aligns most closely with your family's values and aspirations. It's not just about choosing a city; it's about choosing a community that will support your family's growth, happiness, and well-being.
"*" indicates required fields
What Our Clients Say
" I was in a bind with having to move during the Coronavirus problems. You were very accommodating in this tough time. "