Best college cities in Orange County
Are you a student that's looking for affordable movers Orange County offers? You are at the right place! Since you are moving there to continue your studies, you'll want to know what's the right place for you. All students have their own unique needs and wishes they want to fulfill. However, there are certain needs all students have in common, like accommodation, high-quality education, affordable living expenses, and such. Another thing you need to do as a student is to socialize, so it's normal that you want to move to a college city where you can meet your peers and make new friends. Therefore, we are here to talk about the best college cities in Orange County, so you can decide where you want to move to with Affordable Reliable Moving Company OC. Let's get to it.
Anaheim is a great city for students
The city of Anaheim is located in lovely southern California, only 24 miles south of Los Angeles. When comparing land sizes, Anaheim is the second-largest city in Orange County and provides its citizens with a nice balance of urban and suburban living as well as a variety of communities. It's a good enough reason to contact moving companies Anaheim and plan a move there, isn't it? Anaheim, which has a population of about 400,000, is a large city with a lot to offer. The name Anaheim, which means "house by the Santa Ana River," was originally given to the area by early German settlers.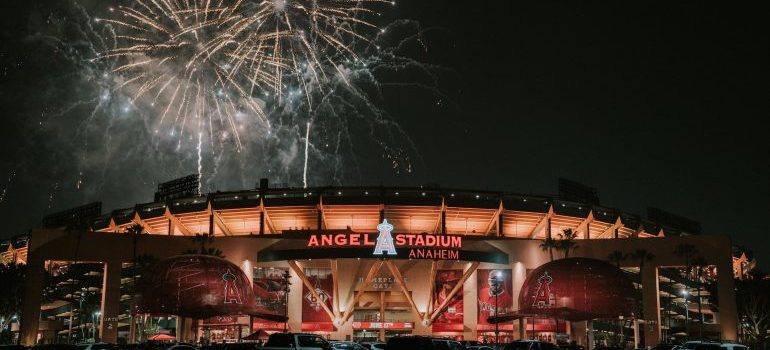 With so many two and four-year private and public universities nearby, getting a degree in Anaheim couldn't be easier. If you wish to continue your education in the tech industry, for instance, the Southern California Institute of Technology is an excellent place to enroll. All you need to do to fulfill your dreams in the tech industry is hire professionals, like moving companies Orange County offers, and apply to become one of their students after your move.
On the other hand, California State University, Fullerton, which is just outside of Anaheim, is one of the closest institutions. With a total enrollment of 41,000 students, this public university has the largest student body in the California State University system. Nearby institutions include Fullerton College, Chapman University, Santa Ana College, and the Los Angeles-based Fashion Institute of Design and Merchandising. 
Fullerton
California's Fullerton, a mid-sized city in Orange County, is part of the state of California. The number of residents in Fullerton has somewhat decreased over the last five years. With a population growth rate of -0.5% over the previous year and -0.1% over the previous five years, the population has reached the number of 139,866. Living in Fullerton has a dense metropolitan vibe, and it is considered to be a fast-paced environment. There are always new restaurants to try, and the neighborhood has a lively nightlife. These are the exact reasons why moving companies Fullerton always have their hands full!
If you move to Fullerton as a student, you'll be able to see why it is one of the best college cities in Orange County. For instance, you'll be able to study at Fullerton College. It's the oldest community college in California still in operation. They have increased in size to become one of the most prosperous community colleges in the country since their initial class of 26 students in 1913. Students are given the tools and resources they need to succeed thanks to their high transfer and graduation rates, robust academic offerings, and radically student-centered approach. The acceptance rate for Fullerton College is 100%, while the graduation rate is 39%. As for the cost, you'll be spending almost $9,000 a year.
Irvine is among the best college cities in Orange County 
There are several schools to select from if you're going to Irvine to pursue your education! You can choose to enroll at the University of California Irvine, the prestigious Association of American Universities' newest member. This esteemed public university provides more than 200-degree options and is home to Anteater Stadium, where locals go to watch collegiate sports including baseball, basketball, soccer, and others. Yearly, about 30,000 enroll at the University of California to pursue their degree. If you decide to be one of them, movers Irvine CA will gladly help you with your move to Irvine.
Another great option is Orange Coast College. You may have the best of both worlds at OCC, top-notch education, and flexible learning alternatives that let you concentrate on the other aspects of your life that are really important. There is a possibility to choose from a large range of in-person, hybrid, or entirely online courses to advance your academic and professional goals. The graduation rate at OCC is 47%, out of which 84% get employed up until 2 years after graduation. 
Something you are also probably concerned about is the cost of the rent. If you choose to live in an apartment, depending on what part of the city you choose, you'll be paying about $1,500. As for other living expenses, for a single person, estimated monthly living expenses are about $1.000. 
Santa Ana
On California Orange County's southwest coast, Santa Ana is a well-known city. With 31% of its population under the age of 18, the city is regarded as one of the most populated and youthful urban districts in the US. Due to the large number of immigrants living there, 80% of the people do not speak English as their first language. Have that in mind if you consider moving to this city and using OC moving services.
When it comes to education, Santa Ana College is the most popular one. Located in Santa Ana, California, near Los Angeles, Santa Ana is an above-average public college. It is a modest university with 4,197 undergraduate students enrolled. It has a 100% acceptance rate, which is a great thing to hear. Liberal arts and humanities, business, and fire safety and prevention are all popular majors. Alumni from this college graduate at a rate of 29% and go on to make a starting income of $33,800. So if you are a fan of smaller colleges and consider moving here, it's time to get your moving quote from movers Santa Ana. As for the price of the tuition, Santa Ana College will charge you about $6,500 a year for your studies. 
Over the past few years, online learning has shown to be very effective. Therefore, many colleges are incorporating some programs that students are able to follow from the comfort of their own homes. It has many advantages and gives you an opportunity to better organize your time. Sana Ana College is one of them, which is why the city of Sana Ana is considered to be one of the best college cities in Orange County. 
"*" indicates required fields
What Our Clients Say
" I was in a bind with having to move during the Coronavirus problems. You were very accommodating in this tough time. "