Closet organization and storage tips
It's generally known that women are the ones who have the most clothes, shoes, bags, hats, etc., but never have anything to wear. Well, sometimes the poor organization of the closet is the cause of that, and sometimes it depends on the mood. Regardless of whether your wardrobe is big or small, or you have a special room for your things, organization and tidiness always come first. Also, in cases when you move, it's very important that your clothes and other things are neatly packed, and this can be taken care of by moving and storage companies Orange County. But, now, the tricks we have prepared for you for closet organization and storage tips will be of great use to you if you are moving, want to store something, or just want to make a new layout in your closet. Let's see!
Sorting can be of great help when it comes to storage and closet organization
When your closet gets crowded, it's time to sort. Sorting is the main step when we talk about organizing your closet, packing your things, and storing them. We are sure that in your closet are things that you no longer wear, that are small, damaged, or that you don't like. Therefore, it would be ideal to separate and classify these things. So, let's go! Take a few ordinary cardboard boxes and separate things. But it's very important to separate by groups "small" "old" "damaged". Sort your things, but you don't have to throw them in the trash. You can always give them to someone as a gift or donate them. Also, if you want to store some of your things, pack them in boxes, and don't forget the moth repellent.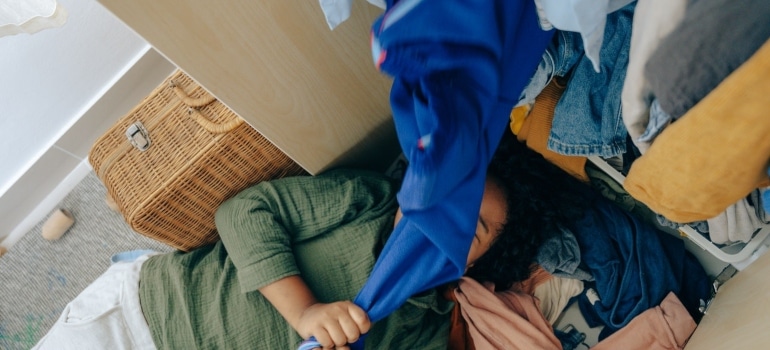 Also, when it comes to sorting, it's necessary to sort those things that remain in your closet after a lot of cleaning. It's best to take all the things out of the closet and start sorting. For example, separate dresses, pants, shirts, T-shirts, etc. Inspect for washing or ironing. This seems like an endless job, but believe us it will pay off in the end. For some things, you won't even know you had them, and new clothing combinations will appear to you. Also, sorting is necessary before you use packing services Orange County. If you sort your things before packing them, the whole packing process will be easier for you and professional packers.
Things you can use when organizing your closet
Each closet has shelves, a hanging area, and drawers. But would you like to use the maximum of that space and make your closet look nice and tidy when it opens? If you want, put these things on your list and go shopping. You may already have some of this in your home, check it out.
Coat hangers
Plastic baskets
Wicker baskets
Closet Organizers
Clothes hooks
You will be able to get these items at any better-stocked local store or simply order them from online shop sites such as amazon.com. Also, closet organizers, baskets, and coat hangers will be useful for you to better organize your closet. Also, with the help of these things, you will be able to use the maximum space in your closet. You can use the organizers anywhere because there are several types. Drawer organizers can be useful in the kitchen as well as in children's closets. And you can also get shoe holders.
Closet organization and storage tips
Once you are done sorting your wardrobe, you can move on to the next step, organizing the space in your closet. You can also separate seasonal clothes and store them in vaulted storage Orange County. What is very important before you put your wardrobe back in the closet is to clean the shelves of your closet, and put in a moth repellent. If you have a small wardrobe, try to use every free inch of your closet, so that as many things as possible fit inside. But make sure everything looks neat.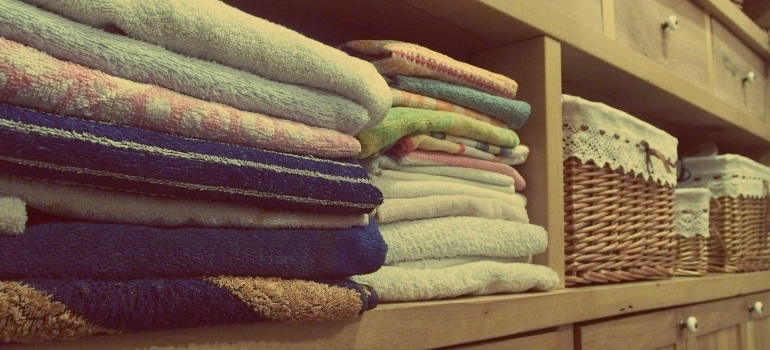 So, when we talk about closet organization, we have prepared some useful tips for you:
Separate underwear, socks, and ties.
You can use small baskets for them and pack everything separately.
Hand up the dresses on the coat hangers, and hang them on top of each other.
For T-shirts, scarves, and other accessories, you can use small hooks that attach to the coat hangers and thus save space in your closet.
Arrange clothes by color.
Place the shoes on the shoe holders with one shoe facing you.
Storage tips for your clothes
People most often choose to store seasonal clothes, or clothes that have sentimental value for them, such as your children's first things. So, when you want to put your wardrobe aside for a while, the storage tips we have prepared for you will be useful to you. Also, if you decide to keep your things in storage, delivery service Orange County is available to you immediately. Professional staff will take care of your belongings, take them to the storage, deliver them to your new address in case of relocation, and also deliver them from the storage to you when you need them again.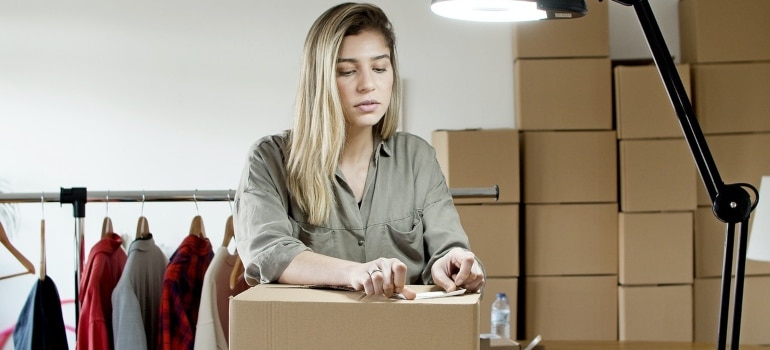 If you decide to store your clothes in storage units, keep in mind that the organization of the storage is also needed, as well as that the storage units must always look as neat and clean as your closet. So, in this case, you will need quality boxes. Pack all the clothes you want to store for a longer or shorter period of time in boxes and be sure to mark them. People often store seasonal things like ski equipment, diving equipment, and winter and summer clothes. Handle such items in accordance with the conditions prescribed for them. Also, in these situations, you can use tricks for closet organization and storage tips.
"*" indicates required fields
What Our Clients Say
" I was in a bind with having to move during the Coronavirus problems. You were very accommodating in this tough time. "