Discover the Best Brunch Spots in Irvine: A Local's Guide for New Residents
Are you a new resident and on the hunt for the best brunch spots in Irvine? Look no further! In this comprehensive guide, we'll unveil the best brunch spots that locals adore, ensuring you don't miss out on the culinary delights this vibrant city has to offer. From trendy cafes serving up avocado toasts and fluffy pancakes to cozy eateries dishing out omelets and mimosas, Irvine has something to satisfy everyone. Whether you prefer a relaxed atmosphere or a bustling ambiance, we've got you covered! As some of the most reliable moving helpers Orange County offers, we'll share our handpicked selection of must-visit locations. So, prepare your taste buds for an unforgettable brunch experience as we navigate the culinary landscape of Irvine.
Why does Irvine offer the best brunch spots in OC?
Irvine is a haven for brunch lovers, offering many spots to indulge in the perfect mid-morning meal. When your local movers Orange County leave your new home, it's time to go out and eat! With its vibrant lifestyle and diverse culinary scene, brunch has become an integral part of Irvine's culture.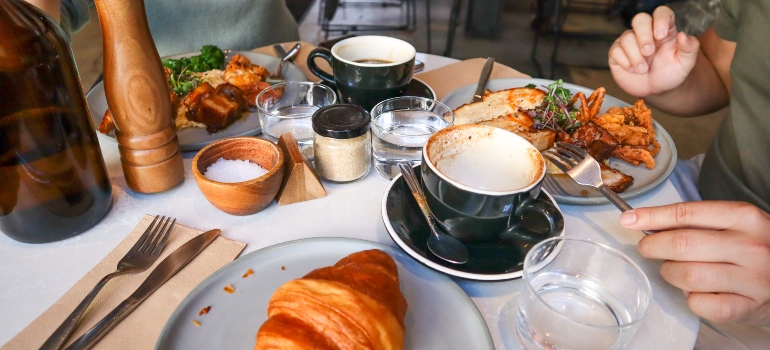 From upscale restaurants to cozy cafes, there is something for everyone's taste and preference. The brunch experience in Irvine is more than just a meal; it's a social event where friends and family gather to relax, catch up, and enjoy good food. Whether you're seeking a laid-back ambiance or a bustling environment, Irvine has it all. So, let's take a closer look at our list of the best brunch spots in Irvine.
Poached Kitchen is one of the best brunch spots in Irvine!
Poached Kitchen in one of Irvine's ultimate go-to brunch spots. It's a breakfast restaurant with a cool bar vibe and cozy patio areas. They're all about using fresh, local, and organic produce whenever they can, and their meats are free of GMOs and nitrates. The menu at Poached Kitchen is completely dedicated to flavor. Every dish is made with love and attention to detail, from their pancakes and omelets to burritos, sandwiches, and more.
Whether you're a traditional brunch lover or crave adventurous flavor combos, Poached Kitchen has you covered. The ambiance is laid-back, the service is on point, and the ingredients are fresh and tasty. With all these factors combined, it's no wonder that Poached Kitchen is widely regarded as one of the best brunch spots in Irvine. So if you're looking for a cozy place to have a delicious breakfast, look no further than Poached Kitchen!
Everyday Eatery
Everyday Eatery in Irvine stands out as one of the best brunch spots in town. With its cozy and inviting atmosphere, this place is one of the local's favorites. What sets it apart is the exceptional menu, featuring a delightful fusion of flavors and unique twists on classic brunch favorites. From their signature avocado toast with a zesty lime kick to their fluffy pancakes infused with hints of vanilla and served with fresh berries, every dish is a joy to watch and eat.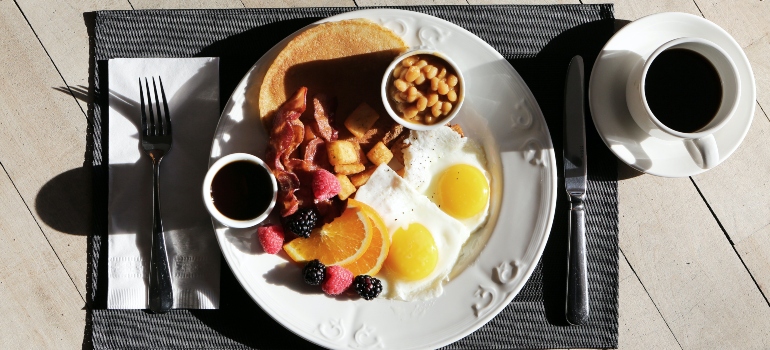 The menu also caters to diverse dietary preferences, offering vegan, gluten-free, and dairy-free options that never compromise on taste. The team at Everyday Eatery prioritizes using high-quality, locally sourced ingredients, ensuring a fresh and unforgettable dining experience. So, if you're looking for a brunch spot that combines innovation, comfort, and culinary excellence, make sure to pay them a visit. Everyday Eatery will always leave you wanting more and eager to come back.
Stacks Pancake House
What makes this place exceptional is its straightforward yet delicious menu. They specialize in pancakes, offering a wide range of flavors and toppings that will satisfy any pancake lover. From classic buttermilk pancakes to indulgent creations like chocolate chip or banana nut, their pancakes are a breakfast delight. Besides pancakes, their menu also features omelets, savory crepes, and breakfast combos that will leave you fully satisfied.
The cozy and welcoming ambiance adds to the overall experience, making it a go-to spot for families and brunch enthusiasts alike. Whether you're craving a sweet breakfast treat or a savory morning feast, Stacks Pancake House is a must-visit destination in Irvine. Be sure to ask your providers of moving and packing services Orange County for directions when you complete your move! Chances are, it's their favorite dessert place, too.
Postino Park Place
Postino Park Place is undeniably a place you simply must visit. As an industrial wine café, it presents a unique selection of approachable wines that complement its delicious, locally sourced food. The warm and edgy culture of Postino Park Place creates a welcoming atmosphere that brings people together. With a focus on quality ingredients, their menu is simply delightful.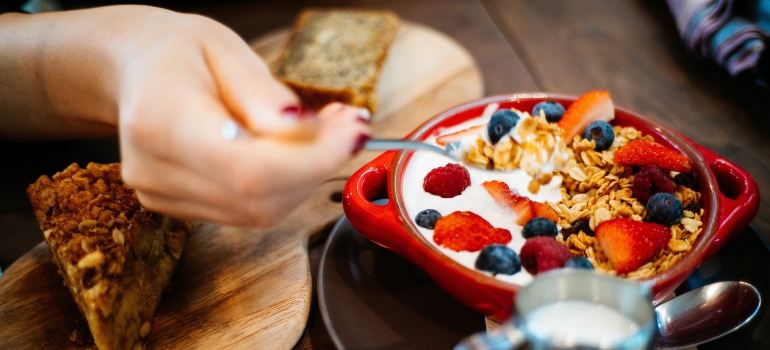 They serve all the breakfast and brunch favorites but with their own special twist. The attentive service ensures a memorable visit for all brunch enthusiasts. Whether you're craving a leisurely meal or a lively gathering, Postino Park Place is the go-to destination. Enjoy the perfect blend of outstanding wines, delicious cuisine, and a vibrant ambiance that make it one of the best brunch spots in Irvine.
The Best Brunch Spots in Irvine Are Not Hard to Find!
Irvine is an amazing city that offers something for everyone. Whichever cuisine you crave, you'll easily find it. The same principle applies to your favorite brunch delicacies. Casual breakfast restaurants are located all over the city, but we've cherry-picked a few of our favorite ones. However, don't stop there! Once your business is complete with one of the most reliable moving companies Irvine has to offer, celebrate your move by going out and treating yourself in any of the best brunch spots in Irvine!
"*" indicates required fields
What Our Clients Say
" I was in a bind with having to move during the Coronavirus problems. You were very accommodating in this tough time. "