Discover the Thrill: Top Water Sports Destinations in Orange County
Orange County, with its pristine beaches and perfect weather, is a must-visit for water enthusiasts. In this article, we present the top water sports destinations in Orange County, where residents and visitors can indulge in thrilling aquatic adventures. Whether you're seeking the rush of riding ocean waves through surfing or stand-up paddleboarding, the serenity of kayaking in picturesque harbors, or the adrenaline of jet skiing or wakeboarding, Orange County has it all.
With its diverse coastline and abundant waterways, this Southern California paradise provides endless opportunities for aquatic exploration. Join our adventure-loving team at Affordable Reliable Moving Company Orange County as we dive into the top water sports destinations in OC, highlighting the best spots to engage in these exhilarating activities and create unforgettable memories along the stunning Pacific coastline!
Riding the Waves at Top Water Sports Destinations in Orange County
Whether you're planning to make Orange County your new home or you're just in for a quick visit, get ready to dive into a world of exhilarating water sports against the backdrop of breathtaking coastal landscapes. Nestled along the picturesque shores of Southern California, Orange County boasts a stunning blend of sun-soaked beaches, sparkling azure waters, and a climate that seems to perpetually embrace outdoor adventure.
With an irresistible blend of perfect weather, diverse marine life, and a vibrant water sports scene, this coastal paradise offers an array of thrilling activities that will leave you captivated and craving for more. From surfing the iconic swells to paddleboarding through tranquil coves, Orange County presents a gateway to unforgettable aquatic experiences that will have you yearning to explore its top water sports destinations. So let's explore them together!
Newport Beach is one of the Top Water Sports Destinations in Orange County 
If you're a water sports lover, you should start searching for moving companies Newport Beach right away! Newport Beach is undeniably a top-notch water sports destination in Orange County, offering an abundance of exciting activities for water enthusiasts to enjoy. Stand-up paddleboarding is the most popular activity, providing a serene and enjoyable experience on the calm waters along the coastline. Whether you're a seasoned pro or new to the sport, you'll find peace and a sense of adventure paddling through the scenic Newport Harbor or venturing out into the open ocean. Kayaking is also a popular choice for exploring Newport Beach's waterways. Glide through the peaceful Newport Back Bay or embark on an aquatic adventure in the thriving Upper Newport Bay Nature Preserve, where you can witness the vibrant marine life up close.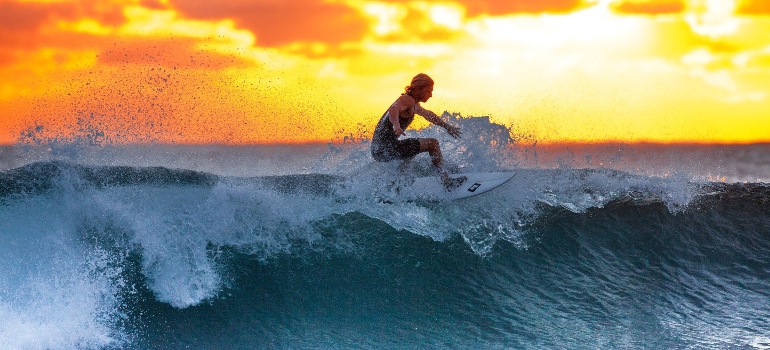 For those seeking a more adrenaline-fueled experience, jet skiing and wakeboarding are very popular here. Renting a jet ski and feeling that rush when you take off is something very few things can replicate. These thrilling activities provide an exciting challenge for water sports lovers. For a truly elevated experience, parasailing offers a unique and exhilarating opportunity. Soar above Newport Beach, taking in the breathtaking panoramic views of the coastline and the vast expanse of the ocean below.
Huntington Beach – Surfing Capital
Huntington Beach, known as Surf City USA, is a premier destination for surf lovers. With its excellent waves, it attracts surfers from around the world. The iconic Huntington Beach Pier and popular breaks like Bolsa Chica State Beach offer ideal conditions for riding the waves. But surfing isn't the only water sport that thrives in this coastal paradise. Kiteboarding enthusiasts also head out to Huntington Beach to harness the power of the wind and perform glide on the water's surface. Bodyboarding, with its exhilarating rides and thrilling wave maneuvers, is another popular activity enjoyed by the residents of OC. And for those seeking a unique experience, skimboarding provides an exciting blend of surfing and skateboarding on the water's edge.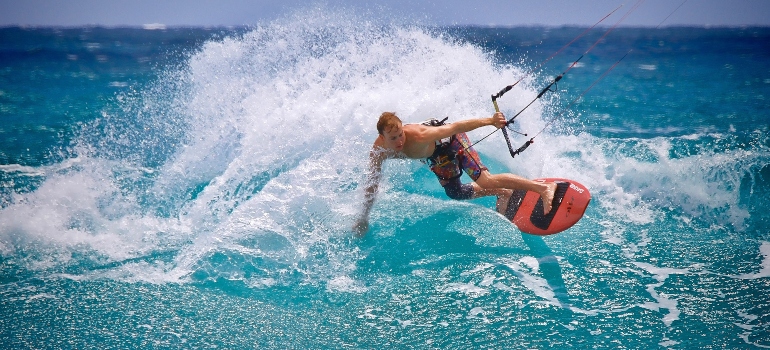 If the allure of these water sports activities in Huntington Beach has captured your attention and you're considering a move to this vibrant coastal city, you'll need the assistance of professional moving companies Huntington Beach has to offer. Trusted moving companies in Huntington Beach can assist with packing, transportation, and the logistics of your move, ensuring a smooth and hassle-free transition. Whether you're bringing your surfboards, kiteboarding gear, or other water sports equipment, these moving companies will help you safely transport your belongings to your new home in Huntington Beach, where the thrill of the waves and the exhilaration of water sports await you!
Dana Point – Marine Adventures in One of The Top Water Sports Destinations in Orange County
Dana Point is a coveted water sports destination in Orange County, offering an array of thrilling activities for enthusiasts of all levels. What separates Dana Point from other places in OC is the abundance of marine life you will find there. One of the highlights in Dana Point is whale watching, a mesmerizing experience that allows you to witness these majestic creatures in their natural habitat. You can hop on a boat tour and see with your own eyes whales breaching and playing in the ocean. Many movers decide to find the best movers Dana Point offers and relocate there precisely because of these amazing experiences. 
For those seeking a more serene experience, paddleboarding and kayaking in Dana Point Harbor is unmatched. You can enjoy the tranquility of these water sports as you take in the stunning views of your surroundings. Dana Point offers a thrilling and diverse range of water sports activities, catering to every person's desires. Whether you're reeling in a big catch, marveling at the grace of whales, or peacefully paddling on a board or kayak, Dana Point will have you hooked!
Laguna Beach – Underwater Exploration
Laguna Beach shines as a remarkable water sports destination in Orange County, with its enchanting coastline and marine life attracting snorkelers and scuba diving enthusiasts. You can dive into the crystal-clear waters and immerse yourself in a world of underwater wonders! Laguna Beach has a vibrant and diverse ecosystem, with plenty of colorful fish, fascinating sea creatures, and amazing coral reefs. Snorkeling in Laguna Beach is also incredible, allowing you to explore the shallow waters and observe the marine life up close. Grab your snorkel gear and discover the beauty beneath the surface as you glide through the calm and inviting coves. Do that as soon as your movers Laguna Beach are out the door!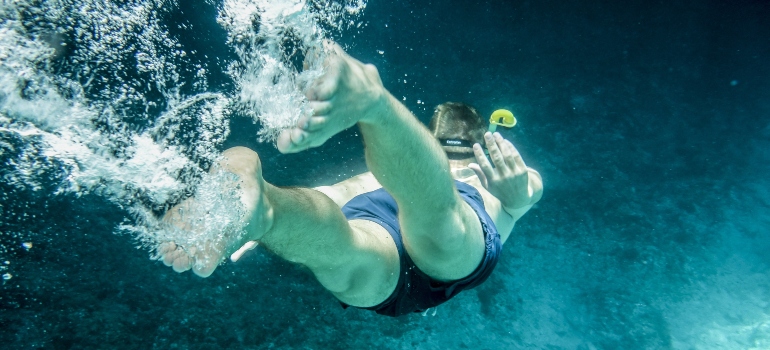 If you want a more immersive adventure, scuba diving in Laguna Beach reveals a whole new realm of underwater exploration. You can dive into the depths and witness the amazing sights beneath the surface, from majestic kelp forests to hidden caves and intriguing rock formations. You will also encounter an array of marine species, including sea lions, rays, and dolphins. Laguna Beach's captivating underwater world makes it an irresistible destination for water sports enthusiasts. It has unrivaled marine biodiversity, which will for sure make you fall in love with the place! 
Crystal Cove State Park – Tranquil Water Sports
Crystal Cove State Park offers an idyllic setting for water sports enthusiasts. It offers many activities to enjoy along its scenic coastline. Kayaking and stand-up paddleboarding are definitely the most popular sports there. Residents and tourists glide across the waters and soak in the natural beauty that surrounds them. Also, scuba diving enthusiasts are attracted to the park's underwater gems. The park is ideal for diving with its diverse marine life and beautiful underwater scenery. See the depths and discover the captivating wonders below, such as colorful kelp forests and intriguing rock formations. Crystal Cove State Park is a paradise for divers of any skill level, providing unforgettable encounters with a variety of marine species and a glimpse into the underwater realm.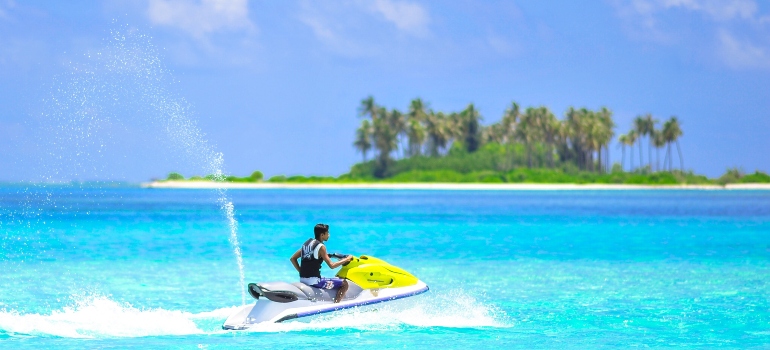 One of the most famous sections of Crystal Cove State Park is the historic district, which showcases vintage beach cottages and immerses visitors in the charm of a bygone era. The park's natural beauty blends perfectly with the nostalgia of the past, making it a truly unique and cherished destination for both outdoor enthusiasts and history buffs. With its plethora of water sports activities, stunning coastline, and underwater delights, Crystal Cove State Park beckons adventurers to explore its pristine shores and immerse themselves in the wonders of nature. Make sure to keep this amazing water sports destination in Orange County on your radar! You'll definitely love it there, should you decide to move to Crystal Cove. 
San Clemente – Thrills on the Wave
San Clemente stands out as one of the top water sports destinations in Orange County. It is a paradise for surfers and enthusiasts of various aquatic activities. Renowned for its amazing beaches and reliable waves, San Clemente is a surfer's paradise that attracts riders from near and far. In addition to surfing, San Clemente provides opportunities for other exciting water sports adventures. Kayak rentals are readily available, allowing visitors to explore the stunning coastline and venture into hidden coves. For those seeking a balance between relaxation and exercise, stand-up paddleboarding lessons are offered. They provide a unique and enjoyable way to navigate the calm waters.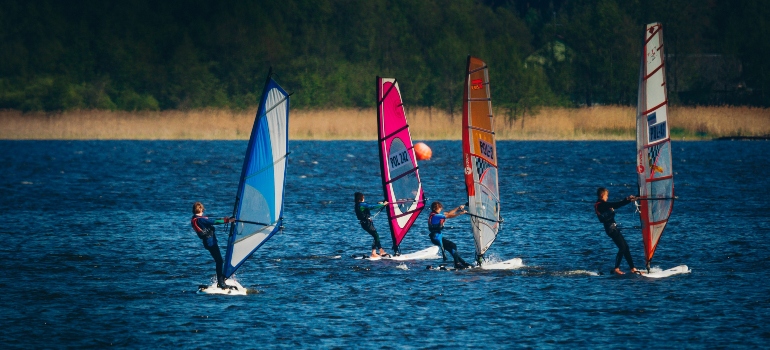 When planning your move, consider the convenience of reliable moving companies San Clemente has to offer. They can help you transition smoothly, allowing you to focus on water sports. Immerse yourself in the invigorating world of surfing, kayaking, and SUP lessons in San Clemente. Trusted moving companies make your relocation easy, so you can fully embrace this top-tier water sports destination. Do not hesitate, but rather get in touch with us and let us help you move to San Clemente as soon as possible! 
Laguna Niguel
Laguna Niguel is an exceptional place to call home, especially for water sports enthusiasts seeking an active and fulfilling lifestyle. With its prime location near the coast, Laguna Niguel offers easy access to plenty of water sports activities that cater to all skill levels. One of the most popular attractions is the renowned Salt Creek Beach Park, where visitors can indulge in surfing, swimming, and sunbathing on its gorgeous shores. The silky waves and beautiful coastline make it a favorite spot among surfers and beachgoers. For those seeking a more relaxed experience, the Dana Point Harbor is just a short drive away. We already covered Dana Point in this article, so make sure to check out all the other top destinations for water sports in Orange County once you relocate.
Laguna Niguel is also close to some of Orange County's top snorkeling and scuba diving spots, such as Shaw's Cove and Diver's Cove. You can dive beneath the surface to witness the vibrant marine life and amazing underwater landscapes. Aside from the water sports activities, Laguna Niguel boasts a vibrant community and a wealth of amenities. The city offers beautiful parks, hiking trails, and golf courses, so you will definitely lead a more outdoor lifestyle! Get in touch with our movers Laguna Niguel and let's embark on your journey together!
Water Sports Destinations in Orange County are waiting for you!
Discover the thrilling world of water sports destinations in Orange County, where adventure awaits at every wave! From the surfing mecca of Huntington Beach to the tranquil coves of Laguna Beach, the coastal gems of Dana Point and Newport Beach, and the serene beauty of Crystal Cove and San Clemente, Orange County offers a diverse array of top-tier water sports destinations. Whatever it is you are looking for, these destinations have it all. And if you're preparing for your upcoming move to one of these exciting locales, make sure to hire experienced help. So don't hesitate to contact us today to schedule your move and ensure a seamless transition. This will allow you to focus on embracing the water sports paradise that awaits you in Orange County. Get ready to dive in and make unforgettable memories in this aquatic playground.
"*" indicates required fields
What Our Clients Say
" I was in a bind with having to move during the Coronavirus problems. You were very accommodating in this tough time. "