Exploring Different Communities in Orange County
Are you planning to move to southern California but don't know where? Exploring different communities in Orange County can be an exciting adventure, and we'll help you with that! Let us take you on a journey to explore various neighborhoods in the area, from bustling urban areas to serene suburban spots. Whether you're seeking a vibrant city atmosphere or a peaceful retreat, OC has many diverse landscapes and hidden gems. By the time you've finished this article, we are sure you will start searching for affordable movers Orange County has to offer to expedite your relocation!
Anaheim
First on our list is the iconic Anaheim. Let's take a closer look at what makes this community in Orange County stand out from the crowd. 
Anaheim's Popularity
Anaheim's popularity stems from two major attractions – Disneyland and the Anaheim Convention Center. As the home of Disneyland, one of the world's most renowned theme parks, Anaheim draws millions of visitors each year. Families, thrill-seekers, and Disney enthusiasts flock to this magical destination, making it a top tourist spot.
Additionally, the Anaheim Convention Center hosts numerous events, conventions, and trade shows, further boosting the city's appeal. Its state-of-the-art facilities and central location in Southern California make it ideal for hosting large-scale gatherings. The combined allure of Disneyland's enchantment and the bustling atmosphere make many people from all over the US find movers Anaheim CA provides and start packing.
Anaheim's Vibrant Downtown and Community Commitment
Beyond its famous attractions, the city boasts a lively downtown area offering diverse dining, shopping, and entertainment options. The Anaheim Packing District, in particular, stands out as a culinary haven with its assortment of unique eateries housed in a historic citrus packing house. Food enthusiasts and locals indulge daily in the culinary offerings they find there.
Moreover, the city of Anaheim takes pride in its commitment to community services and public safety. It actively fosters community and well-being for its residents with its well-maintained parks, recreational facilities, and engaging programs and initiatives. The city's dedication to public safety is evident through its well-equipped police and fire departments, working diligently to ensure a secure environment for all. 
Long Beach
If you are looking for a place perfect for surfing or simply enjoying the ocean, look no further than Long Beach! Here are the reasons why this place is such a sought-after destination. 
Coastal Beauty, Vibrant Downtown, and Queen Mary
Long Beach offers stunning coastal beauty with miles of sandy beaches and clear Pacific waters. The sunsets create a mesmerizing sight each evening. The city's downtown is vibrant, filled with entertainment, shopping, and dining options. Visitors can explore boutiques, bars, and restaurants while the nightlife is always buzzing.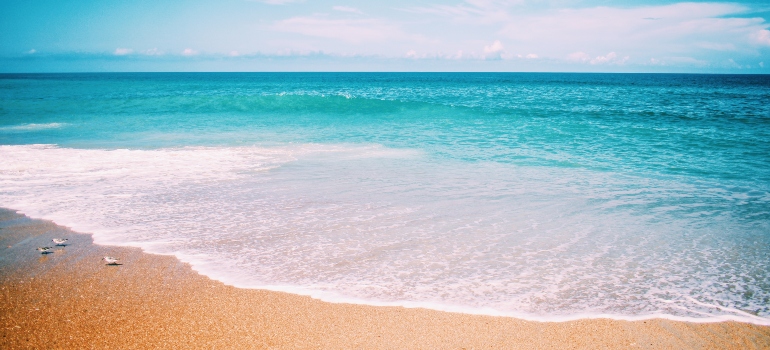 The historic Queen Mary ship adds to the maritime charm of a floating hotel and museum. All movers Laguna Beach CA has at its disposal would recommend visiting this outstanding locality. It was built in the 1930s and operated as a luxury cruise ship for the rich and famous. During World War II, it served as a troopship, transporting soldiers. Today, it is a popular tourist attraction in Long Beach, offering tours and events.
Diverse Neighborhoods and Arts Commitment
Long Beach takes pride in its diverse neighborhoods, each showcasing its distinct charm. Whether it's the art-centric East Village or the family-friendly Bixby Knolls, there's a neighborhood to suit every taste. The city nurtures a close-knit community through cultural festivals and events that bring people together.
Moreover, Long Beach cultivates a solid dedication to arts and culture. You can explore its many galleries and enjoy live performances in the local theaters that are always packed. The city's streets are adorned with public art, adding a touch of creativity to everyday life.
Laguna Niguel 
Let's continue exploring different communities in Orange County by zooming in on Laguna Niguel. It's a great place with excellent schools, safe neighborhoods, and authentic community events that the locals and tourists greatly enjoy. 
High-Quality Schools and Safe Neighborhoods 
Laguna Niguel is renowned for its excellent schools, safe neighborhoods, and numerous parks. The schools are highly rated, providing top-quality education. The best example is the El Morro Elementary School, which is the 23rd-best school in all of California!
Also, the neighborhoods are secure and family-friendly, ensuring a tranquil living environment. Furthermore, the city's parks are one of the city's highlights. We recommend you visit the Crown Valley Community Park. It's a large park with various amenities like sports fields, playgrounds, a splash pad, picnic areas, and a beautiful lake with a walking trail. Overall, Laguna Niguel is a sought-after destination for families seeking a thriving and harmonious community.
Community Events and Amazing Nature
The city's community events unite residents, creating a strong sense of togetherness. From cultural festivals like the Laguna Niguel Holiday Parade to charity fundraisers, these events contribute to a vibrant social scene in the city. After relocating with movers Laguna Niguel offers you can explore the city's parades and events. 
Another reason why Laguna Niguel is an Orange County community worth exploring is the fact that it also has fantastic nature around it. The best examples are Aliso and Wood Canyons Wilderness Park. It's a favorite spot for nature lovers and hikers, as canyons, lush trails, and abundant wildlife surround you. It's the perfect escape from the noise of the town.
Orange 
Orange is known for its historic charm, rich cultural heritage, and diverse community. The city offers a range of recreational activities, parks, and excellent schools, making it an attractive place for those exploring different communities in Orange County.
The Charm of Orange's Old Towne District
Orange's historic Old Towne district is a captivating locality with charming and well-preserved buildings. Strolling through its streets feels like stepping back in time. The district exudes an old-fashioned atmosphere, offering unique shops, cafes, and restaurants that reflect the city's rich heritage.
The annual International Street Fair is a vibrant celebration of cultural diversity. It attracts visitors from all over California with its colorful displays of traditions, music, and mouthwatering cuisines from around the world. This lively event showcases many different cultures, fostering a sense of unity and appreciation for global heritage. The International Street Fair has become a cherished tradition that brings the community together for an unforgettable experience of international flair in the heart of Orange.
The Excellence of Orange's Education System
Orange's school system is incredibly diverse, making it stand out among California's districts. With over 25,178 students enrolled from PK to K-12, it caters to a large population. The student-teacher ratio is 23 to 1, ensuring students get adequate attention. Niche magazine has rated Crescent Elementary School and Villa Park High School as top-notch, both receiving an A rating. These schools have excelled in providing quality education and a conducive learning environment.
The district's commitment to inclusivity and academic excellence has garnered praise and recognition. Its diverse student body fosters a rich cultural exchange, preparing students for a globalized world. If you have kids, the city's strong academic focus should be one of the key reasons why you should start searching for the best moving companies Orange CA has to offer!
Huntington Beach
If your preferred destination should be a paradise for watersports and outdoor activities, then you should start searching for moving companies Huntington Beach has at its disposal and scout the housing market! Let's see what makes this city as impressive as it is.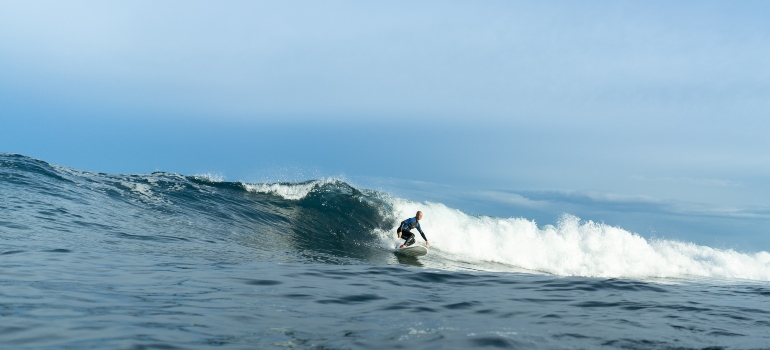 Surf City USA!
Huntington Beach, famously known as Surf City USA, is a coastal gem attracting surf enthusiasts worldwide. Its title is well-deserved as it offers some of the best surfing conditions, consistent waves, and ideal weather year-round. The city boasts many famous beaches like Bolsa Chica State Beach, Huntington State Beach, and the iconic Huntington City Beach, where surfers and beachgoers bask in the sun and embrace the vibrant ocean culture.
At the heart of Surf City USA stands the renowned Huntington Beach Pier, a landmark that stretches out into the vast Pacific Ocean. The pier is a favorite spot for anglers, sightseers, and those seeking Instagrammable sunsets! You will also find an array of commercial districts offering unique shopping experiences, dining options, and lively entertainment. They are situated along the Pacific Coast Highway, so take your time and explore. 
The City Fosters a Dynamic and Active Lifestyle
Huntington Beach promotes an active lifestyle through various programs and events. The city organizes fitness classes and sports activities in local parks to encourage residents and visitors to stay active. Regular community sports leagues cater to different interests, fostering a sense of camaraderie and friendly competition. The city hosts numerous outdoor events like fun runs, beach volleyball tournaments, and surfing competitions, drawing people of all ages to participate in healthy, active pursuits.
Cycling enthusiasts can explore dedicated bike paths and scenic routes, encouraging eco-friendly transportation and exercise. Huntington Beach's parks and recreational facilities provide excellent options for outdoor play, training, and relaxation. The city also supports wellness initiatives, offering health and fitness workshops, ensuring the community's overall well-being.
Santa Ana
Santa Ana is the final entry on our list of different communities in Orange County worth exploring. What sets this community apart are its cultural and historical offerings and its dedication to arts and culture in general. 
Rich History and Diverse Culture
Santa Ana is the home of many galleries, museums, and other cultural spots. The Bowers Museum is a must-see destination. It houses remarkable exhibits from various cultures and time periods. Visitors can explore art, artifacts, and historical treasures, offering an enriching experience for all ages. The Discovery Cube is another exciting science museum. It provides hands-on activities, workshops, and interactive displays, where kids and adults can delve into the wonders of science and technology. It would be one of the first spots moving companies Santa Ana would recommend visiting to get to know the town. 
Finally, the Santa Ana Zoo is uniquely special in the region for its focus on endangered species conservation. It houses a diverse collection of rare and endangered animals, contributing to their preservation and raising awareness about their plight.
The Love for the Arts is Apparent Everywhere You Go
Santa Ana has diverse neighborhoods, each with its own character. Downtown is vibrant with art, entertainment, and food. Floral Park showcases historic homes and tree-lined streets, The West End offers modern shops and eateries, and Delhi is bustling with cultural markets. The city takes arts and culture seriously, with various events celebrating local talents.
Also, galleries and theaters thrive there, and art installations are found in almost all public spaces. Santa Ana embraces its rich heritage through festivals and traditions, so music and dance performances are very common. Moreover, the city invests in community engagement with art workshops and classes accessible to all. The commitment to arts and culture enriches Santa Ana, fostering a sense of pride and identity among its people.
Other Communities in Orange County Worth Mentioning 
There are many other different communities in Orange County worth exploring! To name a few, we'd recommend:
Yorba Linda
San Clemente
Aliso Viejo
Lake Forest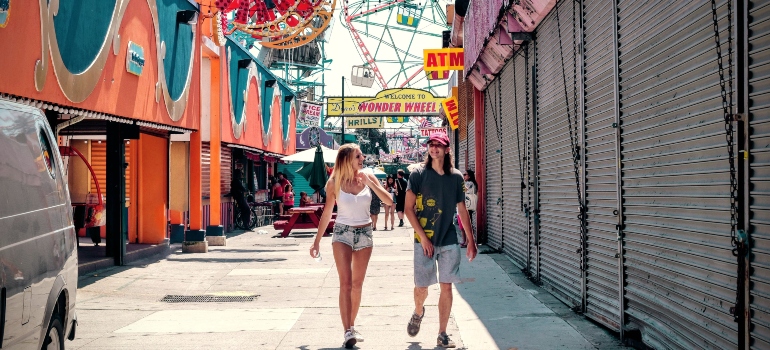 Yorba Linda is known for its parks, hiking trails, and the Richard Nixon Presidential Library and Museum. San Clemente is a beachside gem that provides a laid-back lifestyle. Aliso Viejo is a family-friendly community with a famous dining and shopping scene, and finally, Lake Forest is a well-planned city with abundant recreational amenities like sports parks, golf courses, and equestrian centers. When deciding on your next city, explore all options to make the best possible decision for you and your family!
Exploring Different Communities in Orange County Doesn't End Here!
All in all, OC offers an abundance of unique communities and neighborhoods. When exploring different communities in Orange County, consider all the relevant factors necessary for the lifestyle you desire. There are so many choices it might be hard to narrow it down to just one! When you are finally ready to move, contact us, and we will help you experience a seamless relocation and start your new life in OC!
"*" indicates required fields
What Our Clients Say
" I was in a bind with having to move during the Coronavirus problems. You were very accommodating in this tough time. "