How to store IT equipment?
Renting storage is one of the best solutions when you need additional space for your home or office. And it's often one of the offers of OC moving services. Also, when using storage, there are storage rules which must be respected. And depending on the items being stored, certain storage conditions should be met. When we talk about IT equipment storage, it should be noted that it's costly and requires proper maintenance. Also, its storage will not be simple. IT equipment contains sensitive and expensive parts that can be damaged, eroded, etc., due to long-term storage in bad conditions. So, we will show you how to store IT equipment if you plan to store it. And we believe that it will be of great help to you.
How to store IT equipment? First, rent the proper storage unit for your IT equipment
One of the most important things when we talk about storing your IT equipment is choosing the proper storage unit. What is also important is to observe the conditions prescribed for the storage of certain things. Each storage unit must be clean, air-conditioned, and safe so that the stay of your things for a long period would not lead to secret damage to your IT equipment. It's very important that there is no moisture or dust in the storage units because some parts of your IT equipment are very sensitive. Their repair is almost impossible, and it will only be an additional expense.
Also, storage units are often used for commercial purposes, as additional space for your office, but also during a commercial move. Commercial moving Orange County CA are services that are available to you for moving your office, but also when it comes to storing your IT equipment. They will help you to choose the proper storage unit, as well as to store all your things properly. What is very important is that your things are adequately prepared for storage.
Useful tips on how to store IT equipment
When you have chosen a storage unit that meets your needs as well as all the security requirements for storing your IT equipment, you can move to the next step. It's the storage of your IT equipment. It is very important for you to know that your equipment must be adequately prepared and stored in the right way to avoid damage, breakage, etc. That's why we have prepared for you some tips when it comes to storage; take a look:
Organize your storage unit to save space
Use the original packaging for your equipment
If you don't have the original packaging, improvise
Make sure you get good quality, waterproof packaging for packing
Use bubble wrap for sensitive areas
Mark the boxes
Use packing services Orange County that provide you with safe and professional packing of your IT equipment
Don't forget the regular maintenance of your storage unit
Here are some tips to keep in mind when storing your gear. Also, what is most important is that your equipment is properly stored. But that's not all; we have more useful tips for you, so keep reading!
Prepare your IT equipment for storage
Preparing IT equipment for storage will require a little more investment of your time. So, let's get to work right away. Make saving data your first step. Make sure you have saved your data on USB drives, cloud, or other storage to prevent their loss. It's best to make two backups. Your next step is to remove the stick-attached parts and accessories to your computers and other equipment. These are mainly cables, USB ports, additional memory, camera, mouse, keyboard, etc. You can immediately pack the small parts in the original packaging; if you don't have them, improvise.
After you have taken care of data storage and smaller equipment, proceed to the larger and more demanding parts. Your next step is cleaning. Dust can be very harmful to your IT equipment. Its tiny particles can cause damage to your hard drive, but they can also penetrate tiny openings and create a nightmare for you. So, make sure to clean the parts of your IT equipment well with a microfiber cloth and alcohol spray. Spray it on a cloth and wipe over sensitive surfaces. You can also disassemble and clean some parts of the equipment.
How to pack your IT equipment to store?
After you have finished cleaning and preparing your IT equipment for storage, packing is time for the next and most demanding step. First, ensure you get the right packaging and plenty of protective material. If you have all that, proceed to pack. Also, using vaulted storage Orange County gives you the ability to transport your belongings to storage. It's enough to call, and professional movers will be at your address and transport your belongings to the storage. They will do the same when you need things again; they will bring them to your address.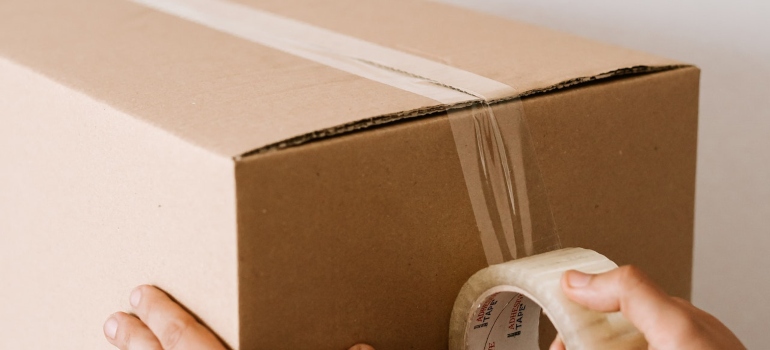 So, back to the packing! When you have cleaned and sorted your IT equipment, start packing. Be sure to cover your computer monitors and wrap them in bubble wrap or some soft fabric. Also, close all openings on your equipment so that dust does not get inside. Then, start packing in boxes. Be sure to make an effort to fill the empty space in the boxes so that your things don't move. Put moisture absorbers in the boxes to prevent damage to your equipment that moisture can cause. We hope to have answered all your queries on how to store IT equipment that will make the experience all the more enjoyable.
"*" indicates required fields
What Our Clients Say
" I was in a bind with having to move during the Coronavirus problems. You were very accommodating in this tough time. "