At Affordable Reliable Moving, we have been providing moving services to Southern California for more than twelve years. Each member of our team is an experienced, professional mover, trained to properly handle your belongings with care. As fully licensed and insured Irvine CA movers, we make your moving process a quick, smooth, and stress-free process.
We are flexible with our scheduling and happy to work around your schedule. We understand how stressful a moving day can be and we want to work with you to alleviate that stress and provide you with safe, secure transportation services.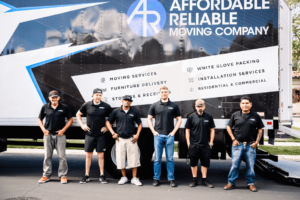 If you have any questions, contact us today and a member of our team will be happy to help.
Why Choose Affordable Reliable Moving?
We at Affordable Reliable Moving understand the emotional and financial value of your possessions. This is why our first priority is to transport your household or business belongings safely and with complete efficiency. Working with us as your Irvine CA movers means you can rest easy in the knowledge that our team of experienced movers only use the best equipment for the job, and are fully trained to do so.
Whether you are a homeowner or a business owner looking to relocate your belongings, you can rely on us to help simplify and ease the stress of your relocation. For more information, contact us today.
Speed and Efficiency
With our specialized moving equipment and fully-trained team of movers, we are fully equipped to provide a fast-moving service that doesn't sacrifice the safety of your belongings or increase cost in any way. For large families with a tight schedule, our team of local Irvine CA movers is the ideal choice.
Safety and Security
For over a decade, we have led the moving industry in California through experience and expertise. Our team of movers is able to conduct complex moves — which involve large objects such as pianos — with full safety and security in mind. To ensure this safety, we have developed a variety of protocols that don't only ensure the safety of your possessions, but that of our team members as well.
Flexible Scheduling
Whatever time is convenient for you, our team will be there. You have the freedom to move early in the morning or late in the afternoon; our team at Affordable Reliable Moving prioritizes working to your needs and your schedule. This philosophy has helped us to build a strong reputation as Irvine CA movers who are available to work Monday through Sunday. Our services are customizable to meet your needs.
Locations We Serve
How Our Team Can Help
With extensive training and more than 12 years' experience, Affordable Reliable Moving are fully equipped to help homeowners and businesses move to a new location. Our services can be tailored to your needs, and some of those services include:
Office moving

Residential moving

Piano moving

Furniture moving

Storage

Delivery services

Local moves

Long-distance moves
Contact the Best Irvine CA Movers Today
Homeowners and businesses looking for reliable, efficient movers can count on Affordable Reliable Moving for their relocation needs. If you have any questions about our moving services in Irvine, contact us today and a member of our team will be happy to help you.