Irvine Movers
"*" indicates required fields
After you have made arrangements and you've signed a lease or mortgage for your new dream home, It's time for you to choose a moving company and set a moving date. Whether you need a short-distance or long-distance moving service, Affordable Reliable Moving Company is here to assist you with anything you may need during your moving process. Our satisfied customers and excellent reviews testify that we are considered one of the best movers Irvine CA has. So don't hesitate and call your Irvine movers today!
It's no secret moving can be overwhelming and stressful, and can involve a lot of details that can leave you overwhelmed. Luckily, at Affordable Reliable Moving, our full-service movers in Irvine CA can take the stress of moving off your shoulders. We provide a hassle-free process from beginning to end. There are many additional services you can choose from so you can have a stress-free and easy relocation.
Full-service movers in Irvine, CA will help you move without stress anywhere you choose
Moving from one home to another requires heavy labor, strategic planning, and large-scale vehicles. Attempting to move your belongings without the proper equipment and preparation can put your items and your health at risk. At Affordable Reliable Moving, our fully licensed and insured movers from Irvine CA have special training and expertise to handle your belongings with the utmost care. That's why we recommend considering requesting a free quote for our moving services. We're prepared to take over every aspect of the moving process for you. Everything from coordinating the move to transporting large appliances to placing your furniture in your new residence. It's a relocation in style. Just leave everything to us.
We will relocate your home or office with ease and perfect handling of your possessions
Depending on the type of home you have and the number of your possessions, moving can take less or more effort. Luckily, our team of experts is equipped to relocate you from a smaller or larger home with ease. Our Irvine movers will coordinate the moving process for you to ensure a smooth, stress-free experience. You may choose to relocate your apartment, house, or even your business with the help of our professionals.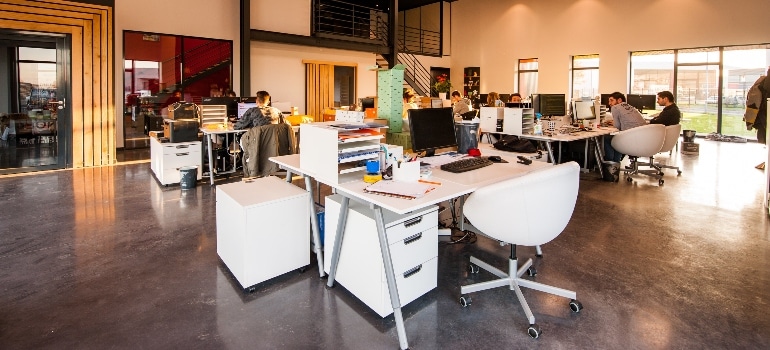 Use some of our most requested services to ensure your belongings are properly transported to the new location
As for your belongings, you can rest assured that they will be handled with professionalism and utmost care. Our professionals have years of experience in moving items that need specific care. That's why we offer a complete array of moving and storage services that among others include:
For all the specific items that tend to be bulky and require extra care when handling – you can be sure we will have our best employees do the job. Our aim is to help our customers in every possible way. This is why we also offer you storage services where you can put your large collections, vehicles, or any other possessions. Our storage units are humidity and temperature regulated. And if you still worry about damages, know that we offer full-value protection. That means that we will be liable for replacing any lost or damaged goods.
As for your most precious, expensive, or fragile belongings you may have vaulted storage at your disposal. Don't miss the opportunity to entrust your items to one of the most seasoned and experienced moving companies Irvine offers.
With one of the most trusted moving companies Irvine offers, you won't have to think twice about your move
Of course, your belongings need to be properly protected for the transportation ahead. That's why we recommend you hire the best team movers Irvine CA has to offer to pack your belongings for you. The packing service is the perfect option for those who do not want to think about getting the proper moving supplies, organizing their belongings, and other bothersome tasks that packing includes. Instead, call the professionals to do it for you!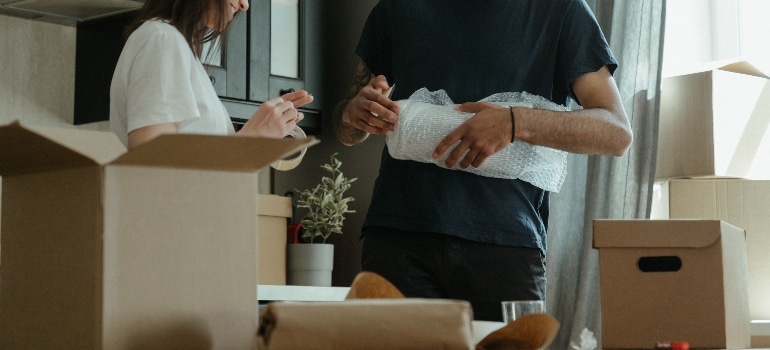 Our full-service moving company will even take care of tasks such as unpacking and disassembling your bed frames and reassembling them. We guarantee our fully licensed movers have the necessary qualifications and equipment to transport your furniture and other belongings down the street or across the country. And once we arrive at your new home, we'll unload your furniture and place it in your desired locations. That will save you the time and hassle of arranging it yourself. We'll handle every aspect of transporting your items to your new home. To assure that your items will be in perfect condition upon arrival, we use special padding and straps to load heavy items. We secure them in our moving trucks and safely unload them in your new place.
Get your free estimate today and our team of experts will  evaluate the factors contributing to the cost of a move to Irvine, CA
Once you get your free estimate and schedule a moving date, we will send professionals to your house to evaluate the cost of your move. Once we determine the price, you can rest assured that there will be no additional fees. However, the overarching cost of your move depends on factors such as:
The services you include in your move (full-service vs. a la carte)
The distance you are moving (local movers vs. long-distance moving)
The number and weight of items you need to move
Whether or not you require storage
The number of hours our services take
We can provide a detailed quote to break down the cost of your move before you hire us. That way you will know if the moving process is going to fit the budget you planned.
Call Irvine's affordable & reliable full-service moving company now
Moving doesn't have to be stressful. When you hire the best movers Irvine CA has to offer, rest assured that we will handle every step of the moving process for you. You won't need to lift a finger. Contact our team at Affordable Reliable Moving Company today at 949-635-4963 in Irvine, California to request a quote or schedule your moving date. We will happily assist you throughout the entire moving process.
How it Works
Contact Us
Give us the details of your upcoming move and receive a free moving quote
from a team of trusted movers Orange County relies on.
Let Us Plan Your OC Move
Our movers in Orange County CA are here to help you achieve both
a successful and seamless relocation, with care and dedication.
Relax & Enjoy Your Day
Let Affordable Reliable Moving Company take the stress out of moving and
carefully handle your home or office relocation.
What Our Clients Say
" I was in a bind with having to move during the Coronavirus problems. You were very accommodating in this tough time. "