Lake Forest Movers
"*" indicates required fields
Relocating a home or office calls for skilled movers Lake Forest residents trust the most. This is why you should choose Affordable Reliable Moving Company! We work as one of the top-ranked movers in Lake Forest and serve a quality moving experience to numerous people who plan to change their locations. Our movers are ready to handle your relocation project until the moment you unpack all boxes!
Affordable Reliable Moving Company can get the work done for you
What makes us stand out among many other moving companies in Lake Forest (and beyond) is our commitment to excellence. Every moving project we get is done with precision and care. That's why hiring us will turn our move into a seamless and stress-free endeavor. We do understand what comes with moving and how exhausting it can get at times. No matter if you are moving a business or apartment, it all takes thorough preparation. However, it does not have to be so tiring and dull. Once you hire our team, you will notice how moving becomes an actual memorable experience!
Let us tell you why you should rely on our movers in Lake Forest to handle your relocation:
You can get a free moving estimate.
Your belongings are taken care of by movers who have a lot of experience behind them.
You get regular updates during the entire moving process.
Professional customer service is at your disposal the entire time.
Lake Forest locals trust our moving team
We work as one of the best moving companies Lake Forest has on the market. Also, we dedicate our work to innovative and effective methods that make a moving process easier than ever before. It is our goal to deliver the moving endeavors our customers expect. Therefore, rest assured you will not be an exception. We are there to meet all your moving needs and adjust the move according to you. With our help, you will not have to worry about anything related to the move.
Choose one of the best moving companies Lake Forest has and enjoy only top-notch moving and storage services
With our local movers in Orange County being there to help you, your moving endeavor runs smoothly. All you have to do is let us know what you are moving – office or household. We provide a variety of relocation and other services one needs for a hassle-free move:
Residential movers in Orange County – Our residential movers can solve your household relocation in no time! No matter how big your home is, rest assured all your belongings will reach a new destination in one piece!
Office movers in Orange County  – It takes extra attention and precision to execute a smooth office move, and our office movers are up to the task.
Packing services in Orange County – All you have to do is relax, focus on other duties you might have, and let our packers do their work. All belongings, including breakables, will be ready for the move with ease.
Furniture movers in Orange County – Rely on our furniture movers when in need of a crew that knows how to secure and transport each furniture piece from point A to point B.
Rest assured that our moving company in Lake Forest is able to handle various challenges that come up during the move. Harsh weather or sudden circumstances are basically common during the majority of relocations. Hence why we want to let you know your move is in safe hands from the very beginning. We will make sure that your relocation process runs without stress no matter what.
Put your items in our premium vaulted storage units with the help of movers Lake Forest knows and loves
In case you need a secure place for your belongings, our vaulted storage in Orange County units are there to solve your worries. It is the safest way to protect all goods while you are busy moving. Also, you can be sure that our vaulted units are durable and impenetrable. That way, your goods remain in good condition and protected from all outside influences.
Here is how renting goes:
First, you contact us to help you estimate the number of vaulted units.
We help you load the vaults with goods.
All of them get stored in climate-controlled warehouses and wait until you decide to take them out.
Count on our installation services after the move
After the move is over, you might need additional help to set up the furniture. Feel free to notify us in case you need some of the best installation services in Orange County has on offer!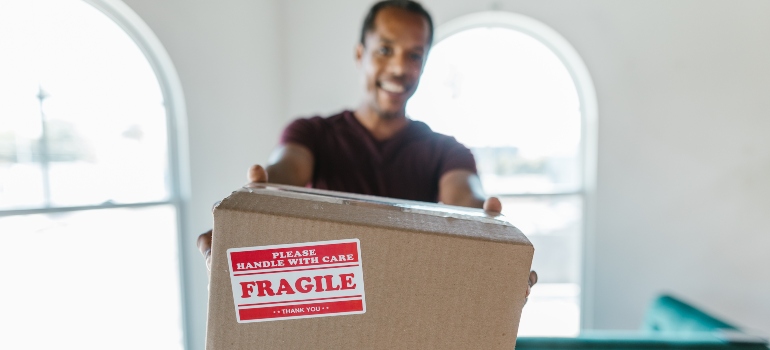 Lake Forest is a perfect place in California for a comfortable life
Living in a cozy California town sounds like a great idea to many. That is why it is safe to say that Lake Forest CA matches the criteria. Once you move to this lovely place, you will notice how life goes at a much slower pace. Therefore, a lot of digital nomads and remote workers come here to get a break from large and busy city areas. The community is quite diverse, warm, and welcoming too! Sports and the outdoors are very popular in Lake Forest. People go on regular weekend hikes in Whiting Ranch Wilderness Park.
Contact our movers in Lake Forest!
If there is a moving crew that can get the work completed for you in a timely manner, then it is the team of our movers Lake Forest. Rest assured your worries will be gone for good the second our skilled crew starts preparing your items for the move. That is another reason why you should contact us at Affordable Reliable Moving Company. Our entire team is at your disposal and ready to serve you an impeccable move until the end. Therefore, do not hesitate to give us a call and learn more about our services. We are expecting you!
How it Works
Contact Us
Give us the details of your upcoming move and receive a free moving quote
from a team of trusted movers Orange County relies on.
Let Us Plan Your OC Move
Our movers in Orange County CA are here to help you achieve both
a successful and seamless relocation, with care and dedication.
Relax & Enjoy Your Day
Let Affordable Reliable Moving Company take the stress out of moving and
carefully handle your home or office relocation.
What Our Clients Say
" I was in a bind with having to move during the Coronavirus problems. You were very accommodating in this tough time. "