Local Movers
Move your home or business stress-free by opting for
skilled and experienced Orange County local movers.
"*" indicates required fields
When moving home it is important for it to be done properly. And for that, you need experienced and reliable movers. We have years of experience and our movers have handled all kinds of moves. From helping people move home, office, and sensitive things like pianos. We have done it all and we know how to do it in a safe and efficient way. Years of experience and our satisfied clients can testify to our established reputation as one of the best local movers Orange County offers. And that is why you should hire our Affordable Reliable Moving Company for your move. Here you can read about all the services that we offer and the care with which we handle every move. Give us a call for a free moving quote so that we can start planning your move.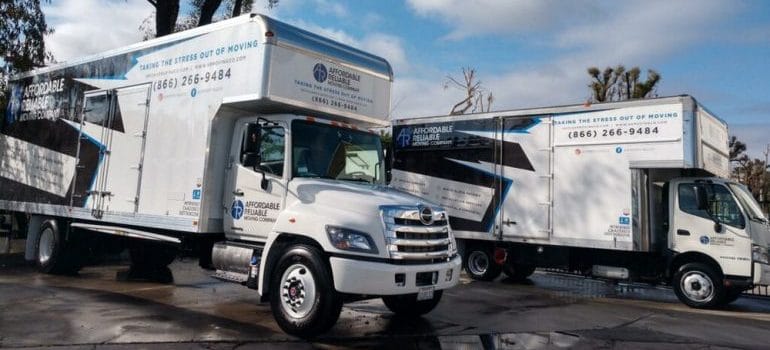 Move with one of the most trusted local movers Orange County has to offer
We believe that the trust between moving companies and customers could be higher. That is why we do our best to ensure that every customer gets high-quality services. Our local movers in Orange County are trained and experienced professionals that have been in the relocation business for years. Moreover, we equipped them with state-of-the-art moving equipment, materials, and tools to ensure a smooth and efficient relocation regardless of the circumstances. And because of that, we can guarantee that every move is going to be done on the agreed upon time.
Over the past decade, our team has worked on simplifying the moving process to the core. Now, you simply have to go through a simple 3-step process to get the best OC local movers on your doorstep:
Get in touch with our Affordable Reliable Moving Company representative
Receive a free, non-obligatory moving quote
Sit back and relax while skilled moving professionals get the job done
Orange County is a great place to live
Orange County is a region that is located in Southern California. It is famous for its tourist attractions like Disneyland, Knott's Berry Farm, California Adventure, and its beautiful beaches. According to the 2020 census, it has a population of 3,186,989 and it is mostly suburban. The three biggest cities in it are Anaheim, Irvine, and Santa Ana. It is a great place to live with great public and private schools, lively nightlife, and a lot of diversity.
There are many fun things to do in Orange County after local movers relocate you
Orange County is a tourist center and as such offers a lot of entertainment options. From the famous Disneyland to many other things. You can go to the Yost theater or to the Bowers Museum, then there is the Honda Center where you can watch Anaheim ducks playing hockey. The options are endless and everyone can find something that they are going to enjoy. Or you can go to one of the beautiful beaches like Crystal Cove State Beach, Corona Del Mar State Beach, Huntington City Beach, and many others.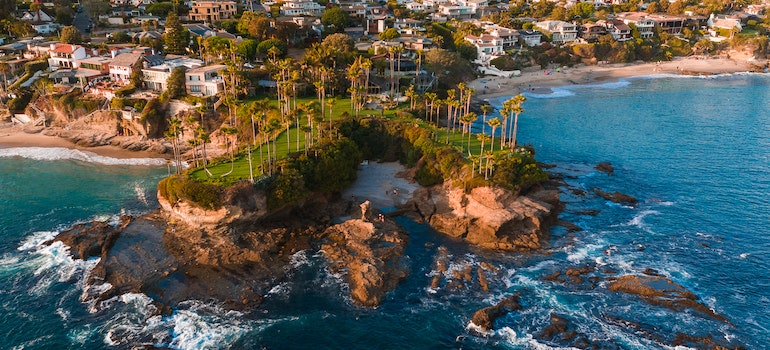 The cost of living is high but well worth the money
The median rent in Orange County is $1,928 and the median household income is around $94,000. While the median home value is $700,000. But you can find a home for less money, for example, a 1 bed 1 bath condo is going to cost around $300,000. It all depends on what you are looking for and what your needs are. The biggest industries in Orange County are healthcare, IT and digital media and life sciences, and biotechnology. And it is home to many Fortune 500 companies. So it has a great job market and you can easily find a good job.
Wide selection of moving and storage services available in Orange County
We want to be recognized as one of the most versatile and flexible local moving companies Orange County offers. With very sensible pricing for our services. We have designed a unique offer of moving services suitable for a wide range of clients regardless of whether you are moving an apartment, single-family home, or business. Here are some of the moving and storage services we offer:
Hire the finest residential movers in Orange County
If you are relocating your household, no matter its size or shape, some of the best local movers Orange County offers are at your disposal. We handle small apartments as well as single-family homes. Our moving company can also relocate furniture, appliances, bulky and fragile items, electronics, and other items found in a typical Californian home. We know how to pack and transport them safely. And ensure that nothing gets damaged or lost during the move.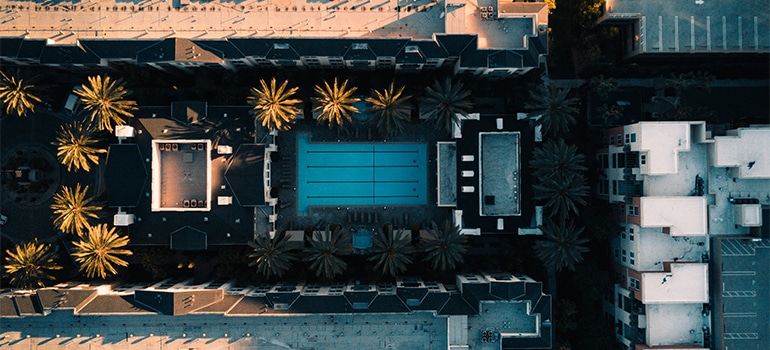 Our commercial movers can help with a swift relocation with minimum downtime
If you are moving your business, you are probably expecting an efficient moving crew that will know how to handle the process quickly and efficiently. And that is precisely what you will get if you hire our commercial movers in Orange County. We take commercial relocations seriously, so we pay special attention to the planning part of the process. That is where our coordinators create a blueprint for your move. Afterward, our movers on the ground put that plan into action. That way, we ensure a smooth and efficient move with minimum interruptions for your business. And we will work closely with you to make sure that we meet all your needs.
Handling furniture has never been easier
Handling furniture is one of the most challenging tasks during a move. That is why our local moving company in Orange County created an individual service for handling these items. If you decide to hire us to move your furniture, you can expect us to handle furniture disassembling, lifting and moving, furniture transportation, and reassembly. Our local moving company in Orange County wants to make your upcoming move as easy as possible. Therefore, we are offering our furniture movers to help you.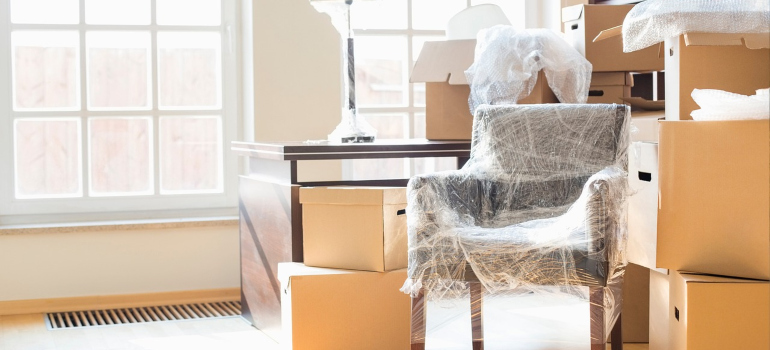 Our professional packers are here to ensure the safety of your items
Affordable Reliable Moving Company knows what bothers you the most when it comes to your upcoming move. Therefore, we have organized a team of professional packers that will help you prepare your items for transport quickly and effortlessly. Hiring our packing services in Orange County, however, doesn't only affect the speed and difficulty of the packing process. No, hiring our packers means that they will professionally pack your items in top-quality packing materials, as well. And this is going to ensure that nothing gets damaged during the move.
Hire our full or labor-only service in Orange County
We are one of the most flexible local moving companies Orange County has to offer. Therefore, you can hire our full moving service that will help you go through your relocation process entirely effortlessly. On the other hand, if you are moving within Orange County on a budget and renting a moving truck, you can hire our labor-only service that will help you handle the most difficult tasks like loading and unloading a moving truck, for example. We are very flexible and aim to help our clients in every way when it comes to moving home. So feel free to inquire about any of your moving needs.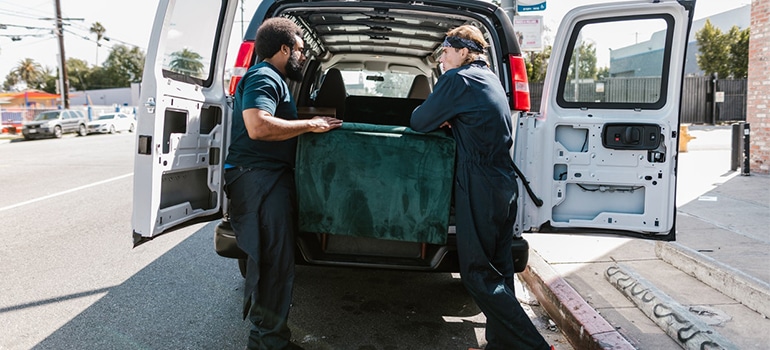 Our local movers provide efficient installation service
Installation of everything from furniture to appliances is something people often overlook when moving home. But it can be complicated. And if done badly it can result in your belongings getting damaged. Instead of worrying about all of that you can hire our installation service to take care of it for you. Our local movers will take care of unpacking, assembling, and reconnecting all your appliances.
The benefits of hiring an Affordable Reliable Moving Company
Moving home is a lot of work, and a lot of things can go wrong if you do it alone or let inexperienced movers handle it. And one of the biggest benefits of hiring an Affordable Reliable Moving Company is that our movers have a lot of experience and are very reliable. They know how to handle every part of the move, from packing to transport, unpacking, and everything in between. We are going to ensure that your move goes smoothly and on schedule. You are not going to have to worry about anything. Our satisfied clients can confirm that. You can read their moving eviews and see for yourself. We do all that at a very affordable rate. And we aim to meet all the needs of our clients, so don't hesitate to ask us all the questions you have. We always do our best to meet all your needs.
How it works
We aim to provide the most straightforward and efficient moving service. And as such we are very transparent with everything we do. Everyone wonders how it all works. First, you need to contact us and we will give you a free moving estimate. And then you need to decide if you are going to be needing any specialized moving services. For example, if you have a piano our piano movers can help you with that, or you would like us to take care of packing. Then we can plan together when we are going to do the move and take care of all the other small details.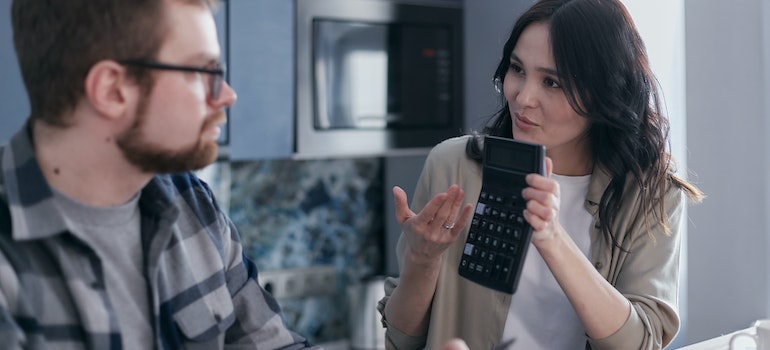 Experienced and reliable local movers in Orange County at affordable rates
One of our goals is to provide top-quality moving services at affordable prices. We understand that moving today can be a significant burden on your family budget. Therefore, we are trying to keep our prices at reasonable rates. But, of course, the fact that you will be getting affordable local moving services doesn't mean you will be getting low-quality services. On the contrary, you will get superior moving services compared to a lot of other moving companies. So, to check our rates and book us for your upcoming move give us a call or contact us through our webpage where you can get a free moving estimate in just a few clicks.
Contact us to ensure a smooth and stress-free move in Orange County
Moving within Orange County has never been easier. Affordable Reliable Moving Company is here to turn even the most challenging relocation into a smooth, stress-free experience. If you like what you hear, don't hesitate to get in touch with us. We will give you a free moving quote and send you a team of the finest local movers Orange County has to offer.
How it Works
Contact Us
Give us the details of your upcoming move and receive a free moving quote
from a team of trusted movers Orange County relies on.
Let Us Plan Your OC Move
Our movers in Orange County CA are here to help you achieve both
a successful and seamless relocation, with care and dedication.
Relax & Enjoy Your Day
Let Affordable Reliable Moving Company take the stress out of moving and
carefully handle your home or office relocation.
What Our Clients Say
" I was in a bind with having to move during the Coronavirus problems. You were very accommodating in this tough time. "