Moving a home office – can you do it yourself?
Working from home is a dream come true for many people. There are no lengthy commutes, no wasted time in traffic jams, and no monthly transportation costs. However, all of a sudden you may find yourself having to move to a new home or even city. So, you may start feeling stressed about relocating your entire home, including your home office. Even though you will have a lot of work to do when it comes to moving house, it is still manageable with the right preparation and planning. To help you when moving a home office, we at the Affordable Reliable Moving Company Orange County team has a list of tips you can use during your relocation.
When moving a home office, start by making a plan
When you get ready for relocation, the first thing you should do is make a moving plan. A good plan includes all the necessary steps you will have to take to get from your old home to the new one. Think about all the things that are in your office and how you will go about packing them. We suggest starting from the least essential things and moving to the most essential ones. Before you start putting things in boxes, make detailed packing checklists. You should include all the items you will be packing in the order you will be packing them. Also, think about whether you will be hiring local movers Orange County to help you move, or whether you will be asking your friends and family for help.
Organize your office space before moving your home office
When organizing your office, start off by doing some decluttering. If you are usually very busy, you might not have the time to stay on top of all the items in the office. So, moving is a great time to downsize the office and get rid of any unwanted or unnecessary things. Once you have finished decluttering the space, you will have a much easier time packing and sorting everything. And, moving fewer items means you will also keep your moving costs down.
Start off by cleaning out your filing cabinets. If there are any duplicates or irrelevant documents, get rid of them. Also, think about whether you have already finished digitalizing the documents in the cabinet. If you have them in digital format, chances are you do not need to have the physical copies as well. Still, you should double-check all the documents before you toss anything out.
Secure the necessary packing materials
After you have finished decluttering the office space, you will have a much clearer idea of how many boxes for packing you will need. When moving a home office, you will need to secure sturdy packing materials. You can purchase all the packing materials you will need, or you can get them for free. There are different ways to get free cardboard boxes. You can check out the local stores or supermarkets, or go to the local mall and see if they have any boxes. If you choose to hire office movers Orange County, then you do not have to worry about securing packing materials. Most professional moving companies offer packing services and they use their own packing materials, so you do not have to worry about them.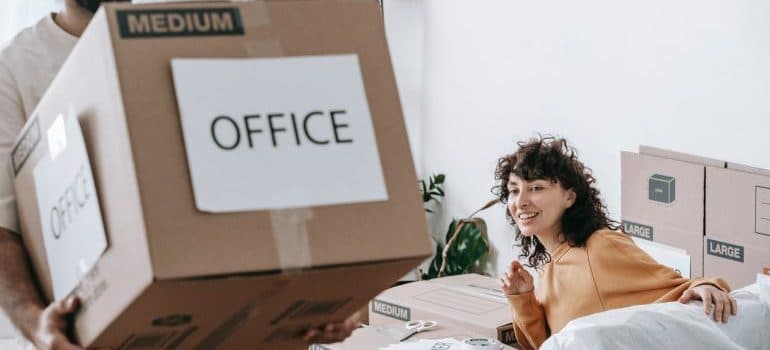 Before packing the office, back up all important files
Moving can be unpredictable and anything could happen during the move. So, it would be wise to create backups for all the essential files and documents you will be transporting. This way, you can rest easier should anything happen while moving. You can use external hard drives to back up your computer, or you can take advantage of cloud storage. Or, you can use both and be safe no matter what happens.
Get started on packing up the home office
When you start packing, you should work backward, as we have said before. Pack up the least essential items first, such as old files. While packing, it is a good idea to label all the boxes. Also, make extensive lists of contents for each box as this will greatly help you when you are unpacking. You may have to work during the packing and relocation process. So, put off packing up the important items until the very last moment. Working while packing and moving will be stressful. So, you should give yourself enough time to properly pack up everything. This means you should start early or opt for packing services Orange County. We tend to put off packing until a few days before the move, but then we realize that there is not enough time to finish everything. Packing is a time-consuming process, so start early and follow the packing plan.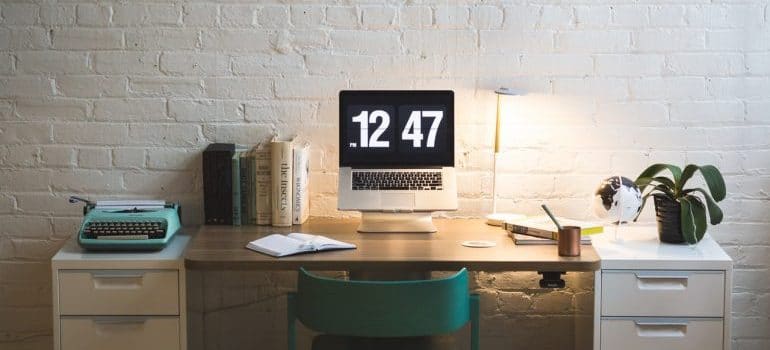 After you have finished moving start designing your new home office
Are you planning on moving your old office furniture to your new home? Or are you hoping to redesign your office completely? Moving to a new place means you can do some redesigning. You could get all new office furniture or work out a way to spruce up the old furniture. This can be very exciting and you will have the chance to create a pleasant working environment at the new home. Still, you should keep the size of the new office in mind when planning a new design. Is the new office bigger or smaller than the old one? Will your old furniture fit inside if you were hoping on keeping it? Take some measurements and create a floor plan for the new office. You can use masking tape to mark out the furniture pieces on the floor. It will help you visualize the position of all the pieces and see whether the plan works.
As we have seen, moving a home office will be a lot of work, but it is easily manageable by being prepared. When moving your home office, remember to start early and make a detailed packing plan. Once all the work is done, you will have a great new space to work in.
"*" indicates required fields
What Our Clients Say
" I was in a bind with having to move during the Coronavirus problems. You were very accommodating in this tough time. "