Moving a real estate office – best practices
If moving home is difficult, moving a real estate office is another level difficult. There are so many things to think about, pack and move that you will likely want to give up. If that is how you feel, you can always hire some affordable movers Orange County. But if you can or don't want to do that, there are always ways to do it by yourself. Moving a business requires a lot of dedication and time, and maybe a few of our tips, so read on!
Moving a real estate office
An office move requires way more time than a residential move. Apart from having more items, other people need to move their workspace. It is mandatory that you inform them of the time of the move so that they can make the needed adjustments or recommend you some commercial moving Orange County CA. Apart from starting on time, you also need to:
Set a budget
Delegate tasks
Take measurements
Set a budget
The first thing that needs to be done before you plan anything nowadays is to set a budget. If you hire some delivery service Orange County, at least you won't have to worry about the delivery of your items and how much that will cost. But you will need to decide how much money you can put aside for the move. It is always recommended to budget a little more than the amount you need, just to cover any unexpected costs that can occur. And they will likely occur.
Delegate tasks
An office move includes your whole team of employees. All the people working with you will have to move with your office. Since they are moving with you, they can also do something. Employees should pack their own workspace, mostly because everybody knows the items they need and the best way to organize their belongings. Apart, if you include them in the moving process, they will feel important and connected to the company. Some tasks like the installation should be left to some installation services Orange County. Important tasks should be left to the professionals.
Take measurements
There might be certain items that you have in your current office that won't fit in your new workspace. To avoid paying the transportation for nothing, you need to take measurements. Measure the furniture, the rooms, and the doorframes that the furniture needs to pass through. If there is also a staircase, measure it as well. It needs to fit through the whole route in order to make it to its destination.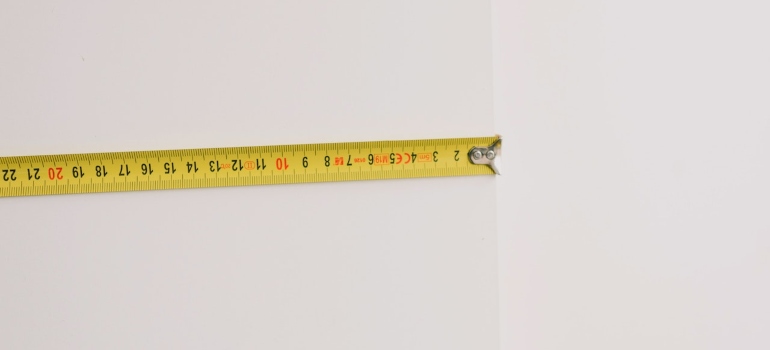 Conclusion on moving a real estate office
Moving a real estate office is a lot of work. That's why it is mandatory to start the preparations on time. If you feel like you have time to procrastinate, don't. This is a trap that many people fall into and end up hiring professional packers. While it is not bad, it will ruin your plan to do it by yourself. We wish you good luck!
"*" indicates required fields
What Our Clients Say
" I was in a bind with having to move during the Coronavirus problems. You were very accommodating in this tough time. "