Orange Movers
"*" indicates required fields
Moving is deeply embedded in American culture. According to statistics, 15 million Americans pack up their bags and search for a better life each year. It is likely you have moved at least once before. No matter how much experience you have with moving, it is always stressful. Most people do not look forward to their relocation. It is an exciting time, but it brings high stress and anxiety levels. If you feel this way too, you have come to the right place. Affordable Reliable Moving Company is here to assist you in all parts of your relocation. With the help of some of the best Orange movers available in the county, your relocation is guaranteed to pass smoothly. Contact our movers today for a free quote.
Hire movers in Orange, CA you can depend on
Every good move starts with finding the right professionals for the job. This is no easy task, but it is the most important decision you will have to make. Having professional movers by your side can make a huge difference in your relocation. Moving experts are not just there to carry boxes. They can answer all of your questions, provide support on moving day, easily solve unexpected problems, and more. But how do you find movers who fit these criteria? As one of the moving companies Orange CA residents recommend we do all of the above.
At Affordable Reliable Moving Company, we are committed to making our clients satisfied. Being able to take the stress out of moving is something we love to do. Making your moving day into a pleasant experience is our main goal for every relocation. It is the experience and skill of our workers that make it all possible. As one of the most recommended moving companies in Orange, CA we bring these traits into every relocation:
Knowledge – Our movers are trained professionals with sufficient skills for any job. We know how to handle many types of moves. From simple household relocations to white glove moving we can do it all.
Experience – Affordable Reliable Moving Company has been in the business for more than a decade. We have overseen countless moves. Moreover, we learned the ins and outs of the moving industry. Our moving teams use their experience every day, to optimize your relocation.
Communication – We take pride in our excellent customer service skills. You will be able to communicate with your moving team at any point in the process. If you have any questions, concerns or requests simply contact us and we will do everything in our power to make it right.
Find out how to get in touch with premiere Orange movers
We know that taking the first step is always the scariest part of any process. However, you will not have any trouble getting in touch with us. Your entire relocation will be simple and efficient from start to finish. Firstly, contact our movers in Orange CA by phone, e-mail, or using our online form. You will then tell us more about your move and provide some basic details. After that, customer service will provide you with your free moving quote. If you agree to move with Affordable Reliable Moving Company, we will construct your unique moving plan. It will be based on your needs, wishes, and requirements. Finally, a competent team of movers will carry out all moving tasks for you. We will make sure everything goes according to plan, while you relax.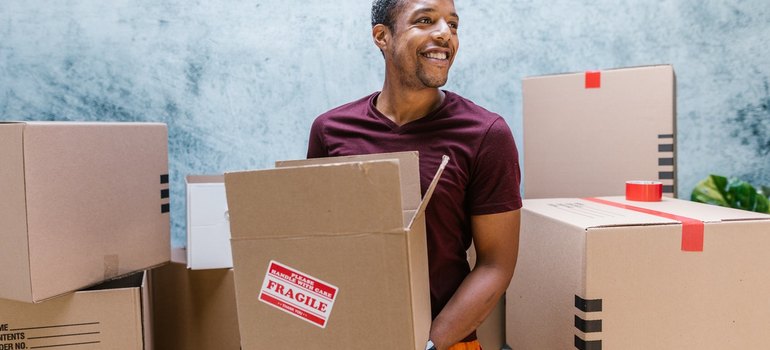 Affordable moving services for any budget
At Affordable Reliable Moving Company, we understand that every relocation is unique. Many different things influence how it will be carried out. From the location, type, distance, size of the inventory, every aspect matters. For this reason, we offer a wide variety of tailored moving services. You can find everything your move needs in one place. When you work with our moving specialists in Orange, you can count on the following services:
Make your move stress free with our white glove moving service
For especially difficult and complex relocations, consider hiring our white glove movers. This service is perfect when you have to transport a large number of fragile items. White glove moving services ensure your valuable possessions arrive at their destination safely and quickly. It is perfect for moving art, sculptures, paintings, vintage furniture, electronics, and all kinds of specialized equipment.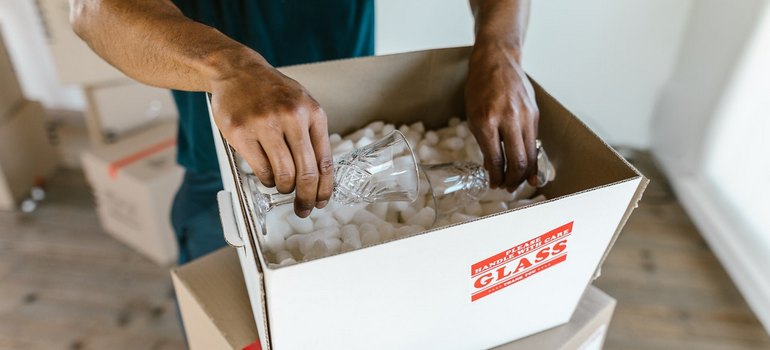 When you work with our white glove moving teams, you will not have to worry about a thing. These specially trained workers are some of our best and know how to handle difficult moves. They will only use high-quality packing materials, top-of-the-line tools, and modern techniques. We understand how stressful these types of relocations can be, so get a free estimate from one of the best moving companies Orange CA residents recommend.
Discover Orange, CA
The city of Orange, CA has around 130,000 residents according to the latest statistics. It is unique for this region of California because most of the homes and buildings in the old district were built before 1920. You can still see them today, as the city decided to preserve them over the years. It gives it a special, historic charm and makes Orange stand out in Orange County. Moreover, there is a lot to do and see here. From parks, lakes, and zoos to a variety of shops, eateries, and more it is a fantastic city to move to.
Contact Affordable Reliable Moving Company today and see how simple moving can be
Completing a relocation safely, easily and without stress is possible. That is if you have Affordable Reliable Moving Company Orange County on your side. Our Orange movers are a team of expertly trained professionals. They possess the knowledge and skill required to transport your home, office, and more. Having the help of understanding and skilled workers will allow you to sleep easily. Our goal is to provide excellent service and improve with each project. We can turn your moving day into a happy occasion you will remember for years to come. To get your free estimate, simply contact us as soon as possible.
How it Works
Contact Us
Give us the details of your upcoming move and receive a free moving quote
from a team of trusted movers Orange County relies on.
Let Us Plan Your OC Move
Our movers in Orange County CA are here to help you achieve both
a successful and seamless relocation, with care and dedication.
Relax & Enjoy Your Day
Let Affordable Reliable Moving Company take the stress out of moving and
carefully handle your home or office relocation.
What Our Clients Say
" I was in a bind with having to move during the Coronavirus problems. You were very accommodating in this tough time. "