Packing your child's room for relocation – a step-by-step guide
Moving is when we leave our daily routines and adapt to totally new situations. Adults can control such situations and adjust easily. Children usually need more time to get used to the fact that they are moving to a different environment and room. That's why they need to be prepared to move and change schools or kindergartens, depending on their age. The process of packing your child's room for a move should be done last. This allows children to have their own shelter for as long as possible. However, when the time comes to pack the children's room with professionals like packing services Orange County, you need to be ready for the task. Experienced movers will safely and efficiently pack your kids' room belongings, and you need to be prepared for this moment regarding difficulties and challenges.
Involve your children in the packaging process
Before you start packing your belongings, make sure your kids know what's going on and why, and involve them in the moving process. Involve them in packing the kids' room, explaining that the items they packed in the old room will be unpacked in the new one. Also, some children may think that if the items they are packing are gone and they will never see them again.
If your children are old enough to prepare their own rooms for the move, get them involved. You'll have help, and your children will participate in the entire moving process. Finally, they feel useful and proud to have helped their family with an important task. Packing furniture can be demanding when you're dealing with children. So let your furniture be prepared, packed, and transported safely by furniture movers Orange County.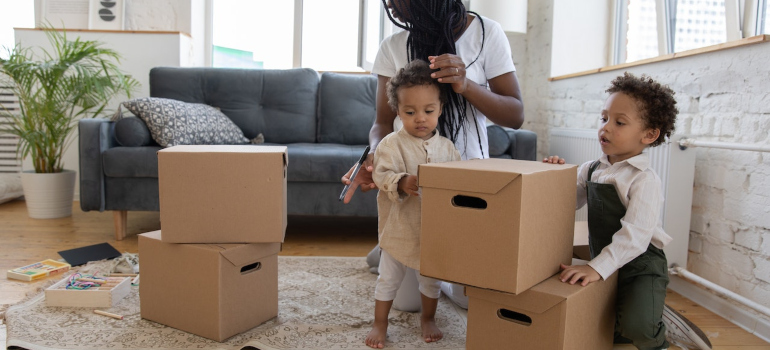 Decluttering with your children
As we all know, you should always de-clutter the room before packing it. This way, you will reduce the weight of the items you carry and pack. Since we usually don't have time to de-clutter, now is a good time. Children quickly outgrow their clothes, and each child's room usually fills with unnecessary items. Get rid of items that you are not sentimentally attached to, with the exception of the first pair of shoes and toys that your children have outgrown.
Children get attached to things and this can be an emotional time for them. So don't insist on throwing away items they aren't ready for. Vaulted storage Orange County can always keep your stuff safe. Choose the right self-storage unit for your needs, and put them in there for as long as you want.
Get the packing materials for packing your child's room for the move
Once you've gotten rid of unnecessary items, the next step is to pack. Estimate how many packing boxes you need for a child's room. Prepare the necessary supplies:
Packing boxes
Mattress box
Bubble wrap and packing paper
Tubes for posters and prints
Markers
Stickers and other creative supplies that children can use to decorate their boxes
When the packing materials are ready, turn on the music and go on an adventure.
Get professional help
Packing up your child's room and the whole moving process, life can turn you upside down. With children, things can get tense. This is especially true for young children and babies. They need a routine that a move can disrupt. That's why it's often necessary to call in professionals. Movers Orange County will make your move smooth and efficient. Finally, you will have more time to spend with your family and in your regular routine.
"*" indicates required fields
What Our Clients Say
" I was in a bind with having to move during the Coronavirus problems. You were very accommodating in this tough time. "