Santa Ana Movers
"*" indicates required fields
That's it the time to move has arrived. You have thought about this moment for a while and know it is finally happening. This is an important event in your life, therefore, you need to ensure that it goes without any issues. This is possible only if you have some of the most reputable movers Santa Ana has to offer by your side. Professionals that have years of experience in the moving industry can make the entire moving process safe and stress-free. To book your move with movers in Santa Ana all you have to do is contact Affordable Reliable Moving Company. We are going to be your best moving ally!

We are a trustworthy moving company in Santa Ana
Many moving companies on the market claim that they are reputable and trustworthy. However, this is not always the case. Many movers are plain scammers that are after your money. This is why you need to be careful and look at the reviews before you hire someone. For this same reason, we encourage our clients to look up our reviews and see what people have to say about us. We know how good we are and what a great job our movers from Santa Ana do. We are very proud to say that we are one of the most trustworthy movers in the area.
What has helped us become the number one choice of many people is honesty and competence. Our Santa Ana movers are some of the best in the industry. Apart from being polite, they are very skilled. There is no moving challenge that is too big for us. We have the experience and the knowledge needed to execute all kinds of moves.
Cost-effective relocations with our Santa Ana movers
No need to spend a lot of money in order to have professional movers by your side. We are one of the most affordable moving companies Santa Ana has to offer. After a lot of thought, we have decided to keep our prices low. We believe that you shouldn't have to pay exorbitant amounts of money in order to book a reliable moving team. You can request a free quote before you schedule your relocation with us. This way you will get a full price breakdown. You will see that you will get your money's worth if you choose us as your moving partners.
Choosing to work with a moving company just based on the prices isn't enough. We believe that you need to provide more than that to the people that are going to entrust you with their prized possessions. This is why our Santa Ana movers always go the extra mile to provide our customers with a superior moving experience. We truly care about you and want the best for you. You will not regret moving with us, we are the moving solution you are looking for!
Don't stress over the moving tasks, we are here to help!
Whether you don't have a lot of time or you just don't want to be bothered with certain moving tasks consider adding some of our moving services to your contract.
Our services are customizable. Our staff will adapt them to your moving needs so that you can benefit from them in the best way possible.
We can set up your home in record time
After moving long distances you are going to be exhausted. The last thing that you want to do is deal with unpacking and connecting your appliances. In order to help our customers with this, we have come up with the idea of including installation services in our offer. Our skilled movers from Santa Ana will handle this task for you. From unboxing to reassembling your furniture to connecting your appliances and making sure they are ready to use, we can do it all. You will have time to rest and regain your energy.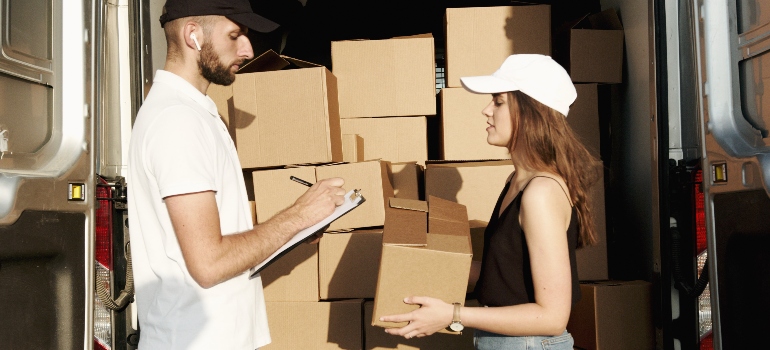 Our movers Santa Ana will do this in record time. To make the job easier for our Santa Ana movers you just need to tell us where you want everything to go and our movers will make sure that each item finds its place.  This is one of the services that we recommend to all of our customers. You will be able to feel at home immediately.
Santa Ana, CA is a beautiful place and it can be your home
Santa Ana is one of the largest cities in Orange County. It is situated along the river Santa Ana and it has a population of 310,227 residents. The city is fabulous it has great amenities and a lot of green spaces. But this comes with a price. The cost of living in Santa Ana is higher than the national average by 33%! Even though the housing prices are quite high, homes don't stay on the market for more than 24 days!  However, if you decide to move here, you will have a peaceful life. The city is quite safe. Moreover, there are many great schools for kids. All in all this is a great place to start a new chapter of your life.
Contact reliable movers Santa Ana has to offer for a safe relocation
Once you get to see the way we operate you will understand why we are one of the finest moving companies Santa Ana residents recommend the most. We have worked hard to have the reputation that we have today. With us, as your moving ally, you can expect nothing less than a perfect moving experience. Make sure to reach out to Affordable Reliable Moving Company to get a free moving estimate and book a relocation to your dream place with some of the most trustworthy movers Santa Ana has to offer.
How it Works
Contact Us
Give us the details of your upcoming move and receive a free moving quote
from a team of trusted movers Orange County relies on.
Let Us Plan Your OC Move
Our movers in Orange County CA are here to help you achieve both
a successful and seamless relocation, with care and dedication.
Relax & Enjoy Your Day
Let Affordable Reliable Moving Company take the stress out of moving and
carefully handle your home or office relocation.
What Our Clients Say
" I was in a bind with having to move during the Coronavirus problems. You were very accommodating in this tough time. "