Los Angeles is the second-largest city in the United States with a population of around four million people. Being one of the largest and busiest cities in America makes LA not only a fun place to visit but a dynamic place to live.
Whether you're looking for things to do in Los Angeles today or fun things to do in Los Angeles this weekend, continue reading for your guide to the best LA activities.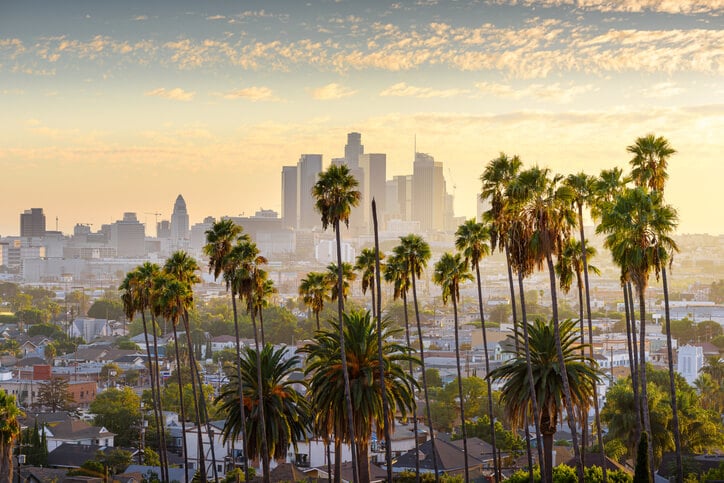 Best Things To Do In Los Angeles California
Large cities come with ample diversity in activities, and LA is no exception in this department. In LA, you can find a plethora of things to do with friends, kids, or solo. You'll never lack new restaurants to try, peaceful beach walks at dusk, and amazing desserts to tempt your sweet tooth.
Continue reading to learn more about the best things to do in Los Angeles California.
Things To Do In Downtown Los Angeles
Whether you live in Downtown LA or you're just planning a day trip there with friends, here are three of the best things to do in Downtown Los Angeles.
Olvera Street. This is one of LA's most historic areas and is where you can find some of the oldest, most picturesque houses in the city.
The Last Bookstore. If you're a literary fan, swing by a historic bank that has been transformed into a multi-level bookstore.
Art's District. If you love street art and a grungy vibe, head over to Art's District where you can enjoy impressive murals and lots of hole-in-the-wall eateries.
Things To Do In Los Angeles With Kids
What are some of the best things to do with a toddler in Los Angeles? If you are exploring the city with kids in tow, never fear! There are ample activities and locations in LA that are perfect for kids including:
Disneyland Park
Griffith Observatory
Universal Studios Hollywood
Kidspace Museum
Getty Museum
Things To Do In Los Angeles For Adults
If you are in search of things to do in LA for adults, buckle up and get ready for a list of once in a lifetime things to do in Los Angeles.
Some of the best places to visit solo or with your friend group include:
The Farmers Market at the Grove
Hollywood Sign
Venice Beach
Los Angeles Public Library
Beverly Hills
Relocating To Los Angeles Soon?
If you are planning to move to Los Angeles in the near future, get in touch with Affordable Reliable Moving Company today.
Here at Affordable Reliable Moving Company, we have a team of highly-trained professional movers that is ready to help make your next move the easiest one yet. We aim to be the one and only moving service that you'll ever need.
We provide a wide range of moving services to ensure that all of your moving needs are met. Whether you need a couple of trucks, some packing assistance, or help reassembling furniture at your new place, get in touch with Affordable Reliable Moving Company today.
Give us a call to learn more about our moving services in LA or to book our team of movers to help you with your relocation.