Things to consider before moving out of Laguna Niguel after a divorce
People sometimes find themselves faced with some unforeseen situations. As life is unpredictable, we can never with certainty guarantee anything. And it is when those situations happen that we see it's time for something new. Many decide to contact movers in Laguna Niguel and move far away in order to start a new life. This is especially the case after divorce! So here are some things to consider before moving out of Laguna Niguel after a divorce.
Laguna Niguel is a paradise, but, what now?
This beautiful mid-sized city is located in the state of California. Or to be even more precise it is found in Orange County. Just looking at OC, that's already famous for the beauty of the cities and towns says a lot about what you can expect in Laguna Niguel. Over the years OC has been a popular destination for people to move to. As there are many gorgeous beaches, nice people, good shops and so much more. So a steady stream of people has moved to Laguna Niguel causing the resident number to rise to 65652. So we can say with certainty that moving and storage companies in Orange County have their hands full. When it comes to moving out of Laguna Niguel after a divorce, we know it won't be easy! But we are here to tell you a few things you should consider.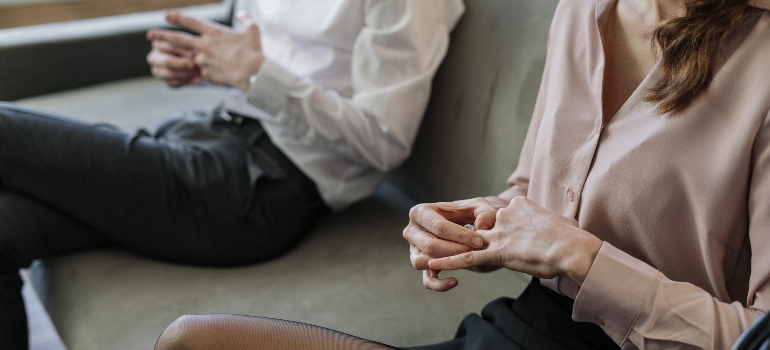 Compare the living costs!
There are no two same cities in the world. Differences that can't be seen just by looking at your surroundings are easy to spot in other areas. We do understand that you wish to move and have a new start. But moving anywhere just so you can run away is not the answer. Before you start looking for the best local movers in Orange County, pour all of your attention into finding the best place. One of the things that you will definitely need to look into is living costs.
When it comes to Laguna Niguel has fairly high living costs in comparison to other cities across the nation. The average home price is around $795,300, while the salaries people get are nearly $111k annually. Actually, the living costs here are even above the state's average! So moving might be a good idea now that you will be living off of one paycheck. The only thing here that is slightly below the state's average is the price of healthcare and utilities.
Custody arrangements
After divorce usual custody arrangements work quite well. And they can be maintained properly over long periods of time. This way both parents that live in close proximity gain easy access to their child and can spend quality time together. But the problem starts to arise the moment one of the ex-spouses decides that moving out of Laguna Niguel after a divorce is a good idea. When this happens there are many things that need to be dealt with. And if you also decide to move the child with you, it will require court approval, as well as a new arrangement with your ex-spouse.
In case both parents decide that the child should move, they should come up with a new arrangement and go sign a stipulation and consent agreement. The judge will look into the documents and decide if the move is in the child's best interest. If he agrees he will make a new agreement with the updated arrangements. But more often than not, coming up with a new agreement shows to be quite a hard task!
Will you be able to find a new job?
When people move, there are many factors they will need to consider. As we already mentioned living costs are one of the biggest among those factors. Before you look into packing services in Orange County, you should first look at the job market. This is especially important when you take into consideration that you will need money either for your kid or alimony. One good thing in today's day and age is that jobs can actually be found online, long before you move! And we guarantee that already securing a job will play a big role if you wish to show the judge that you can take care of your child.
Find the proper accommodations
This is also one of the important steps that will help you if you wish to bring your child along. Having a proper home already ready and waiting for you and the residential movers from Orange County, will play a big role in getting what you want. The home should be close to a kindergarten, middle school, or high school depending on your child's age. Although it would also be a bonus for you if it was also close to your job. Due to the home being quite expensive in Laguna Niguel, we are petty sure you will be able to find something in your price range wherever you go.
Talk with your child about moving out of Laguna Niguel after a divorce
One of the things many parents fail to realize is that our kids have their own lives. Asking them for their opinion is one of the most important steps. If they don't wish to move you can consider leaving with your ex-spouse. Of course, if they wish to stay with you it is also good. Acting out on your own without even talking to them is quite a selfish act. They also have friends, and people they are used to and close with. Or maybe they don't wish to go to a new school or separate from their other parent. Keep in mind that, at the end of the day, moving out of Laguna Niguel after a divorce does not only affect you. Take all things into consideration before you decide to take this big step.
References:
https://livingcost.org/cost/united-states/ca/laguna-niguel
https://www.census.gov/quickfacts/fact/table/lagunaniguelcitycalifornia/PST045218
https://www.realtor.com/realestateandhomes-search/Laguna-Niguel_CA/overview
"*" indicates required fields
What Our Clients Say
" I was in a bind with having to move during the Coronavirus problems. You were very accommodating in this tough time. "