Top 10 restaurants in Santa Ana
California is home to some of the most diverse and flavorful cuisine in the world, and Santa Ana is a city that exemplifies this reputation. With a melting pot of cultures, the food scene in Santa Ana offers a diverse range of options that cater to all tastes and budgets. From high-end Michelin-star restaurants with world-class chefs to affordable eateries serving up delicious street food, there is something for everyone. This article will take you on a culinary journey of exploring the top 10 restaurants in Santa Ana. They might inspire you to move to this area and hire Affordable Reliable Moving Company Orange County that will ensure your relocation is as smooth as possible. Today we'll cover both expensive and affordable, which showcase the best of what Santa Ana has to offer. Keep on reading to discover your next favorite eating spot in Santa Ana.
Living and dining in Santa Ana
Located in the heart of Orange County, California, Santa Ana serves as the bustling downtown hub of this renowned region. As the County Seat and second-most populous city in Orange County, Santa Ana boasts a thriving arts community and a vibrant nightlife scene that draws visitors from all over the world. There are restaurants and markets within Santa Ana that offer culturally diverse foods, making shopping and dining options more plentiful and varied. Whether you are planning to visit this area or you are a local looking for some delicious food in the city, we got you.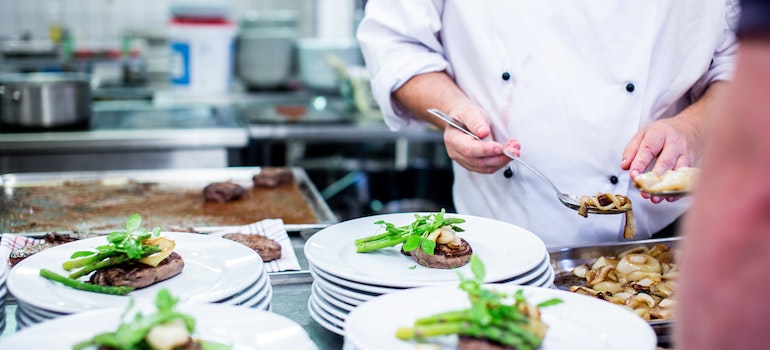 Top restaurants in Santa Ana rated with Michelin starts
Although Santa Ana doesn't count 10 restaurants rated with Michelin stars there are some worth mentioning.  Michelin, a French tire company, in 1900. established the Michelin Guide for promoting automobile travel and increasing tire sales. Since talking about traveling, get in touch with moving companies in Santa Ana to ensure professional assistance during your relocation! The Guide over time has developed into a highly respected and influential guidebook. Nowadays it assesses hotels and restaurants in various cities across the globe. The Michelin star rating system is a hallmark of culinary excellence and identifies the world's finest restaurants. They are regarded as the crème de la crème of the culinary world and hold a significant reputation. Achieving one or more Michelin stars is a significant accomplishment for any restaurant.
Omakase by Gino
The restaurant is led by Chef Gino Choi. He was trained extensively in Japan and worked at several Michelin-starred restaurants before bringing his skills to Santa Ana. Omakase by Gino restaurant is specialized in Japanese cuisine and is located in the heart of Santa Ana. The ambiance which visitors enjoy is minimalistic, clean, and intimate.
El Mercado Modern Cuisine
This Mexican culinary restaurant is located as well in Santa Ana downtown. Besides delicious food, it offers an extensive tequila and mezcal menu. It is a great place to enjoy high-quality drinks along with food. Some of the standout dishes include the braised short rib tacos, the grilled octopus with chorizo, and the churro ice cream sandwich. Unique combinations that will thrill all of your senses!
Gabbi's Mexican Kitchen
This restaurant sits in the Santa Ana Old Towne, but it is completely worth visiting. When Old Towne seems too far away, delivery service in Orange County will make sure your food is delivered to you still warm and fresh! Michelin rated this restaurant as, warm and inviting", while here they serve traditional meals with spins.  A perfect balance of traditional and modernly enhanced! This family-owned establishment has been serving the Santa Ana community since 2006. It is popular both among locals and tourists.
Top 10 budget-friendly restaurants in Santa Ana
If you're looking for a great meal that won't break the bank, you're in luck! Santa Ana has plenty of options for budget-friendly dining. Whether you're in the mood for a quick bite or a sit-down meal with friends, these top 10 restaurants have got you covered. While you are filling up your belly and charging your energy local movers Orange County team will make sure your belongings are safely transferred to your new home. Be worry-free with our services! This list is made according to TripAdvisor's ratings! Consider visiting some on this list:
Detention
Orange County Mining Co
Darya
Boiling Crab
Tangata Restaurant
Little Onion Mexican
Benjies NY Deli
Olive Garden
Bela Cuba
Spoon's Grill & Bar
We promise you these amazing restaurants in Santa Ana will make you fall in love with the whole energy of the city. Satisfied, with the full belly you will be needing furniture movers in Orange County to aid you during the moving process. It is not in vain to say that a path to someone's heart is through their stomach! If you are a tourist trying eateries from our list is a must. We are encouraging locals from Santa Ana to have a dinner date with a partner, friends, or family and give these masterpieces a chance!
Visit these top 10 restaurants in Santa Ana
In conclusion, Santa Ana is a city that boasts a diverse culinary scene with a variety of delicious options for foodies to explore. From authentic Mexican cuisine at Gabbi's Mexican Kitchen to elevated American classics at Playground, there is something for everyone to enjoy. We encourage readers to try out these top 10 restaurants in Santa Ana. Experience the unique flavors and atmospheres that each one has to offer. Whether you're a local looking for a new spot to try or a tourist exploring the city, these restaurants are sure to leave a lasting impression on your taste buds. So go out, have fun, and indulge in the culinary delights of Santa Ana!
"*" indicates required fields
What Our Clients Say
" I was in a bind with having to move during the Coronavirus problems. You were very accommodating in this tough time. "