Top dog-friendly places in Orange County
Welcome to our guide to the top dog-friendly places in Orange County. In this article, we will explore the best destinations in this region of Southern California. We'll focus on the places where you and your furry friend can enjoy quality time together after your OC moving services professionals have left your home. Orange County is known for its commitment to pet-friendly environments, and we have made a list of the most welcoming and accommodating spots for dogs. From spacious parks and scenic trails to outdoor dining venues that cater to both two-legged and four-legged guests, you'll find a wide range of options to suit your preferences. Whether a local resident or a visitor, this guide will help you navigate Orange County's dog-friendly offerings and ensure that your furry companion has an enjoyable and tail-wagging experience. 
Huntington Dog Beach
Located along the picturesque coastline of Orange County, Huntington Dog Beach is a haven for dogs and their owners. This expansive stretch of shoreline offers a unique opportunity for dogs to roam and play freely. Its soft sandy beach and rolling waves make it the perfect setting for dogs to splash in the water, chase balls, and socialize. The beach is meticulously maintained and provides waste bags to ensure a clean and enjoyable environment for all. Most movers Huntington Beach has to offer would instantly recommend visiting the beach as soon as the relocation is complete!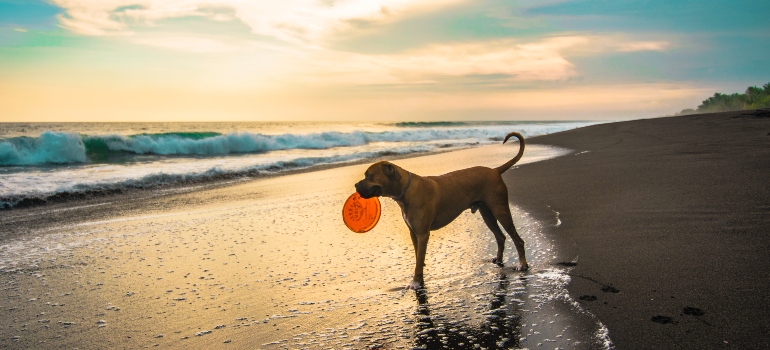 All in all, this beautiful beach promises a delightful experience for both canines and their human companions. The beach is one of the best places you can visit with your dogs. They can run around and enjoy the ocean while you stroll around and play fetch with your friend. These experiences will strengthen your bond and provide joy and fulfillment to your everyday life.
Laguna Beach Dog Park
What sets this park apart is its breathtaking ocean views and pristine sandy beaches. The park is a vast space for dogs to run and play freely, with separate areas for small and large dogs to ensure their safety. It also has well-maintained facilities, including water and waste disposal stations. With so many people visiting the park daily, it's definitely one of the most popular spots in the city. To top it all off, we recommend visiting the best pet-friendly outdoor dining spot – The Cliff. If you want to spend your day relaxing and bonding with your dog, prioritize heading out to this fantastic place.
Irvine Regional Park
Irvine Regional Park is an ideal destination for spending quality time with your beloved pets. The vast expanse of greenery and pet-friendly amenities make this park a must-visit spot for every pet and its owner. It has well-maintained walking trails, ideal for leisurely strolls with your pets. It also offers a secure and controlled environment, ensuring the safety of your furry friends.
Additionally, the park features designated off-leash areas, allowing your pets to frolic freely and interact with other animals. In terms of amenities, you will find pet-friendly water fountains and waste disposal stations throughout the premises. Hygiene and convenience are taken very seriously in this great park. Make sure to visit this amazing dog-friendly place in Orange County, recommended by moving companies Irvine offers as the best park in the region.
Yorba Regional Park
Yorba Regional Park is a captivating destination for nature lovers located in Anaheim. The fresh air in the park is unmatched, and the sense of peace nature provides is something we all need more of in our everyday lives. The park offers a serene and peaceful environment with its vast expanse of greenery and scenic beauty, It features a variety of amenities, including:
Walking trails
Picnic areas
Playgrounds
Additionally, it boasts a serene lake where visitors can enjoy fishing or rent paddleboats. The best part is that you can enjoy this park with your pets! Whether you seek solitude in nature or a fun-filled day with pets, family, and friends, this park is an ideal setting for relaxation and outdoor recreation.
Peter's Canyon Regional Park
Peter's Canyon Regional Park can be considered a hidden gem of Orange County. The park's diverse landscape encompasses scenic canyons, rolling hills, and a picturesque reservoir. With its extensive network of hiking and biking trails, visitors can explore its natural beauty, making it one of the best dog-friendly places in Orange County.
What makes the park truly special is the rare opportunity it offers: to observe a wide variety of wildlife, including mule deer, bobcats, and a plethora of bird species. Your dogs would also spend an amazing day interacting with nature and using their instincts to the fullest of their abilities. Keeping your dogs active is beneficial for their general and mental health, so use this unique park to your advantage. 
The list of the best dog-friendly places in Orange County doesn't end here!
You will find many unique dog-friendly places in Orange County. From the sandy shores of Huntington Dog Beach to the lush greenery of Irvine Regional Park, the county is dedicated to providing a pet-friendly environment. Therefore, we encourage you to go out and explore together with your dog! Once you visit the places we mentioned in the article, make sure to take a detour here and there. Living in Orange County will significantly benefit you and your dog. When you're ready to move, don't forget to hire reliable residential movers Orange County provides. They'll ensure you and your dog start your stay in OC the right way!
"*" indicates required fields
What Our Clients Say
" I was in a bind with having to move during the Coronavirus problems. You were very accommodating in this tough time. "