Where to eat the best pizza in Yorba Linda
Believe it or not, Italian pizza ranks number 1 as the most popular food and the most photographed dish in the world. Also, there is almost no place on the planet where you can't get a slice of pizza. If you're moving to Yorba Linda, by any chance, ask your moving helpers from Orange County about a decent diner with excellent pizza. We'll suggest a few places with the best pizza in Yorba Linda. And then, you'll get the chance to discover the rest after you move.
Lamppost Pizza
If you google it, you'll find Lamppost Pizza place on nearly every list of top diners with the best pizza in Yorba Linda. There are numerous diverse dishes on their menu, but cheese pizza is their signature. Since 1976 Lamppost Pizza is serving the best pizza in the area. It's a family-owned diner, very popular among the residents of Yorba Linda. Their regulars always point out the kindness of the staff and excellent service. Vegans can try out Vegan Deluxe or Garlic Veggie Pizza, or sandwiches. While the others will have a hard time deciding what to choose, or even order pizza with their favorite dressing.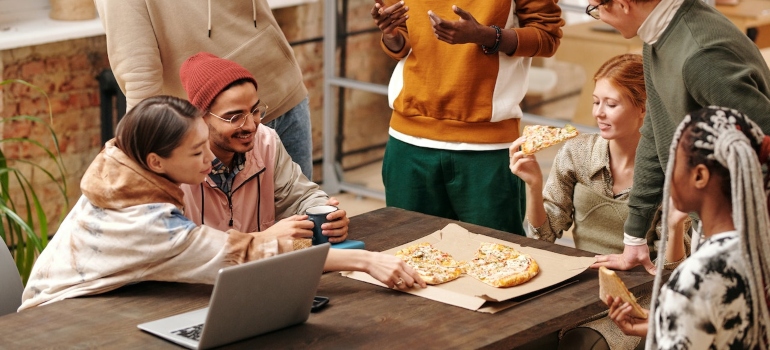 Family-owned chain of pizzerias
If you're about to relocate to Yorba Linda with our local movers in OC, you can also celebrate your new life chapter at the famous Lamppost Pizza. Over time they expanded their business, and now they are a successful chain of pizzerias. What's more, thirty Lamppost restaurants operate in Nevada and across California:
Fountain Valley
Vista 
Irvine
Lake Forest
Elk Grove
Eureca Pizza Co
Another highly praised diner by locals is Eureca Pizza Co. Once you move to Yorba Linda you'll get the chance to see why. They offer various dishes, which you can order from your home or you can eat on-site in covered outdoor seating if the weather allows. However, don't let this misguide you since Eureca Pizza Co counts as a casual but classy place. Additionally, you can order wings in many ways, salads, calzone, stromboli, and also gluten-free pizzas. We're sure you'll get to love this local rustic pizza place, with a relaxed atmosphere and tasty food.
Fitness Grill Kitchen
Fitness Grill Kitchen is a restaurant with a long history and a recognizable menu. Their menu consists of creative and healthy dishes, but special attention is paid to the nutritional value of each meal. Each recipe is unique and we are sure you won't try such yummy Fitness Pizzas anywhere else. Eccentric combinations of groceries are trademark of their pizzas, such as spinach and ricotta, or chicken and artichokes. Except for tasty food, they offer take-out and delivery services. They are just as fast and professional as our delivery service Orange County. And you can book any day from 11 am to 8:30 pm except Mondays. 
Graziano's 
This is the right place for those of you who like local family-owned diners and common yet delicious food. Their customers say everything they make there is excellent and super tasty. Besides, they have an arcade game room, where your kids would play while you finish your meal in a relaxed and almost family atmosphere. That's why Graziano's ranks as one of the best family friendly restaurants in Yorba Linda. Everyone seems to love their large Italian sausage pizza and garlic knots. However, Graziano's Special Pizza and Master Pizza are a must. 
Hopefully, you'll find your favorite pizza place among our suggestions. If not, there are many other pizza places, and we are sure you'll find your own best pizza in Yorba Linda. 
"*" indicates required fields
What Our Clients Say
" I was in a bind with having to move during the Coronavirus problems. You were very accommodating in this tough time. "