5 Tips for Throwing a Memorable Housewarming Party
Moving into a new home is an exciting milestone, and celebrating it with friends and family makes it even more special. It's also important as a way of connecting with your new neighbors and establishing long-lasting connections within your community. Whether you're a seasoned host or a first-timer, we from Affordable Reliable Moving Company got you covered with five essential tips for throwing a memorable housewarming party that will leave a lasting impression on your guests. From creating a warm and inviting atmosphere to planning fun activities, get ready to host a fantastic gathering that will be the talk of the town. Let's dive in and make your housewarming party an unforgettable experience!
Plan Ahead
Carefully choose the date and time that works best for you and your guests. This allows everyone to mark their calendars and ensures maximum attendance. Next, create a well-thought-out guest list, including close friends, family, and neighbors. Send out the invitations well in advance, either digitally or via traditional mail. Before the big day, ensure your new home is ready to welcome guests. Unpack and tidy up each room, creating a comfortable and welcoming ambiance.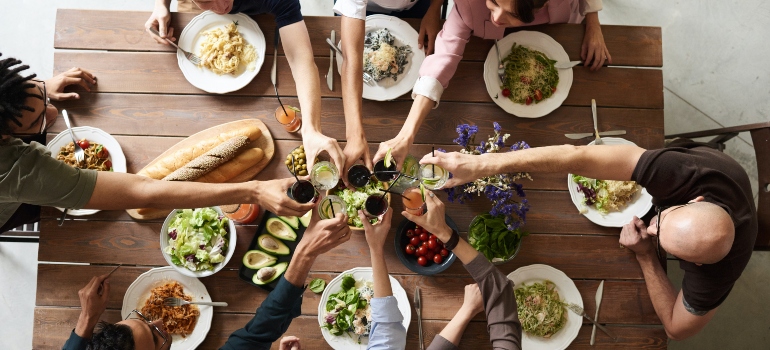 Also, plan the party layout to allow for easy mingling and movement. Set up designated areas for food, drinks, and activities. Consider offering a mix of homemade treats and store-bought snacks to cater to different tastes. Lastly, to keep things running smoothly, create a checklist for party essentials, like drinks, ice, plates, and utensils.
Create a Comfortable Atmosphere
Your goal is to make your guests feel at home and at ease in your new space. Keep the decor simple and welcoming, avoiding clutter and overwhelming decorations. If needed, put your excess belongings in the vaulted storage Orange County provides. Soft lighting can set a cozy ambiance, using lamps or string lights to create a warm glow. Consider playing some soft background music that complements the mood of the gathering.
Having enough seating is crucial to ensure everyone feels comfortable and can easily interact with one another. Mix and match seating options, like couches, chairs, and floor cushions, to provide various cozy spots for guests to relax and chat. Arrange seating in a way that encourages easy mingling and conversation. Additionally, consider adding personal touches to make the space feel even more inviting. Fresh flowers, scented candles, and decorative pillows can add warmth and charm to your home.
Serve Simple and Delicious Food 
A fun housewarming party can't be done without adequate food and drinks! Opt for crowd-pleasing dishes that are easy to prepare and enjoy. Finger foods like sliders, mini sandwiches, and bite-sized appetizers are perfect for mingling guests. Include a variety of options to accommodate different dietary preferences and restrictions, like:
Vegetarian
Vegan
Gluten-free
A charcuterie or cheese board with a selection of cured meats, cheeses, and fruits is both visually appealing and tasty. Fresh and colorful salads, like a Mediterranean or Caprese salad, add a refreshing touch to the menu. For dessert, serve an assortment of cookies, cupcakes, or a fruit platter.
Moreover, keep the drinks simple yet satisfying. Offer a range of beverages, including water, soft drinks, and alcoholic options like wine and beer. Consider having a signature cocktail or mocktail that reflects your personality or the theme of the party. Consider setting up self-serve stations for drinks and food to make serving easier. This allows guests to help themselves and keeps the party flowing smoothly.
Organize Fun Activities 
Consider popular choices like interactive games that encourage guests to mingle and have a blast together. Classics like charades, Pictionary, or a scavenger hunt around your new home add an element of excitement. Suppose you have outdoor space; set up lawn games like cornhole, bocce ball, or a friendly game of soccer. For a cozy indoor gathering, create a DIY photo booth with props, allowing guests to capture hilarious and heartwarming moments. 
Another engaging activity is a "build-your-own" station, like a taco bar or a sundae station. Guests can customize their meals, sparking conversations and adding a touch of creativity to the party. When thinking of activities, consider your guests' interests and age groups. You can even send out a pre-party survey to gauge their preferences, but it's always best to keep it simple and engaging.
Be a Gracious Host 
Being a host that people enjoy being around is critical to throwing a housewarming party! Greet each guest warmly as they arrive, making them feel welcome and appreciated. Take the time to introduce guests to one another, encouraging connections and conversations. Offer a guided tour of your new home, highlighting its unique features and sharing exciting stories about the space. Attend to your guests' needs, checking in to see if they require anything, like drinks or snacks.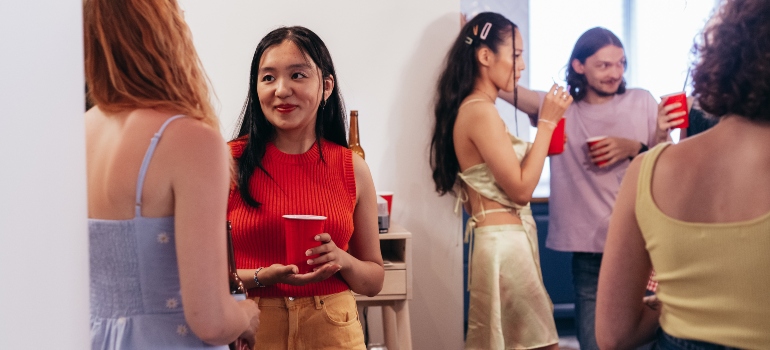 Engage in conversation with everyone, showing genuine interest in their lives and experiences. Be attentive and responsive, just like our local movers in Orange County, making each guest feel valued and included. As the host, lead by example and maintain a positive and upbeat attitude throughout the event. In the end, thank your guests for attending before they leave, expressing your gratitude for their presence.
Remember, Throwing a Memorable Housewarming Party Should Be Fun and Stress-free!
Remember, being a good host sets the tone for the entire party, creating a warm and inviting atmosphere that ensures your guests have a truly great time. In order to be like that, do not stress about the event. Look at it as a positive challenge, and focus on all the fun everyone attending will have. Throwing a memorable housewarming party is something that will make you remembered in your new community. Just remember, to have an equally memorable and fun relocation, use the best moving and delivery service Orange County has to provide! 
"*" indicates required fields
What Our Clients Say
" I was in a bind with having to move during the Coronavirus problems. You were very accommodating in this tough time. "