6 Ways to Make Friends After Moving to Garden Grove
Welcome to Garden Grove, the city that could soon become your new home! Moving to a new place is an exciting adventure, but it can also bring its own set of challenges, one of which is making new friends. Whether you're planning to move here with Affordable Reliable Moving Company or have just arrived, one thing is clear: building meaningful connections is vital for a fulfilling life in Garden Grove. Therefore, we'll guide you through six practical and easy-to-follow ways to make friends after moving to Garden Grove. It is more than just a social activity; it's a key to happiness and a support system in your new environment.
Join Local Clubs and Organizations
Joining local clubs and organizations can be a valuable strategy when making friends after moving with residential movers Orange County offers in Garden Grove. Firstly, it offers an instant social network, immersing you in a community of individuals who share your interests or goals. This commonality serves as a strong foundation for establishing connections.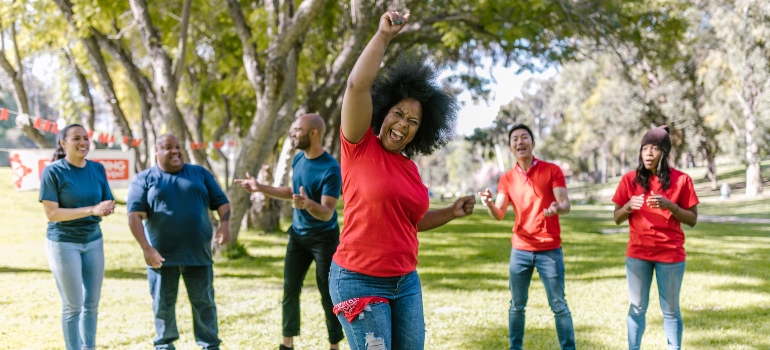 Moreover, participation in a club exposes you to people who share your passion for a specific topic or activity. This shared enthusiasm fosters engaging conversations and the potential for long-lasting friendships to blossom.
Additionally, these groups typically organize planned events and activities, ensuring frequent interactions with fellow members. Over time, these interactions facilitate the development of meaningful relationships. Some of the popular clubs and organizations in Garden Grove include:
Garden Grove Sports League
Garden Grove Gardening Club
Community Service Organizations
Cultural and Arts Clubs
Attend Community Events and Festivals
Now, let's turn our attention to another fantastic way to make friends and immerse ourselves in Garden Grove's vibrant community: attending local events and festivals. These gatherings offer a unique opportunity to connect with people from all walks of life while celebrating the city's culture and diversity.
Community events and festivals serve as lively activity hubs where you can start conversations with neighbors, vendors, and performers. Whether it's a neighborhood block party, a cultural festival showcasing the city's rich heritage, or a music event in the park, these occasions provide a laid-back atmosphere for socializing.
In addition to fostering personal connections, attending these events allows you to experience the essence of Garden Grove's identity. You'll taste local traditions, savor diverse cuisines, and groove to the rhythm of the city's music scene.
Volunteer in the Community
Volunteering in the community is not just about giving back; it's a powerful avenue for strengthening your social connections and becoming an active participant after relocating with movers Garden Grove offers. When you volunteer, you're bound to meet like-minded individuals who share your commitment to making a difference. These shared values can serve as a solid foundation for building lasting friendships.
In Garden Grove, numerous volunteer opportunities are waiting to be explored. You can dedicate your time to local charities, schools, environmental initiatives, or community events. Whether it's assisting at a food bank, mentoring youth, participating in neighborhood cleanups, or contributing your skills to a local project, there's a wide range of options.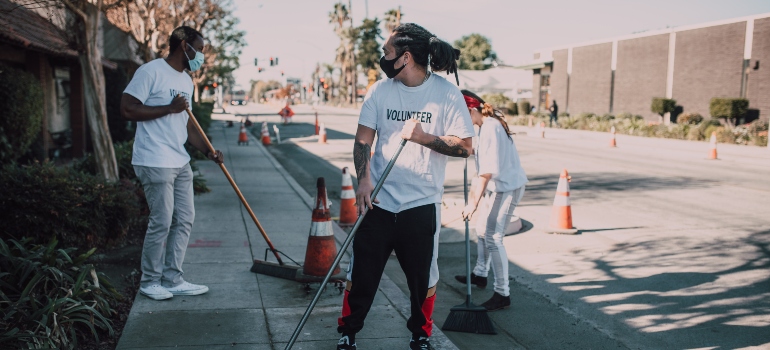 However, selecting suitable volunteering activities that align with your interests and passions is key to a fulfilling experience. Consider your skills, hobbies, and causes that resonate with you personally. When your volunteer work aligns with your values, you'll not only feel more engaged and fulfilled, but you'll also have a greater chance of forming genuine connections.
Use Social Media and Online Forums
Online platforms serve as valuable tools for building connections in Garden Grove. They offer accessibility, allowing you to engage conveniently from the comfort of your home, breaking geographical barriers. Within these digital spaces, you'll discover communities centered around shared interests, making finding like-minded individuals keen on forming new connections more accessible. These platforms also serve as reservoirs of local insights, with recommendations and event listings that help you stay informed about Garden Grove.
Moreover, initiating conversations online often feels less intimidating than in-person encounters, making it an ideal starting point for newcomers eager to meet people. For those venturing into the online world of Garden Grove, consider exploring these recommended social media groups and forums:
Garden Grove Community Facebook Group
Reddit – r/GardenGrove
Take Classes and Workshops
Enrolling in classes and workshops is not only an opportunity for personal growth but also a fantastic way to expand your social circle in Garden Grove. These educational settings offer numerous advantages, including structured learning, skill enhancement, and, importantly, the chance to meet like-minded individuals.
In Garden Grove, you'll find various classes and workshops catering to diverse interests and skill levels. Whether you're eager to learn a new language, pick up a musical instrument, explore arts and crafts, or delve into fitness and wellness, there's a class waiting for you. The city has great educators and instructors.
When selecting classes or workshops, consider your own interests and goals. Reflect on what excites you and what you've always wanted to explore. Choose subjects that genuinely captivate you, whether it's an art class that piques your creativity or a fitness workshop that aligns with your health goals.
Explore Recreational Activities
Garden Grove provides a plethora of recreational options to suit various tastes. Whether you're into outdoor adventures like hiking in scenic parks, cycling along picturesque trails, or picnicking in tranquil gardens, or you prefer indoor pursuits like joining a local sports league, taking dance classes, or participating in art workshops, there's something for everyone.
Initiating conversations and nurturing friendships through recreational activities is easier than you might think. When you're part of a group with a common interest, you already have a conversation starter. Simply strike up a chat about the activity, ask for tips or advice, or compliment a fellow participant's skills or progress. Don't hesitate to attend group gatherings or post-activity social events if they're available.
Discover the Best Ways to Make Friends After Moving to Garden Grove
Take action today! Dive into these ways to make friends after moving to Garden Grove. Remember, building a strong support network in a new city is not just a choice; it's a crucial step toward creating a fulfilling, enriching life. Whether you're planning a move with local movers Orange County offers or have already arrived, embrace the adventure, be open to new experiences, and cherish the bonds you create. Garden Grove awaits with open arms, ready to welcome you into its vibrant community.
"*" indicates required fields
What Our Clients Say
" I was in a bind with having to move during the Coronavirus problems. You were very accommodating in this tough time. "