Smart and stylish storage solutions for kids' rooms
If you have a child, you know how hard it is sometimes to keep their room nice and tidy. Furthermore, you don't want it to look plain and lifeless once you finish cleaning and organizing it. Finding the right balance between the two is essential. Not to mention that whatever method you choose, you should make sure the room stays tidy for a while and does not become a mess the very next day. That's why we're here to help. With these smart and stylish storage solutions for kids' rooms, you'll find your life so much easier. So let's get straight into it!
The first step to a perfectly organized kids' room: decluttering
Before you start thinking about storage ideas for kids' rooms, an important step is decluttering. In almost everyone's rooms, there are certain things we don't really need anymore or have no use for them whatsoever. Children's rooms are no exception. That's why it's essential you go through their belongings and get rid of the unnecessary stuff. That way, you'll have fewer things to organize and store. If you want to make this process easier, you can prepare three boxes. They will be for keeping, throwing away, or selling.
Storage solutions for kids' rooms: vertical storage
One of the storage solutions for children's rooms is having vertical storage shelves. This is especially useful if your child's room is small, as it will save you a lot of space. Floating shelves are also a good solution. Furthermore, they seem cute and fashionable. If you need help with moving this furniture, you can always hire furniture movers Orange County has and not worry about a thing.
Saving space
If you have more than one child, and they all share a room together, it's crucial to have a good plan of where everything will be. When it comes to beds, it's best to have either bunk beds or lofted beds. In addition, if you opt for the second option, you will be able to utilize the space below. Equally important is the space under the bed. However, not everyone is using it. We recommend you put bins, drawers or storage totes, and here store the things your kids don't use as often. If you wish to get these beds and transport them to your home, get installation services Orange County has to offer, and it will save you so much time and energy.
Where to place toys?
Some toys should be within your children's reach, and some far away so they don't get them. Having bins and baskets close to the ground will make your child's life much easier. They will be able to take whatever they want when they want to play. Plus, you can teach them to put everything where it belongs once they are done with their games. Each bin or basket should be of different color so your child would know where certain things are. This will also make the room more bright and colorful. On the other hand, delicate belongings should be carefully stored. If they mean a lot to your child but are too frail to be played with, you can place them somewhere higher where they will be out of reach. And finally, hire one of the best moving and storage companies Orange County has, and we will try to make it easier for you.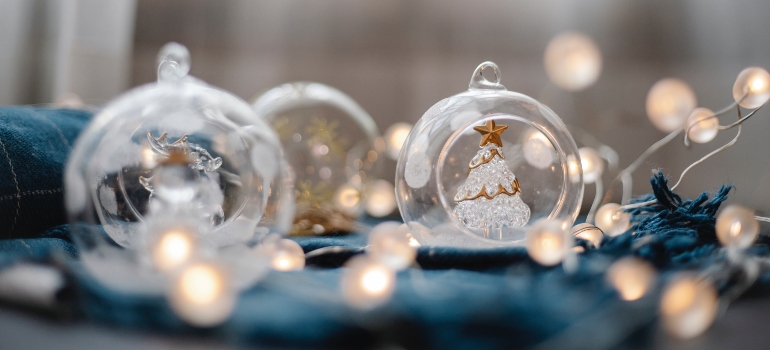 Use stacking drawers for small or expensive toys
Your child is bound to have some smaller or more expensive toys. Such things you cannot just put anywhere. As they are small, they can be easily lost. In addition, having all of them in one place may make that space look too cluttered. For that reason, we recommend using stacking drawers. To make the room look more lively, you can use colorful ones. However, using transparent ones is also great as you can jot down on them what you placed inside. And for the more expensive toys or children's piggy banks, you can get some home security. Picking the right system for you is the most important step, so don't skip on it.
Reading nook with book storage
If your child adores reading, this is the perfect kids' room storage solution for them. Reading nooks will make them feel relaxed and enjoy their time while reading. However, as they will have the books right below them, they will be able to browse through their favorite fairytales without leaving the coziness of their shelter.
A couple more clever children's room storage ideas
Here are a few more things you can utilize in your child's room:
Use a vintage-style trunk – you will be able to store a lot of belongings here. Moreover, the trunk can also serve as a chair or a table for your child. And it will look great in their room. Building a toy chest is also an option.
Get a play table – Your children will play board games or color or do other interesting things on the table rather than spreading everything on the floor.
Use pictures for labeling – if you don't want every single thing to be of different color, there is a way. Using pictures will look cute but will still help your child understand where everything is. That's why this is one of the perfect storage solutions for kids' rooms.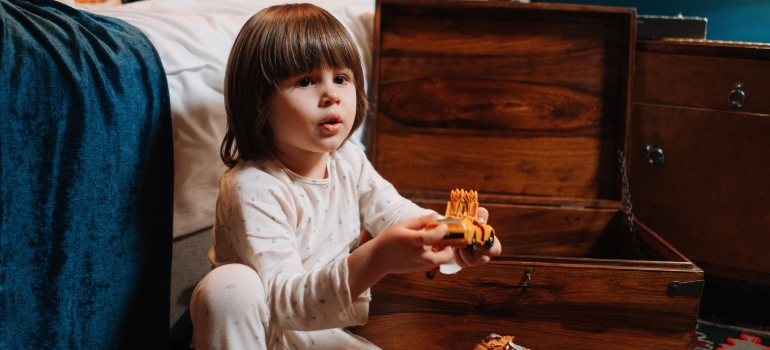 Too many belongings and not enough space
If you've followed all our kids' room storage tips and you still don't have enough space for everything, there is no need to panic. We have a solution for that as well. This solution is called vaulted storage Orange County. You can keep some of your child's belongings there. And the best thing is, they will transport all your belongings for you. Once you need them again, just give them a call, and you'll get your items back. In addition, you will only be paying for the space that you use. Even if you don't have too much stuff, you won't have to worry about paying for the whole space.
Final thoughts
Having an organized children's room is actually not as hard as it may seem. The only thing you have to do is follow these storage solutions for kids' rooms. If you decide to get any of the things we've mentioned, save yourself the trouble and hire one of the best moving companies Orange County has to offer. We sincerely hope we have been able to help!
"*" indicates required fields
What Our Clients Say
" I was in a bind with having to move during the Coronavirus problems. You were very accommodating in this tough time. "