Storage Services
Prioritize the safety and security of your belongings
by choosing the best vaulted storage Orange County can offer
"*" indicates required fields
Many companies offer moving services, but not all of them offer storage solutions. If you find yourself in between homes, waiting for renovations to finish, or simply decluttering, the best option is to get storage space. There are many different storage options that you can find near you; however, if you want maximum-security storage, contact the Affordable Reliable Moving Company. We have some of the best storage vaults in Orange County. They are safe, durable, and spacious. You will not make a mistake by renting one. To learn more about the vaulted storage Orange County residents love the most, feel free to give us a call.
What is vaulted storage and why should you rent it?
Before opting to store your belongings in vaulted storage, you might want to know exactly what storage vaults are. Vaulted storage is a large, wooden storage vault, which is stored in a dry, clean warehouse, to store your items. These vaults are a great alternative to storage units, which are too large for most people's needs.
There are many reasons people choose to rent vaulted storage. It's a great solution if you're lacking space in your new home. Or if you've moved recently and don't want to say goodbye to your old furniture. Another reason why you might consider renting vaulted storage is needing more space. This is an easy way to declutter your home without actually getting rid of anything. If you feel like you would benefit from renting vaulted storage, don't hesitate to contact us today!
Once you contact us, our professional and licensed movers will come to pick up your boxes and transfer them to the storage facility. Whenever you need your items back, all you need to do is give us a call. Our movers will make sure your items get delivered in a time frame that fits your schedule the best. You don't have to even lift a finger; we've got you!
Benefits of renting vaulted storage Orange County community trusts
One important thing you should know is that our Orange County storage services are extremely cost-efficient. This is because you are only paying for the space that you use. Whereas when renting traditional storage space, you will most likely not fill up the entire space, and you will end up paying for the extra space that you don't need. Our crew will help you determine how many vaults you need to fit all your items. You will not have to bother with measuring and calculating; we will do this for you!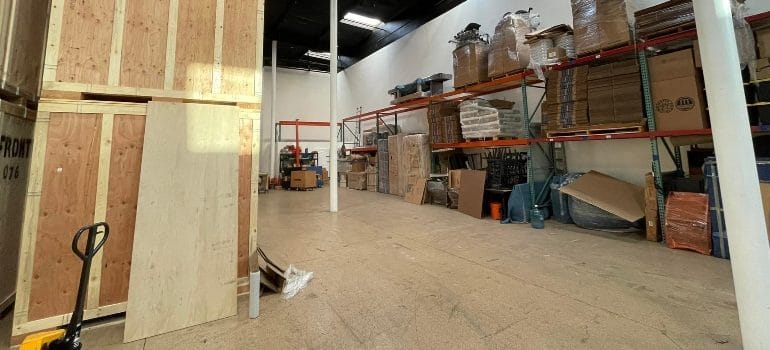 Safety is our number one priority
Another benefit that you will receive by opting for Affordable Reliable Moving Company is safety. The material that our vaults are made of is durable, which is important to keep your items in place. We keep vaults in our climate-controlled warehouse. Having a climate-controlled space is key. There are no temperature fluctuations, and the humidity levels are optimal. This way, your items will stay in their original shape no matter how long you decide to leave them there. Moreover, our warehouse is monitored, and only vetted employees have permission to access your items. This means that your items are 100% safe with us!
Affordable Reliable Moving Company offers more than just vaulted storage in Orange County
What makes our company stand out from the others, besides being reliable and trustworthy, is our vast range of moving services. No matter if you are moving your office or your home, we have a solution for you.
Here are the moving services that you can expect our movers to provide you with:
Our packing services are your best choice when you need vaulted storage in Orange County
When you hire us to provide you with Orange County moving and storage services, you don't have to worry about packing. Time is precious, so why waste it on packing when you can have a team of the best packers in Orange County at your door in no time? Our packers specialize in packing fragile and valuable items. Therefore, no matter if you are planning to move or put your valuables in a storage vault in Orange County, they will make sure each item is properly secured.
Moreover, to make sure that your items are completely safe, we use top-quality packing materials. You and your belongings deserve the best, so we have invested in the best packing supplies that exist. We are dedicated to providing you with the most quality packing services in Orange County!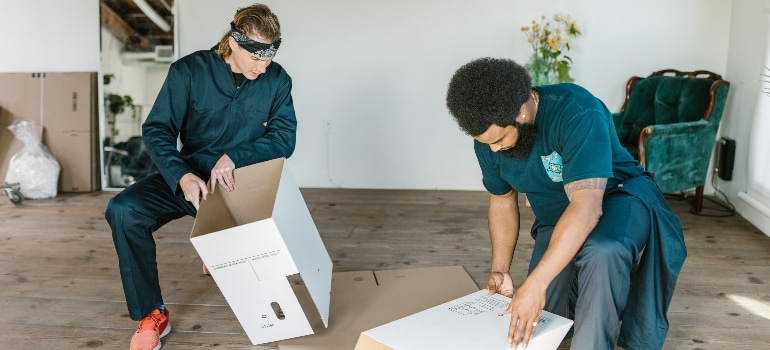 Read our reviews and find out how we operate
Since the industry is rapidly changing, keeping up with the new trends and new techniques is key. This is why we are learning and improving constantly. We want the best for you. Our reviews show how much we care about our customers. We take customer advice very seriously and work hard to fulfill your wishes and demands. We are one of the best companies in Orange County. If you like what you hear, feel free to contact us to learn more about what we offer.
Transparent and affordable prices are our trademark
The best part is that everyone can afford to get our moving services. Just like our name says, we are an affordable moving company that offers high-quality services. No matter how big or small your budget might be, we will be able to find the best solution possible that will suit your wallet and your needs. Before you sign a contract and commit to anything, we will give you a free estimate.
Our estimates are accurate; therefore, you will not have any hidden fees at the end of the move. You will be provided with a full price breakdown, which will help you organize your finances. Reaching out for a free moving quote and entrusting us with your items will be the best decision you have ever made!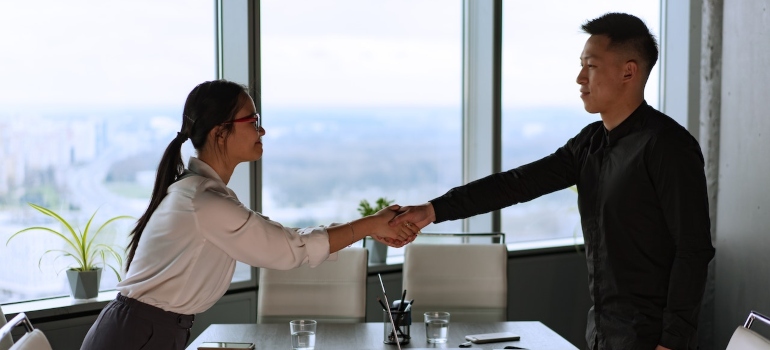 What should you expect after your relocation to Orange County?
Orange County is an amazing place with endless career opportunities and never-ending fun activities. This is something all Orange County residents will tell you. We have been in the moving business for over a decade and none of our customers have regretted moving to OC. Before living here, you need to be prepared and we'll help you with that. We'll give you some information on what to expect after relocating to Orange County!
Real estate, rent, and living expenses
Life in Orange County is not cheap, especially the real estate. For those who want to invest in a home, keep in mind that the median house cost in Orange County is $869,600. A lot of residents choose to rent because of this reason. Smaller apartments go for about $2000 a month, whereas larger can cost you up to even $3000 monthly.
This is what you can expect about your living expenses in Orange County:
Groceries – 10% more expensive than the national average
Utilities – 12% cheaper than the national average
Transportation (bus fares and gas prices) – 28% higher than the national average
Healthcare – 3% more expensive than the national average
Education and job opportunities in OC
There are many job opportunities in Orange County and the most in-demand jobs are retail sales associate, truck driver, customer service representative, shift manager, registered nurse, and licensed vocational nurse. When it comes to salaries the average Orange County salary ranges from approximately $34,820 per year to $137,014 per year. Average Orange County hourly pay ranges from approximately $11.50 per hour to $54.35 per hour.
Orange County has amazing educational institutions. Orange County has some of the top-ranked public schools in California. Additionally, it's home to some of the best universities in the country. You can get a high-quality education at every level in Orange County. If you want your kids to receive a top-notch education, contact us today and we'll arrange a smooth relocation!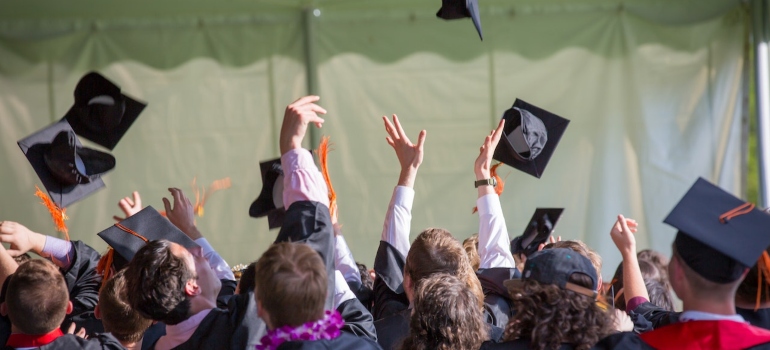 Feel free to reach out to rent your vaulted storage in Orange County today
Whenever you need a safe space for your items, ring us up! We have space for you. Our movers will deliver, pack, and transport your vault to our state-of-the-art warehouse. We assure you that your items are in safe hands and that we will take good care of them. Contact Affordable Reliable Moving Company Orange County to learn more about our moving and storage services, and to rent the vaulted storage Orange County residents prefer!
How it Works
Contact Us
Give us the details of your upcoming move and receive a free moving quote
from a team of trusted movers Orange County relies on.
Let Us Plan Your OC Move
Our movers in Orange County CA are here to help you achieve both
a successful and seamless relocation, with care and dedication.
Relax & Enjoy Your Day
Let Affordable Reliable Moving Company take the stress out of moving and
carefully handle your home or office relocation.
What Our Clients Say
" I was in a bind with having to move during the Coronavirus problems. You were very accommodating in this tough time. "