A complete guide for moving from Long Beach to Laguna Beach
There's no doubt that Orange County is a wonderful place! There are so many beautiful places to choose from as your new home. The oceanside lifestyle, endless entertainment options, and wonderful weather year-round are hard to match. But moving from one place to another can be stressful even in magical places like towns in OC. There are a lot of factors you have to consider and be very organized. But don't worry, we're here to help you out! As one of the most reliable moving and storage companies Orange County has to offer, we'll share with you our knowledge and experience when it comes to moving from Long Beach to Laguna Beach.
How do Long Beach and Laguna Beach compare and how can that help you move?
Before we take a deep dive into the differences between the two places, it's important to note that these two cities are very different in many aspects. While they are only 28 miles apart, they are completely different in some ways. They do share a lot of things in common, but in order to prepare for moving from Long Beach to Laguna Beach, it's important to get familiar with these differences. You shouldn't even think about searching for moving companies in Long Beach before you understand them!
Housing prices
If you're moving from Long Beach to Laguna Beach, you should know that the housing prices are drastically different. The average home value in Long Beach is $739,900, and in Laguna Beach, it's $2,741,100. That's not a subtle difference! When it comes to renting, the average rent in Long Beach is around $2,500. On the other hand, an apartment of the same size would cost you on average $3,500. As you can see, you would most likely have to spend more money on housing than in Long Beach. What's also important to know is that the demand for housing in Laguna Beach is very high! Houses and apartments do not stay listed for long once they're on the market. We know that from firsthand experience, as our local movers Orange County have their hands full all year long!
Cost of living index
Housing isn't the only thing that's more expensive in Laguna Beach. The overall cost of living index in Long Beach is 159, while in Laguna Beach it's 344. What this means is that, in the case of Long Beach, its residents pay 59% more for their basic living amenities than the average American citizen.  The difference is mostly influenced by Laguna Beach's expensive homes, but there are other things that aren't as cheap as in Long Beach. For example, food and groceries are 15% more expensive in Laguna Beach, while healthcare is 7% more expensive. The utilities are around the same, both of them being close to the national average. The only thing that's noticeably more expensive in Long Beach is transportation cost. In Laguna Beach, you'd pay 44% less for fuel or public transportation!
Demographics
While both cities are located in Southern California, they differ greatly in their demographics. Let's take a closer look at those differences and see how they compare.
Long Beach
Long Beach is a large and diverse city, with a population of over 460,000 residents. It has a relatively young population, with a median age of 34.3 years. The city has a large Hispanic population, making up about 42% of the community. African Americans, Asian Americans, and white residents make up the remaining 58%. Long Beach is also home to a significant LGBTQ+ community, which has played an important role in shaping the city's culture and identity.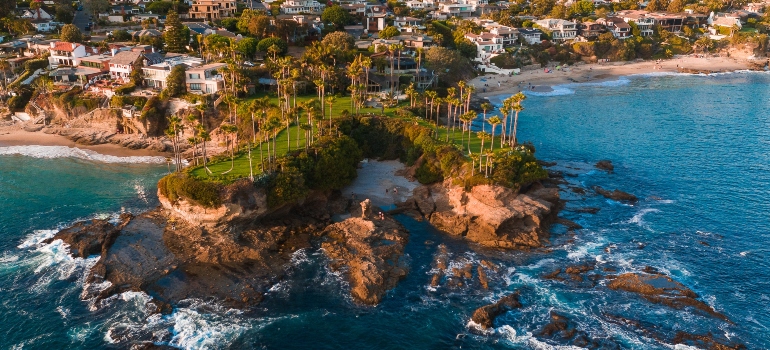 Laguna Beach
On the other hand, Laguna Beach is much smaller. It has just around 23,000 residents. Also, it has a much older population, with a median age of 50.4 years. The majority of the residents identify as white. To be more precise, 86% of them. The remaining population is made up of Asian Americans, Hispanic Americans, and African Americans. Laguna Beach is also known for its high median household income. That figure revolves around $130,000 per year, making it one of the wealthiest communities in the region.
Benefits of moving from Long Beach to Laguna Beach
While the decision on moving from Long Beach to Laguna Beach comes down to personal preferences, there are still things that people consider to be better or more interesting in Laguna Beach. Some people prefer living in smaller places that feel more secluded, while others love living in a faster-paced environment with more people around. Let's see all the benefits of Laguna Beach and what type of lifestyle you can expect there. If you are having doubts about moving, we're sure you'll get the urge to contact our movers in Laguna Beach after you read just how great this place really is!
Lifestyle
Laguna Beach is a classic suburban area, where 66% of people own their homes while the remaining residents rent them. Niche Magazine has given it a score of A+ for public schools, as the area is known for its high academic performance among students. It is also a perfect place to raise a family, as children there have so many opportunities to learn, grow, and enjoy life.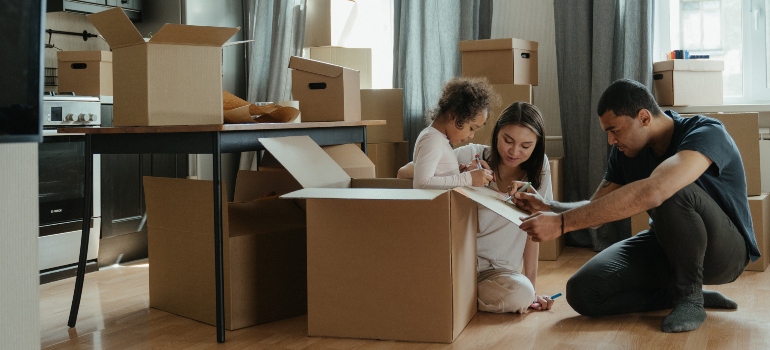 Parks and beaches
This city is known for its many great parks and beaches where you can spend quality time outdoors. We recommend that you visit Heisler Park, which offers stunning ocean views and a beautiful walking path. It also features a gazebo, picnic areas, and public art installations. When it comes to Beaches, there are several of them you should visit right off the bat. Treasure Island Beach is one of them, and it's a favorite amongst the locals.
Shopping centers
Laguna Beach has several shipping centers, including the Laguna Beach Village and HIP district. The Laguna Beach Village features a variety of boutique shops, restaurants, and art galleries. The same goes for the HIP district, which stands for Historic and Interesting places. It is the home of 16 art galleries, 19 restaurants, and many unique shops and boutiques. There are also several important historical landmarks there, including La Casa del Camino, Old Pottery Place, and several other buildings built back in the 1900s. All in all, if you like shopping and spending time in such areas, you'll definitely enjoy the place!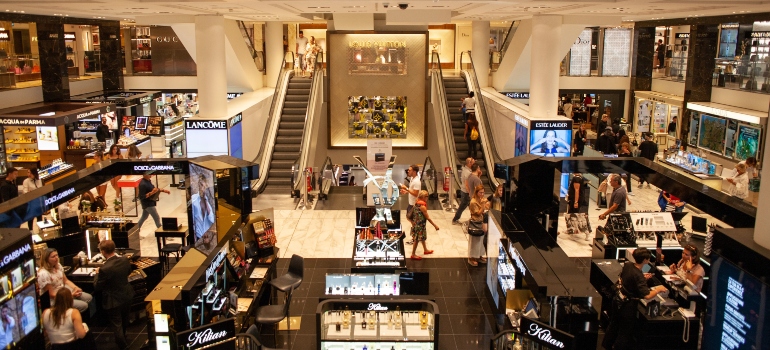 Restaurants
The city is known for its vibrant dining scene, with many restaurants offering fresh seafood, locally sourced ingredients, and creative cuisine. There are so many restaurants to choose from, with cuisines from all over the world. If we had to pick one, we would definitely recommend that you head out to Driftwood Kitchen. It offers a farm-to-table menu and stunning ocean views that create an amazing and unique dining experience. Of course, there are countless other options, so you can't go wrong if you simply head out and sit in any beautiful restaurant you see.
Nightlife
Laguna Beach has a lively nightlife scene with many bars and clubs with live music, comedy shows, and other forms of entertainment. If you love enjoying life, this city is the right place for you. If you want to experience what nightlife is like there, we recommend that you visit The Marine Room, which has been a local favorite for over 75 years! Another great place you'll definitely love is Mozambique, as it offers a rooftop lounge and live music. There are many other bars and clubs you should visit, so take your time! Once your residential movers Orange County has to offer leave your home after a successful relocation, head out and celebrate!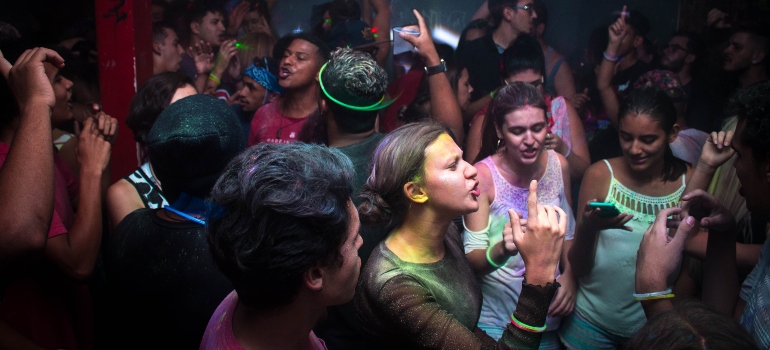 Make a thorough moving plan when moving from Long Beach to Laguna Beach
Now that you've seen just how amazing the place is and what to expect from it, it's time to start thinking about moving preparation. In order for a move to be successful and pleasant, you have to be organized and detail-oriented. If you leave anything to chance, many things can go wrong! In order to avoid any problems, here's a list of all the steps you have to take to ensure your move from Long Beach to Laguna Beach is a memorable experience.
Bonus tip: If you plan to also relocate your business to Laguna Beach, creating a detailed moving plan is equally important. If that's what you also plan to do, you'll be glad to know that we also specialize in commercial moving in Orange County CA. Give us a call and let us help you out in any way you need!
Create a moving checklist for smooth moving from Long Beach to Laguna Beach
The first and most important step is to create a moving checklist. Start by writing down all the things you have to do so you don't miss anything. Include all the crucial steps, like packing, transferring utilities, acquiring moving and delivery service Orange County providers to help you move, and other important tasks you have to deal with. We recommend that you start planning your move 6-8 weeks before your expected moving date. This will give you enough time to get everything sorted out and welcome your moving day ready and excited.
Start packing early
Once you've made your moving plan, it's time to start packing. Sort your possessions into essential and non-essential categories, and start packing the non-essentials first. Those would be the things you don't need for your everyday life, like for example seasonal clothes. It's important to start packing early, as you don't want to find yourself rushing to pack a few days before your move. It can put your relocation in jeopardy if you're not doing things on time. As moving day approaches, you should have fewer things to pack, so a few days before the move, you can wrap things up. Always pack an overnight bag that will include some essential items in case something goes wrong. But if you're working with a reliable moving company, moving from Long Beach to Laguna Beach should be a breeze.
Get rid of things you don't need
A great way to speed up the moving process is to get rid of things you don't really need. This has multiple benefits. For example, with fewer items, you would have to spend less time packing, and also less money on packing supplies. You can get rid of things in two different ways. You can either sell them or donate them. If you decide to sell, you can post online ads on websites like Craigslist. Make sure the photos you take of those items are of high quality, as that will make it easier for you to sell them. If you decide to go down the other route, donate them to a charity of your choice or give them to your friends and family. There's no reason to throw them away, as someone can always use what you don't need.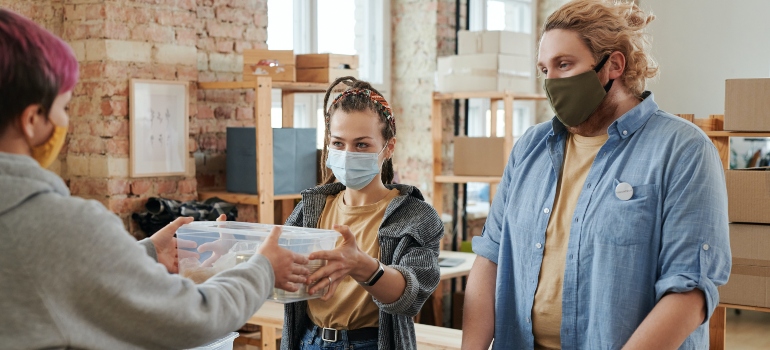 In order to successfully move from Long Beach to Laguna Beach, hiring professional movers is a must!
Moving from Long Beach to Laguna Beach can be a very pleasant and memorable experience if you use top-quality movers. Even though the distance between the two cities is just 28 miles, many things can still go wrong. You'd need seasoned professionals to handle your move, as they are ready for anything. Sometimes the weather in the area can be unpredictable, so you'd have to adjust on the fly. Or maybe you don't know the shortest and best routes between the two places. You'd also need professional installation services Orange County has to offer once you arrive at your new home to make sure everything is in order and ready for you. Our company is one of the most popular ones in the area, and we earned this trust through hard work and focusing on customer satisfaction. Give us a call and experience a wonderful relocation!
"*" indicates required fields
What Our Clients Say
" I was in a bind with having to move during the Coronavirus problems. You were very accommodating in this tough time. "