Residential Movers
Get to experience a stress-free and enjoyable home relocation
with skilled Orange County residential movers by your side.
There are two things that almost everyone wants from their moving company: affordability and reliability. At Affordable Reliable Moving Company, that is exactly what you get. It is part of our brand, after all. We pride ourselves on providing exactly what our customers need and always strive to exceed your expectations. The dedication and desire to achieve our business goals while serving our clients allows us to stand among the top residential movers Orange County has to offer. With thousands of satisfied customers to our name, we continue to grow and learn with each moving job. In addition, we have fully licensed Orange County movers to provide our clients with the best relocation experience possible at affordable rates. So if you want to experience a swift, smooth, and stress-free moving process, get a free moving estimate today!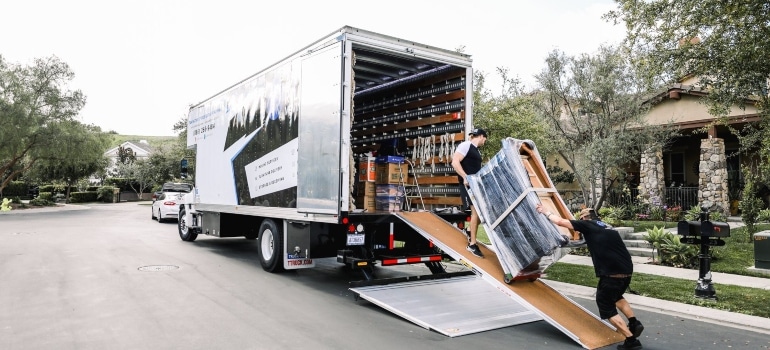 Residential movers Orange County residents trust – Affordable Reliable Moving Company!
As one of the best residential movers in Orange County, we fully understand that relocation is a huge deal for everyone involved. Our business is to ensure that your household belongings are transported safely and efficiently to your new home. When we are on the job, you can rest easy knowing that you have a team of experienced movers equipped with the best moving gear for the job on your side. We will simplify your Orange County residential move and minimize the stress involved. If you want to know more about us, feel free to contact us directly, and we will happily explain everything to your heart's content. Our policy is one of transparency, after all, and listening to our customers. That allowed us to become one of the top Orange County home movers quickly!
Why choose us as your moving partners?
When considering the residential moving companies Orange County has on offer, there are many things to consider. Every moving company has unique strengths, after all. And here's what you can expect from Affordable Reliable Moving Company:
Speed and efficiency – Our specialized moving equipment and the highly trained moving team can provide lightning-fast moving service that does not compromise safety for one second. Furthermore, this service does not even come at an increased price. Therefore, we are the ideal choice for relocating large families with tight schedules and relocation of single individuals alike!
Safety and security – We can conduct extremely complex moves, regardless of what they might involve. For over a decade, our team has been safely and securely relocating large objects such as pianos safely and securely. Our advanced moving protocols ensure that every relocation gets the attention and resources required, making everyone involved as safe as possible.
Flexible scheduling – Your plans are our plans. That means we will conform to your unique schedule, regardless of what it might be. So whether you want to move in the early morning or late afternoon, you can count on the Affordable Reliable Moving Company team to be there for you! This flexibility and reliability philosophy allows us to maintain our place as one of the best residential movers in Orange County.
Of course, you can also count on our services to be highly reliable and affordable. Reliability and affordability are inside our name, after all. So get a free estimate today, and we are confident you will like what you see!
Orange County moving experts with knowledge and experience
Our headquarters are in Irvine, SoCal. As you might imagine, this makes us one of the most experienced residential movers Orange County offers. We know the area like the back of our hand, having already completed thousands of successful relocations. We always know how to navigate the rush hour, as well as how to find the ideal parking spot. The whole of Orange County is our "playground." Over the last decade, our team has been helping Orange County residents relocate smoothly and reliably. You can count on extreme efficiency and reliability by choosing us as your movers of choice. We will help you create a relocation that you may even come to enjoy! You can also ask us about local Orange County attractions, and we will be happy to help and steer you in the right direction!
Moving and storage solutions scaled to your budget
As one of the top residential moving companies Orange County offers, we provide many high-quality, affordable moving services. Here are some of the services that we can provide:
With more than 12 years of experience and extensive training, our Orange County home movers will help you create an enjoyable relocation process. Our services are also fully customizable, meaning you can choose the exact services you need. Furthermore, our planning team is there to provide you with moving tips and expert moving advice, making the relocation even more seamless.
You will be offered several options when choosing an optimal moving package scaled to your budget. For local moving jobs, we recommend an introductory rate for two movers and a truck, which covers local relocations within 15 minutes of drive time, with a 3-hour minimum. If you require additional movers or services, we are here to provide you with premium packing solutions, delivery, and installation solutions. Feel free to browse our pricing options and contact us for any additional piece of information you might need.
Get in touch with our Orange County residential movers today!
If you are looking to take your Orange County relocation to the next level, you must hire one of the best residential movers Orange County has to offer! Contact Affordable Reliable Moving Company today, and enjoy a smooth, and stress-free moving experience! Our team eagerly awaits your call!
How it Works
Contact Us
Give us the details of your upcoming move and receive a free moving quote
from a team of trusted movers Orange County relies on.
Let Us Plan Your OC Move
Our movers in Orange County CA are here to help you achieve both
a successful and seamless relocation, with care and dedication.
Relax & Enjoy Your Day
Let Affordable Reliable Moving Company take the stress out of moving and
carefully handle your home or office relocation.
What Our Clients Say
" I was in a bind with having to move during the Coronavirus problems. You were very accommodating in this tough time. "