The Ultimate Guide for Students Moving to Orange County
Are you planning to study in OC but don't know what to expect? Look no further! This guide for students moving to Orange County is your ultimate resource for navigating this vibrant region in Southern California. We'll explore the best cities that cater to students, highlighting their unique features and benefits. From the lively coastal town of Santa Ana to the cultural hub of Irvine, we've got you covered. But that's not all – we'll also provide valuable information on job-hunting resources specifically tailored to students. Whether you're seeking part-time work or internships, Orange County offers a plethora of opportunities. So before you start researching the best OC moving services and planning your relocation, join us in exploring the best cities, making the most of your student life, and jumpstarting your career in this dynamic and exciting county.
The Best Cities for Students Moving to Orange County
Orange County is a region that offers a range of cities that provide everything students need and more. From excellent educational institutions to a thriving social scene, these cities offer a well-rounded experience. With a wide variety of cultural and recreational activities, students will never run out of things to do. Explore vibrant downtown areas filled with trendy shops, delicious eateries, and lively entertainment venues.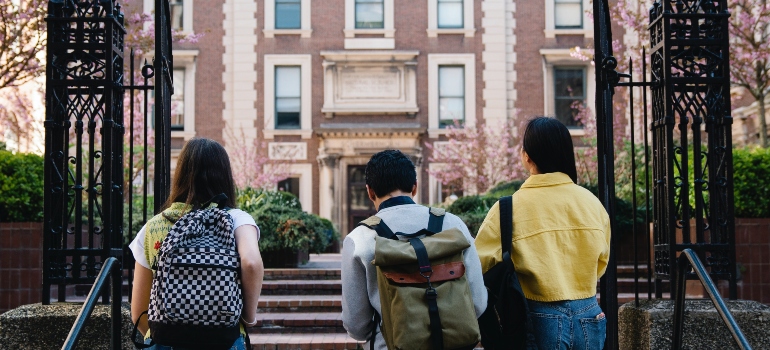 These cities also boast a strong sense of community, making it easy for students to meet new people and forge lasting friendships. Additionally, they provide ample opportunities for professional development, with internships, networking events, and career fairs readily available. Whether you're seeking academic excellence, a vibrant social life, or career advancement, these cities have it all. Our guide for students moving to Orange County constitutes of the following cities: 
Anaheim
Santa Ana
Irvine
Garden Grove
Costa Mesa 
Fullerton
So let's take a deep dive into each of them and explain why they would be a perfect fit for any student! By the time you're finished with this article, we're sure you're going to be one step closer to making your dream move a reality.
Anaheim
Anaheim, with its population of over 350,000 people, is a truly exceptional city for students. Its unique blend of attractions, opportunities, and community makes it an ideal place for academic and personal growth. The city is renowned for being the home of Disneyland Resort, which is something everyone can enjoy.
Beyond the theme park, students can explore other attractions like the Anaheim Packing District. It's a foodie haven with diverse culinary options and a vibrant social scene. For leisure time, Anaheim provides numerous options. Students can catch a baseball game at Angel Stadium or attend concerts and events at the Honda Center.
The city also offers beautiful parks, such as Yorba Regional Park and Pearson Park, perfect for outdoor activities and relaxation. Make sure to use the services of the best moving companies Anaheim has to offer to kickstart your stay in this great city!
Santa Ana
Our guide for students moving to Orange County can't be done without mentioning Santa Ana! What sets Santa Ana apart is its rich cultural heritage, evident in its vibrant downtown arts district and historic landmarks such as the Bowers Museum. The city is also conveniently located near some of the best beaches in the area, including Newport Beach and Huntington Beach.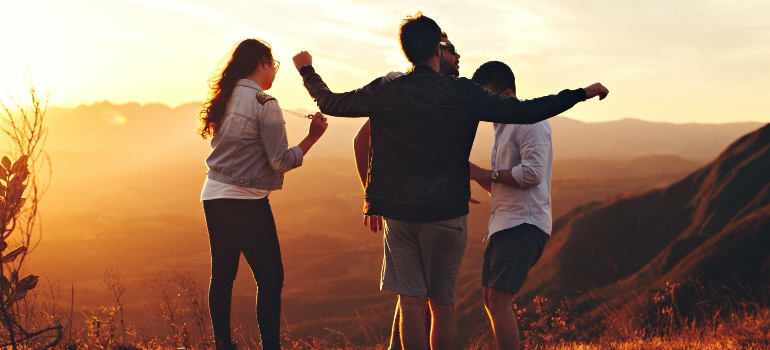 In terms of student resources, Santa Ana is home to renowned educational institutions like Santa Ana College and the Art Institute of California. These institutions provide top-notch academic programs, comprehensive libraries, and dedicated student support services.
Additionally, the city offers numerous recreational activities for students to enjoy during their free time. They can explore the beautiful Santiago Park or visit the Discovery Cube Science Center. If all of this doesn't make you get in touch with the moving companies Santa Ana offers, we don't know what will!
Irvine
Irvine is an excellent choice for students looking to move to Orange County. As a city renowned for its exceptional education and family-friendly environment, Irvine offers a multitude of advantages. With top-notch schools like the University of California, Irvine (UCI), and a strong emphasis on academic excellence, Irvine provides a nurturing and supportive environment for students.
The city's safe neighborhoods and well-maintained parks make it an ideal place for families and students alike. Irvine is also famous for its extensive network of biking and walking trails, allowing students to explore the city's natural beauty while staying active.
Moreover, the city offers a vibrant cultural scene, with attractions such as the Irvine Spectrum Center and the Great Park. Whether it's exploring the local cuisine, enjoying outdoor activities, or attending community events, Irvine is a wonderful place for students. So make sure to contact our movers Irvine CA and let's get you ready!
Garden Grove
Halfway through our guide for students moving to Orange County, we'll be talking about the amazing Garden Grove. It is the perfect city for students, offering a plethora of amenities and a unique charm that sets it apart. Students in Garden Grove can take advantage of excellent educational resources, with access to nearby reputable schools and colleges, like Golden West College. It offers a range of disciplines, including liberal arts, business, health sciences, and technology.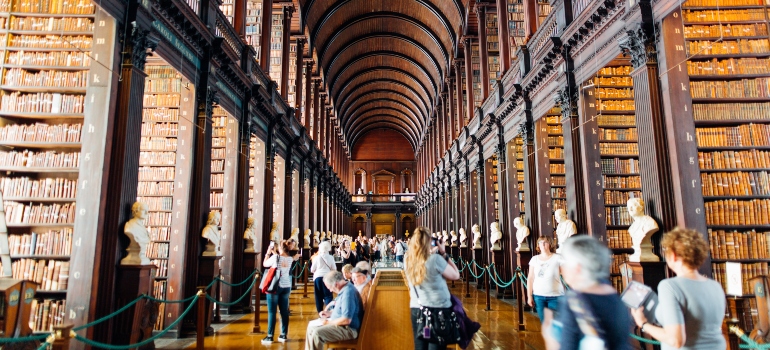 The city also boasts modern libraries, such as the Garden Grove Regional Library. Located at the heart of the city, this spacious and modern library offers a wide range of resources and services specifically tailored to students' needs. The library boasts an extensive collection of books, including academic textbooks, reference materials, and popular fiction. Choose one of the best moving companies Garden Grove has to offer, and let's get you moved here!
Costa Mesa 
Costa Mesa is a fantastic city for students, offering a wealth of resources to support their educational journey. The city is home to exceptional colleges and universities, such as Orange Coast College and Vanguard University, providing a range of academic programs and opportunities.
This lovely city also boasts numerous student resources, including libraries, tutoring centers, and career services, ensuring students have the support they need to succeed. Costa Mesa's vibrant arts scene, with venues like the Segerstrom Center for the Arts, offers cultural enrichment and entertainment.
On top of that, Costa Mesa's central location provides easy access to nearby beaches, outdoor recreational activities, and popular attractions. We have equally popular and reliable movers Costa Mesa boasts, so make sure to use that to your advantage for a smooth relocation to your new campus or apartment. 
Fullerton
Fullerton is a city where students can truly thrive, thanks to its abundant resources and vibrant community. This city is home to renowned educational institutions, including California State University, Fullerton (CSUF), which offers a wide range of academic programs and support services tailored to student needs. Students can take advantage of state-of-the-art facilities, libraries, and research opportunities to enhance their learning experience.
Fullerton also provides various student resources. The city is home to numerous libraries, including the acclaimed Pollak Library at CSUF, equipped with extensive collections and study spaces. Students can access career centers, tutoring services, and academic advising to maximize their potential.
Fullerton's downtown area offers a bustling and artistic atmosphere, with trendy cafes, eateries, and unique shops that provide students with a lively social scene. Make sure to use the services of the best moving companies Fullerton has to offer to ensure your move is stress-free and memorable!
Orange County Job Prospects for Newly Graduated Students
Moving on with our guide for students moving to Orange County, we will now cover the job opportunities you can expect after graduating. Going to college is a great and invaluable experience, but in the grand scheme of things, it's just another step. It's equally important to be prepared for what's to come once you get your degree.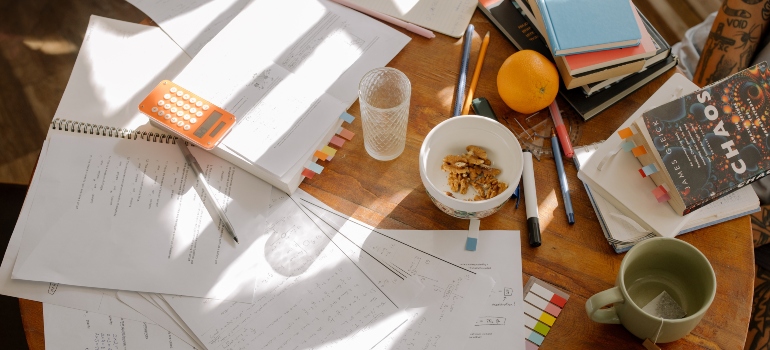 Orange County is the epicenter of innovation, and as such, it provides numerous employment opportunities and potential jobs you could land. Let's now take a closer look at the job market in Orange County, so you can shift your focus to one of these areas and think beyond your college years.
The Top Industries in Orange County
Orange County is a hub for thriving industries, offering a plethora of job opportunities for students after graduation. The region is renowned for its robust sectors, including technology, healthcare, aerospace, tourism, and entertainment. With companies like Blizzard Entertainment, Edwards Lifesciences, and Broadcom, students can expect a wide range of career options in these dynamic industries.
In the technology field, OC is home to numerous tech companies, providing opportunities in software development, cybersecurity, and digital media. The healthcare sector offers employment prospects in hospitals, medical centers, and biotech companies. Medical research and innovation are one of those industries that will constantly be at the very top in terms of opportunities and growth.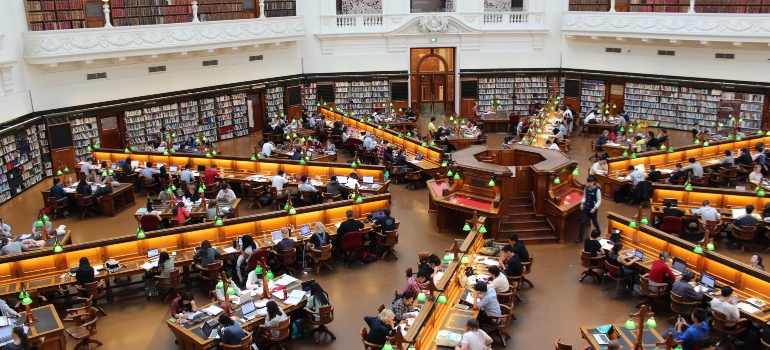 Furthermore, Orange County's aerospace industry, with companies like Boeing and SpaceX, presents exciting prospects for students interested in engineering, aerospace manufacturing, and space exploration. The region's thriving tourism industry provides opportunities in hospitality management, event planning, and visitor services.
Some of the most popular jobs in Orange County include software engineers, registered nurses, aerospace engineers, marketing managers, and financial analysts. With its diverse industries and abundant job opportunities, Orange County offers a promising career landscape for students transitioning into the professional world.
Learn the Value of Networking Before Moving to Orange County
The region is home to renowned organizations that facilitate valuable connections and professional development. One prominent association is the Orange County Young Professionals Network, which offers networking opportunities, mentorship programs, and industry-specific events. The Orange County Chamber of Commerce hosts networking events and business forums that allow students to interact with local professionals and entrepreneurs. 
Internship and co-op programs are also prevalent in Orange County. Companies like Edwards Lifesciences and Blizzard Entertainment offer competitive programs that provide students with hands-on experience in their respective fields. The Orange County Internship Coalition coordinates internship opportunities across various industries. Additionally, educational institutions and universities have career centers that connect students with internship and co-op opportunities. They as well organize job fairs and career workshops.
We Hope Our Guide for Students Moving to Orange County Has Been Helpful!
As we've seen in this guide for students moving to Orange County, there are plenty of great cities to choose from. It's all about finding the right one for you. You have to carefully assess all the cities you are interested in and see what they have to offer. We talked about a few of them, but do your own research as well! Make sure to cover all the important factors in order to make the best decision. All of these cities are great places for young people to thrive, learn, and enjoy, but do your due diligence and take a deep dive into this matter. Your future, quite literally, depends on it! Once you are sure you have picked the right place, contact us! We will gladly assist you in any way we can and help you settle in. We hope we will be a part of your journey!
"*" indicates required fields
What Our Clients Say
" I was in a bind with having to move during the Coronavirus problems. You were very accommodating in this tough time. "